---
I have been here only a short while, yet so much has happened. There are times I still feel as if I don't belong here, and other times there is nowhere on Earth I'd rather be.
---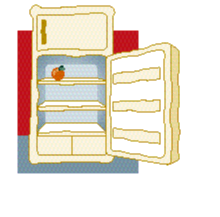 Making memories
Memorable. Let's see . . . Memorable is packing up all my stuff to be on my own for the very first time. Memorable is arriving at my dorm room and fearing my roommate and I will hate each other. Memorable is hugging my mom goodbye, watching my father drive away and wishing I were going with them. Memorable is spending the first night at school alone in the darkness hoping I fit in here. Memorable is being a freshman.
Classes . . . . The first day of classes the school band woke us up at five in the morning. It took the entire quarter to figure out where my classes were, and by then . . . it was time to choose classes all over again. I'm a freshman, my classes are full, and 8 a.m. has gotten earlier every day. Papers are usually finished 10 minutes before class, and some advice: Never forget your scantron and calculator for a final.
Dorm events . . . my floor brought a huge trampoline to the "big, better, best" contest.
I got a bloody nose at the dance on the first night, a great first impression for my roommate. Playing "sardines"--a game like "hide and seek"--was fun until I got lost finding the person who was hiding. I saw a free movie at Regan Main, and the R.A.'s puppy fell asleep in my lap. The next day I went to the Farmers Market, and the puppy chased me around the field, tearing up my sock.
Dorm life . . . My roommate has become one of my best friends. We changed our room around four times last quarter, and it still doesn't look right. Everything in our room glows in the dark, and she burned a hole in my favorite hat on our black light bulb. Everybody on my floor seemed to bond with each other on a day I wasn't around, so I talk to only about six people on my floor on a regular basis. One day three people from my floor got stuck in the elevator, so I learned how to carry my bike up five flights of stairs. Freedom has its perks, and tennis is fun to play at 11 p.m. in the rain.
Friends . . . I've learned that if four people run into a big tree really hard, the tree doesn't move enough to make bats fly out. Twirling in the field at midnight is no longer immature and the stars seem to shine brighter when I look at them with friends. A friend got me addicted to the Internet, and going to the bargain movie in 194 Chem is a collective effort in searching for spare change. According to my neighbors I have no priorities because playing video games has much more meaning than reading physics, and when I got really sick, my new friends cared enough to take me to the hospital four times.
Food . . . My brother, a junior here, decided that my ticket for unlimited meals meant he got to eat them, too. The Dining Commons has unknowingly encouraged me to eat lots of salad, considering it's something I recognize. My roommate has lost the "freshman 15" while I continue to gain it. Pizza is best eaten after 10 p.m. and all through the night. Our refrigerator has an orange and three Popsicles in it because the idea of a monthly budget sounded nice until I tried to live on it. This has made even the dorm program suddenly sound interesting if there's free food.
Transportation. . . Bike keys have replaced car keys. It's never seemed so natural to see a street or parking lot filled with hundreds of bikes. I almost caused a six-bike pile up, and I've circled the same intersection three times before being able to get out. Downtown Davis is scary when you mix the bike and car world, and one weekend I popped my tire in a grate, so now the front wheel wobbles.
Home . . . I spent the first two months writing letters to all my friends; now only one continues to write back. The idea of my own mail got depressing when I stopped getting any. I've made a secret promise to never pay for laundry; to this day I always get conveniently homesick near laundry day. I told my father I wanted to major in creative writing. He said, "Does that mean you'll write want ads?" Thanks, Dad. I never knew that when I'd go home to visit, everything would feel different. It's funny because the only thing that has changed at home is me.
I came here for the reason most people go to college: I want to find the part of myself I never knew was there. I have been here only a short while, yet so much has happened. There are times I still feel as if I don't belong here, and other times there is nowhere on Earth I'd rather be. I am only now learning who I am and what I want from life. I have no spectacular story to tell, but these memories will last me a lifetime.
Memorable is knocking on my neighbor's door every hour and a half on my way to the bathroom. Memorable is picnic meals on the carpet and floor skating in my friend's room. Memorable is sharing Christmas with a new type of family and learning how to make it on my own two feet. Memorable is being a freshman.
-- Belinda Foster just finished her freshman year at UC Davis; this article was second runner-up in a writing contest sponsored by Dateline UC Davis, the campus's faculty and staff newspaper.
---