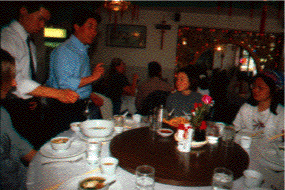 Meals that heal
If Yan can cook, so can you! Familiar words? Then you've seen Martin Yan '73, M.S. '77, display his culinary talents on his television cooking show, "Yan Can Cook." UC Davis students recently saw Yan in action: He traded in his chef's apron for a tweed blazer to come to UC Davis and talk with them about the health benefits of Chinese food.
Nora McGuinness, director of Integrated Studies (a freshman honors program) recruited Yan to talk about his favorite topic: food. Titled "Chinese Food is Great Medicine," the lesson addressed the importance of "kitchen medicine" and the use of "food cures." Yan, who tours China and other parts of Asia with groups who are interested in regional cuisines, focused on Chinese herbs and food therapy as a means for achieving yin-yang, or balance, within oneself. According to Yan, "When illness or imbalance cannot be relieved through an adjustment in food intake, then herbal tonics are prescribed." Students passed around various roots, mushrooms and vegetables while Yan discussed their healing powers and, as he termed it, "the science of cooking."
"The Chinese blend food and medicine into one thing; they take a holistic approach to medicine," Yan said. "Chinese medicine combines chemical elements and natural ingredients, cooking herbs into dishes for food therapy." Food therapy's goal is not only to maintain the body's balance, but also to strengthen weak organs. From suppressing coughs to counteracting rheumatism, Yan's examples of herbal treatments covered all realms of medicine.
After the lecture, students enjoyed lab time at a local Chinese restaurant. Lunch dishes, whose preparation Yan (second from left) had supervised, provided the class with examples of Chinese food therapy. Yan emphasized that moderation, however, remains a vital part of health, so don't be too quick to grab another egg roll in an effort to maintain your yin-yang!
-- By Nora Kenney '95
Photo by Neil Michel/Axiom
---