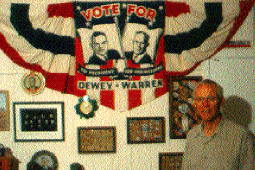 BOB WARREN'S COLLECTION includes buttons from every presidential election since the "pin-backs," as they are called, were first made in 1896. From campaigns earlier in the 1800s, he has what served as political buttons of the time--medalets (small medals), watch fobs, ribbons, coins and clothing buttons, including a Lincoln campaign coin. Warren also has the country's largest collection of "lapel tabs"--small paint-on-metal objects that are attached to clothing by a bent tab. And he has a remarkable assortment of other pieces of political history: the hair brush and pomade used by John F. Kennedy just before his televised debate with Richard Nixon in 1960, a painting by Dwight Eisenhower, a piece of the wooden platform used for the inauguration of Lyndon Johnson in 1965.
The focus of Warren's collection, however, is material from the campaigns and career of his father--some given him by his mother after his father's death, most purchased from others.
"The only reason we have these three buttons is because Mom picked them up somewhere along the campaign trail," said Warren. "My father wasn't interested in saving anything, but my mother knew their historical value. She knew that sometime--maybe not this generation but possibly in 50 or 100 years--this material would be a very important part of tracking Dad's political career."
Bob has been the sibling most interested in keeping the memorabilia, which included the three buttons and some of his father's papers, correspondence and photographs. Among them are the telegram sent by Eisenhower to the senior Warren saying he had been nominated for chief justice and Warren's draft response on a legal pad thanking the president.
Most of the papers relating to Earl Warren's work as chief justice are in the Supreme Court archives. (His tenure saw some of the century's most important decisions: Brown vs. the Board of Education, overturning the "separate but equal" doctrine; the extension of protection for criminal defendants, including the right to legal representation and Miranda rights; and the extension of First Amendment rights to journalists covering public figures.)
But Bob has acquired much of the political memorabilia, including numerous pieces from his father's campaigns for California governor, for state attorney general and for the only campaign he ever lost--the 1948 vice presidential race that ended with Truman's surprising presidential win.
A second focus to Warren's collection are the lapel tabs. He has 100 year's worth of tabs, from 1888 to 1988 (they're seldom made today), and he's currently working on a book, a state-by-state guide to lapel tabs that have been produced for gubernatorial, Senate and Congressional elections. It will be his second book; his first, a collector's guide to identifying and preserving tabs titled Political Tabs: A Vanishing Breed 1888­1988, was published in 1991. Warren credits American Political Item Collectors, an association of 3,000 collectors throughout the country, for providing valuable assistance with his books and for much of his collecting success.
Warren says that he has never been interested in following his father into politics, though it's his interest in political history that's the driving force behind his hobby. He spent most of his childhood growing up in the governor's mansion in Sacramento, attended McClatchy High, then came to UC Davis to study agriculture. But Warren realized he didn't have a family farm to return to, as did many of his classmates, so he changed his focus to psychology and physical education. Following graduation, he worked for a few years as an educator and administrator in the California correctional system, then returned to Davis, where he has developed a successful real estate business.
Warren has been collecting political memorabilia since a few years after his father's death in 1974. His button collection now contains a number of valuable ones, including a particularly rare Woodrow Wilson button and one made for JFK's visit to California to dedicate the San Luis dam in the early '60s.
But his favorite? A "Governor Earl Warren" button, handmade out of cardboard, that his sister wore on the floor of the 1952 Republican convention.
--Teri Bachman
Photos by Neil Michel/Axiom
---