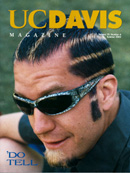 It's all happening at the zoo—the Smithsonian National Zoo, that is—for alumna and director Lucy Spelman, D.V.M. '90.
An Ethopian in exile, Tilahun Yilma works to relieve
suffering in his native country.
I want it long, straight, curly, fuzzy, snaggy, shaggy, ratty, matty, oily, greasy, fleecy, shining, gleaming, steaming, flaxen, waxen, knotted, polka-dotted. Hair!
Plant pathologist Dave Rizzo and colleagues stalk the killer of California's oak trees.