INSIDE TRASH TV
| | |
| --- | --- |
| | Sociologist Laura Grindstaff researched talk TV from the inside by working on at two shows, including a "classy" one (like "Oprah," above). |
Today on "Jerry Springer": "Mistress Mayhem!"—Eric wants to come clean to his wife today. He's been having an affair with their neighbor: a gay prostitute! And tomorrow: "Honey, I'm Really A Woman!" And today on "Sally Jesse Raphael": "Broken Promises"—Sally talks with people who have broken the trust of their loved ones. And tomorrow: "Cheaters Caught on Tape!"

Yes, it's trash TV—daytime television talk shows that revel in the worst the human experience has to offer.

Why do they do it—the producers, the hosts and, most surprisingly, the guests? Laura Grindstaff, UC Davis assistant professor of sociology, spent several years finding out.

Grindstaff interviewed more than 80 participants, attended live tapings and worked as an intern at two nationally televised talk shows: one that she characterizes as "trashy"—a show like "Jerry Springer"—and the other "classy"—a show like "Oprah." (To protect the anonymity of their staff members, she doesn't name the shows.) She learned about how and why producers elicit tears, shouting matches and fistfights from their guests, why the guests agree to participate and the supporting roles played by the audiences and the experts. She also learned much about what these shows say about the mass media and American society and culture in general. Grindstaff shares her findings in a book, The Money Shot: Trash, Class, and the Making of TV Talk Shows.

Key to a talk show's success, Grindstaff found, is that moment of conflict, the dramatic climax when guests lose control emotionally or physically—what she calls the "money shot," borrowing a term from pornography for another kind of climax. Topics and guests are chosen, shows structured and guests prepared to maximize these emotional climaxes.

And guests are prepared to deliver, Grindstaff said. "Most do know in a general sense what they're getting into." They have seen the shows, and they know what's expected.

But why do they do it? The classy reasons, Grindstaff found, are to champion a cause or educate the public. Trashy reasons include the excitement of being on TV, the free trip to the city, revenge, attention and public validation. "Everybody wants to feel that what they do matters," said Grindstaff. "They want validation, and media coverage is a very powerful form of validation in our culture."

Though the producers may get what they want and the guests often do, too, the unbridled excess isn't without victims.

These shows perpetuate a vulgar and tasteless stereotype about the poor and working-class people, Grindstaff points out. "It's a vicious image of these people in our culture, and one that goes unchallenged." But she doesn't just blame the media.

"We could take the media to task for turning everyday lives into circus sideshows, but we must also blame the society that gives this class of people few other outlets for being seen and heard."

LEAVING HIS STAMP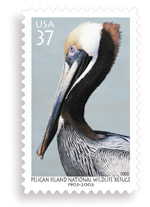 Professor James Brandt's specialty is helping people see—both as an ophthalmologist and director of the UC Davis Medical Center glaucoma service and as a photographer, providing an up-close look at nature's wonders. Those wonders include this brown pelican that now graces a new postage stamp, issued in March to commemorate the centennial of the nation's first wildlife refuge, Pelican Island National Wildlife Refuge in Sebastian, Fla.

Brandt, who took the photograph two years ago while he was attending an ophthalmology meeting in the state, began exhibiting his work in galleries in the 1970s, in part to support his college and medical school education. Over the years, his photographs have appeared in National Geographic World, Encyclopedia Britannica, World Book, Encarta and on book covers.

"Professors like to think that they'll be remembered for their academic work," said Brandt, "but the reality is that for most of us, our work will be forgotten in a few decades. It's an honor to know that an image I created will be in people's stamp collections for centuries."

NAMESAKES: ROESSLER HALL
Renaissance man. Reading about Edward Roessler is like reading about a whole roomful of people. In a University of California career that spanned 60 years, Roessler taught mathematics and statistics, co-authored a book with Maynard Amerine on the sensory evaluation of wine (and was a wine judge for the California State Fair for 20 years), was the architect for a number of Davis homes (five of them on College Park), played the violin, wrote another book (this one a textbook on probability and statistics), chaired the Department of Mathematics and was UC's dean of University Extension. And his contributions weren't confined to campus: At various times Roessler was the assessor for the city of Davis, a member of both the Planning Commission and the Davis City Council, an elder of the Davis Community Church and president of the Rotary Club; in 1957, he received the C.A. Covell Trophy for Community Service.
Known as a gifted teacher whose sense of humor made the oft-times difficult subject of mathematics accessible to his students, in 1978 Roessler was recognized by his Academic Senate colleagues with the Distinguished Teaching Award—eight years after he had "officially" retired (he continued to teach part time until 1989). Speaking at a symposium honoring the teaching award recipients, Roessler noted that lectures should be presented with spirit: "Some of us shout so loudly in class that we keep the students awake," he joked.
In 1972 he was surprised to learn—reputedly by overhearing the news at a cocktail party—that the regents had honored his contributions by naming the campus's newest physics building Roessler Hall. "It's not an awfully big building, you know," he was reported to have remarked modestly. "But," he noted, "it is a nice little building." And indeed it is.

HEALTHFUL ORGANICS
Fruits and vegetables grown without pesticides or herbicides contain higher amounts of cancer-fighting antioxidants than those grown conventionally, according to a new study by UC Davis researchers.
A team led by Alyson Mitchell, assistant professor of food science, looked at corn and marionberries (a type of blackberry) grown organically (no artificial pesticides or fertilizers), sustainably (no artificial pesticides) or conventionally, and strawberries grown sustainably or conventionally. They found that the organically or sustainably grown produce contained up to 58 percent more polyphenolics, antioxidants that are a natural defense for plants.
Polyphenolics are natural chemicals produced by plants as byproducts of other processes. When plants are stressed, by insects for example, they produce higher levels of bitter-tasting polyphenolics to drive away pests. The polyphenolics in the organic crops were at levels normally found in wild plants, suggesting that pesticide use reduces the need for plants to make these chemicals, Mitchell said. Studies show that eating a fruit-and-vegetable-rich diet, which is high in polyphenolics, can reduce the risk of some cancers and heart disease. But scientists don't know exactly how polyphenolics cause these effects. "We know they're beneficial, but we don't know what types of polyphenolics are beneficial, or in what quantities," Mitchell said. "This really opens the door to more research in this area."