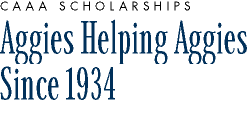 "Because of my alumni scholarship,
I was able to afford to go to UC Davis. I had wanted to go to Davis, but my family didn't have a lot of money. Receiving the scholarship was a big help."
--Ralph Cheney '56, D.V.M. '58
---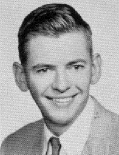 HEN RALPH CHENEY received his alumni scholarship in 1953, that money made the difference for him. With registration fees at $1,390 per quarter, however, alumni scholarships now cover only a fraction of one term's expenses; books and supplies alone cost an average of about $300 per quarter.
The University of California still provides the best education for the money, but times are tough. Many students graduate with a debt of $5,000­$10,000 or more. With your support, CAAA will increase the dollar amount and number of scholarships given annually. Our goal is to create a $2 million endowment that will add to our existing scholarship funds--money given directly to students from your community. With your help, CAAA will continue the tradition of Aggies helping Aggies.
More than 100 alumni meet annually in their local regions to review hundreds of applications and essays, interview prospective students and select scholarship winners. This is the only scholarship program on campus whose recipients are chosen by UC Davis alumni volunteers--people who live in the students' region. The program makes it possible for new and seasoned Aggies to share their excitement about UC Davis, and helps students adjust to campus life.
"Being the scholarship chair for Monterey County is the most rewarding thing I'm involved with," said Kim Myers '91. "Committee members can share what we went through at UC Davis with prospective students. The students really like to hear from people who have different perspectives and were involved in different activities. I feel like I'm giving something back because I, myself, received scholarships that enabled me to attend Davis."
The one-time scholarships are awarded to entering freshmen and transfer students and range from $500 to $1,000. Alumni scholarship recipients then become eligible to apply for either the Howard B. Shontz or the Carl L. Garrison scholarship. The Shontz Award ($750 given to a junior), honors Mr. Shontz's commitment to UC Davis and his work as an admissions officer for the College of Letters and Science. A graduating senior receives the Garrison Award ($750 and a CAAA life membership), which recognizes the former CAAA president. Including the Shontz and Garrison awards, more than $60,000 was awarded to 82 students in 1995­96 alone.
Your gift of any amount will allow UC Davis alumni to help even more students who have demonstrated outstanding academic and leadership skills. With a tax-deductible contribution of $1,000 or more to the CAAA scholarship program (with an option to pay over three years), your name will be placed on a blue and gold fountain prominently located in the central Quad area. The tile plaque will be a lasting symbol of your generosity to students of UC Davis and your commitment to the future. You may wish to honor family members, former faculty mentors or special friends by making a gift in their name. If you work for a company that will match your gift, your contribution could double or triple in size. (That means your $500 gift could really be worth $1,000; your $5,000 gift could be worth $10,000). Use the coupon at right, or, for more information, call Bob Kerr, (916) 752-9960 or (800) 242-4723 in California.
If you are interested in participating on the scholarship committee in your area, contact Jane Padilla by e­mail, mmpadilla@ucdavis.edu, or call (800) 242-4723 in California or (916) 752-0980.
---