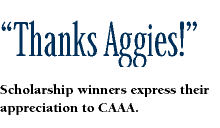 ---
SHANE BRESCHINI
Freshman, Monterey County
It is a tremendous honor being selected as one of the recipients of this award. It was a pleasure meeting the members of the Alumni Scholarship Board. Their keen insights on what to expect here at Davis helped me immensely in adjusting to college life. Talking to the board assured me that I made the right decision in coming to Davis.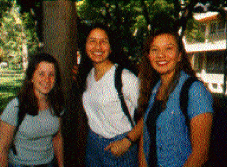 MICHELLE BANYAI
Freshman, Los Angeles County
It was a great honor to receive such an award. I worked hard in high school and it was nice to be recognized. I remember the interview very well. I had been at a Jazz Festival with my high school band, and I remember changing clothes in the car and rushing off to the interview right after the competition was over. The alumni were very nice and throughout the interview we were all laughing and having a good time. It was definitely a friendly atmosphere. As soon as I was done, I jumped in the car and headed back to the Jazz Festival to help the local junior high get ready for their own competition. That was one crazy day.
ELISA FLORES
Freshman, Stanislaus County
My senior year was very hectic and I was swamped with decisions about college. Receiving the alumni scholarship helped alleviate one of my biggest worries, finances. Without the scholarships I received--the Alumni Scholarship being one of them--my parents would have had more financial burdens, and my desire to go to college might have been more difficult to attain. When I went for the interview I was nervous because I knew how much winning would help me out. The representatives were all very nice and they helped me feel comfortable and confident when sharing my thoughts about what I believed I could achieve from, and contribute to, the UCD campus. Their comments about the campus and its atmosphere helped me in making my decision to attend UC Davis, and I definitely know it was one of the smartest choices I have ever made!
SUMMER MALEPEAI
Freshman, San Mateo County
Before meeting with my local alumni chapter panel, I was nervous and had the idea that I would be grilled by a bunch of stuffy, grim-faced people. All of my pre-conceptions vanished, however, as soon as I walked into that lovely home. Yes, I did answer some basic questions about my goals for the future and talked about activities I enjoy, but I was not being grilled. Instead, I sat in a big cushioned chair drinking tea and looking into the smiling faces of four very interesting and accomplished adults. I was not the only one talking, either; I was encouraged as the panel members shared how being graduates of UC Davis has had an impact on their lives. I also got advice on interesting electives to take, how to adjust to Davis weather, and even told about Picnic Day and what I should visit!
JILL HIGGINS
Freshman, Plumas County
Thank you once again for the generous scholarship that you awarded me in order for me to pursue my education. I appreciate my alumni scholarship so much and am working very hard to put your money to good use. Between adjusting to my new surroundings and making new friends, I have been kept very busy, but I have made it a priority to continue to put a maximum effort into my classes. I have been placed on the university dean's list both quarters so far and am very proud of this accomplishment. I wanted to let you know that you made a good investment in awarding your scholarship to me, and I am very grateful for your generosity.
---