Volume 31 · Number 1 · Fall 2013
Letters
From the editor
This could be your last print issue of UC Davis Magazine — unless you are a dues-paying member of the California Aggie Alumni Association or the Aggie Parent and Family Association.
Thanks for gun debate
[Re: Two letters, "Taking Aim at Gun Sales Report," summer '13] I was encouraged that you would allow other voices to be heard on a very complex issue.
Susan Lancaster '78
Danville
Remembering Picnic Day with Ben Sharpsteen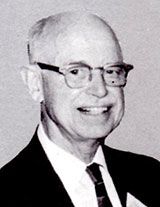 Ben Sharpsteen '16
Your article in the summer '13 edition on "Driving Innovation" and Ben Sharpsteen brought back a lot of great memories.
In 1971, a group of us from Beckett Hall petitioned the then-radical student senate not to end Picnic Day. The group chose me as the 1972 Picnic Day chairman and we sought to bring back the history of UC Davis with the parade, hot air balloon, and events across campus. Publicity chairwoman Linda Clingan and I heard about Ben being a UC Davis alum and Disney artist. The two of us drove to his Calistoga home to ask for his help with the cover for our program. He was very gracious and volunteered the use of one of his lithographs, Briarcliff. The picnickers in the picture inspired our costumes for Picnic Day. Ben rode in the parade in front of the Cal Aggie All-Male Marching Band (there were a few ladies), and we also debuted newly restored farm equipment in the parade, including a 1916 Case tractor, an 1884 H.W. Rice straw burner and an 1879 Bronson-Pitts threshing bee from the newly formed Antique Mechanics Club, of which I was a member. Ben also showed his generosity in another way, making a sizable donation to the campus for the establishment of an agricultural museum. It was a grand day for the university, and one of the many highlights of my time at UC Davis. Someday, I hope to come back for Picnic Day.
Dennis Packer '72
Sierra Madre
Seeds of change
I recently had the pleasure of reading Ann Evans' "The education of a food rebel" [Aggies Remember, summer '13].
As I read, I smiled when she spoke of the back-to-the-land movement. I got excited, yelling to my wife as I got to the part where Mrs. Evans argued with professors on the nutritional superiority of raw milk. My mouth just hung open when she stated her senior paper was on a topic so unknown as the Codex Alimentarius. In short, this one inspiring article invoked the emotions that first motivated me to pursue transfer acceptance into UC Davis' Sustainable Agriculture and Food Systems major.
The early accomplishments of Mrs. Evans are astonishing, and I find it very telling that the Davis Food Co-op opened the same year Masanobu Fukuoka published One Straw Revolution. It certainly takes nothing less than a revolution to change a food system and both authors are important catalysts.
Without the early actions of a young Ann, this 34-year-old might have never entered college. My children may never have seen me graduate community college nor get accepted into my dream school. I might still be in an industry chosen for me by a military entrance exam, forever searching for that passion now realized through my work in agriculture.
I commend Ann Evans on watering the seeds that I and so many others can now see to fruition. She truly did change her environment, and in effect, she changed mine.
Andy Codd '15
Merced
Our 'immature' species
["Goat Medicine," spring '13, reports on goats] genetically modified to produce milk with higher levels of lysozyme. The biggest joke about this is that the emotionally immature and psychologically lazy human race has still not figured out that the milk a mother produces is for her offspring and not another species. We are the only species that intentionally consumes milk from other species.
[Regarding the spring '13 story] "9 Billion Mouths to Feed": Maybe someday the focus will be on the human species acting responsibly for controlling the number of offspring to which they give birth. There are too many people on the planet as it is. 
Barry Duncan '89
Bronson, Mich.
Corrections
"Driving Innovation" in the summer '13 issue misstated the year of death for "father of American wine" Maynard Amerine '32. He died in 1998.
"A Museum for the 21st Century" gave the wrong amount for funds needed to build the Jan Shrem and Maria Manetti Shrem Museum of Art. The correct total is $30 million.
A yearbook photo of Karen (Yates) Lafferty '63 accompanying the Cal Aggie Alumni Association feature, "Class of 1963 Looks Back," was incorrectly identified as Karen Green '63.
Football coach Ron Gould worked with the University of Oregon Ducks as a graduate assistant in 1990–91.