Volume 28 · Number 3 · Spring 2011
CSI: Nairobi
Alumna launches East Africa's first private DNA testing lab and leads effort to create a crime-fighting database in Kenya.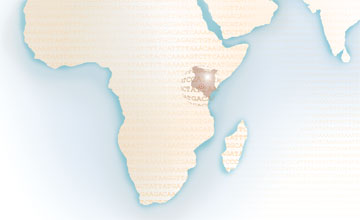 (illustration by Jay Leek/UC Davis)
DNA evidence has become a staple of U.S. courtrooms both real and fictional. But in Africa, where the gene pool is the most diverse on the planet, genetic evidence is rarely used to solve crimes.
That's partly because forensic scientists do not have the reference databases to show that the match between a piece of crime-scene evidence and a suspect is correct and not due to chance.
Now, a collaboration between the UC Davis Forensic Science program and East Africa's first private DNA typing laboratory aims to address that need by building a DNA database for Kenya. The effort should also help train local police and crime scene investigators on how to collect and handle DNA evidence.
"It's extremely important because at the moment we are relying on old data to perform our analysis," said Sophie Mukwana, M.S. '06, a graduate of the UC Davis program and founder of Biotech Forensics in Nairobi, Kenya.
"When you do DNA typing, you want to get accurate numbers on how often a particular profile is found," said Ruth Ballard, an adjunct assistant professor of environmental toxicology at UC Davis and biology professor at Sacramento State University who teaches DNA analysis in the UC Davis forensics program. "You need to know the frequencies in the population."
Biotech Forensics is the first and only private lab in East Africa for analyzing DNA, the genetic material within cells, Mukwana said. The Kenyan government currently has one forensics lab in Nairobi, and neighboring Uganda and Tanzania each have a single government lab. There are no labs for forensic DNA analysis in Rwanda and Burundi.
Mukwana started the company in 2008 with backing from family and friends.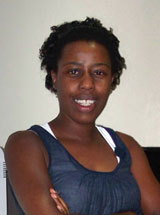 Sophie Mukwana is a 2006 graduate of the UC Davis forensic science program and founder of Biotech Forensics in Nairobi.
The company's first major case was in 2009, when a fire in a Nairobi supermarket left 30 dead. The supermarket chain brought in Biotech Forensics to identify the victims, earning wide publicity in the country.
Much of the company's income currently comes from paternity testing. Social and legal changes in Kenya mean that more women are going to court to claim child support from men — and those cases depend on reliable paternity tests.
"This has happened because the laws have changed and become more favorable to women and children," Mukwana said. With men being required to support their children, inside and outside marriage, there is more demand for determining paternity, she said.
With the success of DNA testing, the company is also now developing facilities in toxicology and fire investigation. Mukwana also hopes that the overstretched government lab can send work to her company.
In the meantime, Biotech Forensics will become the testing hub for the project to compile a DNA database of the Kenyan population. That database should become a vital part of developing forensic expertise in Kenya, both for crime-fighting and civil cases.
In the U.S. and Europe, investigators can reference standard databases of the population and subgroups within it. There are more than 140 databases available for Europe alone, Ballard said.
But few such databases are available for Africans — though the peoples of Africa are the most genetically diverse on Earth. That's because genetic research indicates that modern humans arose in Africa, and that from 60,000 to 100,000 years ago a small band left and went on to populate the rest of the world.
"I tell my lecture class, imagine two people leave this room and populate the world, and the rest of you stay here. Where's the genetic diversity? It stays here in the room," Ballard said.
As a result, two Africans from nearby tribes can be more genetically distinct than two people of Asian and Caucasian descent, she said.
In the U.S., DNA databases are available for African Americans, but their ancestors originated mostly in West Africa. An earlier study Ballard conducted in Tanzania showed that the DNA profiles there were quite different from those of African Americans.
Ballard plans to build a database for the major ethnic groups of Kenya, with Mukwana's lab doing the DNA analysis work in Nairobi. In the first phase, the researchers would collect DNA samples from the three major tribes in the country, mostly by sampling volunteers drawn from university and hospital employees in the major cities. The sampling involves no more than spitting into a tube. The work got under way in January.
In a second phase, subject to available funding, they would expand their sampling to include an additional 10 tribes, which will involve traveling into the bush to sample smaller and more remote tribes.
The project has to be approved by the institutional review board at UC Davis and the University of Nairobi. The researchers also need to work closely with the local people, especially when the study moves into rural areas.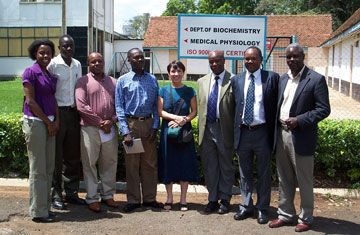 Sophie Mukwana, left, and Ruth Ballard, center, who teaches DNA analysis in the UC Davis forensics program, with collaborators from the University of Nairobi, Kenya.
Ballard previously conducted a similar, smaller study in neighboring Tanzania. She strived to avoid the suspicion aroused by other research teams that arrive in a village, collect samples and disappear.
"In Tanzania we got very good cooperation. We brought cornmeal, oil and eyedrops and spent up to a month in a village," she said.
DNA samples from Ballard's Tanzanian study had to be shipped back to the U.S. for analysis.
"The good thing in Kenya is that we will have a working DNA lab in the country, so there is the opportunity for capacity building," Ballard said. "We can train scientists all the way from sample collection to generation of a DNA profile."
Altogether, the database, the training and the lab facilities will help Kenya move ahead with incorporating forensic science into the justice system, Ballard said.
Several nongovernmental organizations, as well as the U.S. Department of Justice's International Criminal Investigative Training Assistance Program, are working in the country on training police officers, attorneys and forensic nurses to investigate crime scenes properly, use DNA evidence to gain convictions and collect DNA evidence from rape victims.
Perhaps more important is the commitment of the Kenyan government to address sex crimes and gender violence, Ballard said. The country's 2006 Sex Offences Act increased penalties for sexual assaults, introducing minimum sentences of 10 years in prison for rape.
"Kenya is probably the country in that part of the world that is poised to put this in place," Ballard said. The result will be more crimes solved, perpetrators jailed and a long-term reduction of violence against women, she said.
Mukwana said it means an affordable local solution for people who now wait years to get civil or criminal cases resolved.
"In Kenya we have a lot of potential. There is a high demand for these services and we see that increasing," she said.