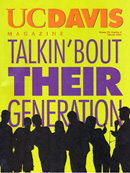 Stressed, plugged in, protected, civic-minded, team players—we're talking about the Millennial Generation. Born since 1982, these students are making their presence felt on campus in a big way.

A look at what's new in student living—from high style to parking woes.

It was a challenging year for Aggie athletes as the campus transitioned to Division I and they faced a roster of nationally ranked teams.