Volume 28 · Number 4 · Summer 2011
Alumni Profiles
Stephen Wampler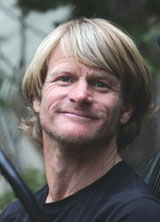 Stephen Wampler
Occupation: CEO and President of the Stephen J. Wampler Foundation, wamplerfoundation.org.
El Capitan: After six days, 3,000 feet and 20,000 pull-ups, Stephen Wampler '92 last September became the first person with cerebral palsy to scale El Capitan at Yosemite National Park. Wampler climbed El Capitan to support his Stephen J. Wampler Foundation, which sponsors a camp for children with disabilities, free of charge. "I knew I had to do something big to put the foundation on the map, and that was it," Wampler said. He spent over a year training, working up to five hours a day in the gym, six days a week. The story was picked up by ABC News with Diane Sawyer, and celebrities like Ellen Degeneres, Will Forte and Will Farrell publically supported his climb to the top.
Camp: From age 9 to 18, Wampler attended a Sierra Nevada summer camp for children with disabilities. There he was exposed to nature, wildlife, adventure and a new perspective on what his limitations were — or were not. "It was the difference between what I thought I could do and what I could do," he said. "Basically, it was the epiphany that I needed with my disability. It turned my whole life around."
Camp Wampler: After learning that his childhood camp had closed for financial reasons, Wampler and his wife, Elizabeth, decided to take a chance and reopened the facility in 2001. Since then, the camp has helped thousands of disabled children learn about their own potential. The camp has no electricity and no real physical structure other than a couple of toilets, according to Wampler. "They get that real camping type feel where they have to learn how to shelter build, how to identify plants and animals and learn about the natural surroundings," he said. "It allows them to learn about themselves."
Wampler is preparing to release a film about his journey up El Capitan and to speak around the country about his experience. He lives in Coronado with his wife of 16 years and their two children, Charlotte, 11, and Joseph, 10.
"Wanting more out of life, that's what I got out of camp. It taught me how to overcome obstacles, teaching me I can do whatever I wanted to do."
---
Christopher Markus and Stephen McFeely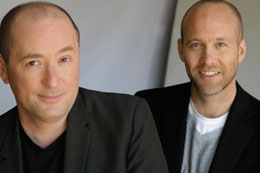 Christopher Markus and Stephen McFeely (Janna Giacoppo photo)
Occupation: Screenwriters whose credits include the television movie The Life and Death of Peter Sellers, which won them a 2005 Emmy; three Chronicles of Narnia films; and this summer's box-office release, Captain America: The First Avenger.
The birth of a writing duo: Christopher Markus and Stephen McFeely were each aspiring novelists when they started UC Davis' creative writing graduate program in fall 1994. Then they met each other — "He sort of fell from the sky," Markus joked about his writing partner — and they quickly came to the conclusion that their novelists' dreams were unrealistic. "We couldn't see how we could make [book] writing our full-time day job," McFeely said. Their new goal? Writing for Hollywood.
Carving a path: After earning their master's degrees in 1996, the friends drove to Los Angeles to begin working their way up the entertainment ladder. They each took jobs in the business, including answering phones at production companies. Through networking, they managed to get an agent and ultimately earned their first paying job in 1998, writing a script about a real-life Los Angeles murder. The movie was never made, but the job marked a turning point for Markus and McFeely's screenwriting careers. Within just a few years, major opportunities came knocking: The Life and Death of Peter Sellers was released in 2004; The Chronicles of Narnia: The Lion, the Witch, and the Wardrobe in 2005; You Kill Me, a comedy starring Ben Kingsley as an alcoholic hit man, 2007; The Chronicles of Narnia: Prince Caspian, 2008; The Chronicles of Narnia: The Voyage of the Dawn Treader, 2010; and Captain America: The First Avenger, scheduled to open July 22.
Adapting for the silver screen: After 15 years as co-writers, Markus and McFeely, both 41, say The Life and Death of Peter Sellers remains their favorite screenplay; the script was an adaption of a Roger Lewis book about the actor who portrayed the Pink Panther character Inspector Clouseau. "It was the first movie we ever had made," said Markus. "It was such a magical experience and got us a lot of exposure."
"When you're dealing with these big iconic works, there's a lot of responsibility that comes with [writing the scripts]." — Stephen McFeely, M.A. '96
---
John "Tico" McNutt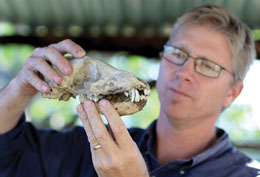 John "Tico" McNutt
Occupation: Program director and principal investigator, Botswana Predator Conservation Trust
Tracking the painted wolf: When Tico McNutt, Ph.D. '95, first went to Botswana in 1989 as a graduate student to help with UC Davis baboon behavior studies in the Okavango Delta, he intended to stay no longer than 18 months. Then he encountered African wild dogs — Lycaon pictus, which translates to "painted wolf," befitting their distinctive patchwork coat. "I was so struck by these spectacular animals," said McNutt, who soon after started the Botswana Wild Dog Research Project to study their behavior and ecology. Twenty-two years later, McNutt still lives in Botswana, where he leads efforts to research and protect the endangered dogs, as well as other large carnivores.
Dogged research: "African wild dogs were still not well understood when I first encountered them on the edges of the Okavango Delta," McNutt said. "They were rare — described at that time as Africa's most endangered large carnivore — and difficult to study." Once numbering about 500,000 individuals spread throughout sub-Saharan Africa, the species has dwindled to about 5,600 dogs — mostly in two remaining large populations in eastern and southern Africa — as their habitat declined and human population increased. The dogs live in packs of about six to 20 animals, covering great distances in search of prey — some have been tracked traveling almost 150 miles in the course of seven to 10 days. To better study them, McNutt became a pilot. "I found out very early in my research project here just how important flying is to get anything done." In what he calls "quantitative natural history," McNutt has charted life histories of more than 1,000 individual dogs over eight generations.
Protecting predators: McNutt and his wife of nine years, anthropologist Lesley Boggs, eventually expanded the Botswana Wild Dog Research Project into the Botswana Predator Conservation Trust (bpctrust.org). The organization is dedicated to supporting the study, conservation and management of all African carnivores, including the wild dog, cheetah, leopard, lion and spotted hyena. One groundbreaking effort, the BioBoundary Project, aims to identify the chemical components of the dogs' territorial scent markings. "Man-made fences are meaningless to most predators," McNutt said, "so researchers hope to be able to communicate with African wild dogs in their own chemical language, establishing boundaries that will discourage them from crossing into areas where they might run into danger." In 2007, McNutt and Boggs established a nonprofit organization, Wild Entrust International (wildentrust.org), to support their conservation efforts. They are also the authors of the book, Running Wild: Dispelling the Myths of the African Wild Dog. The couple has two sons, Madison and Wilder.
Aggie connections: The Cal Aggie Alumni Association honored McNutt in February with an Emil M. Mrak International Award. A CAAA Aggie Adventures trip this November to Botswana and South Africa will begin in the Okavango Delta and highlight McNutt's wild dog research. For more about the trip, see page 30.
"I suspect that most people in North America still would think upon seeing an African wild dog that it's a hyena. . . . Not many people are aware just how few there are, or how unlikely it is to ever see them in their natural habitats, outside of a handful of wildlife areas in all of Africa."
---
Vintage Aggies: Stuart Spoto, owner, Spoto Napa Valley Wines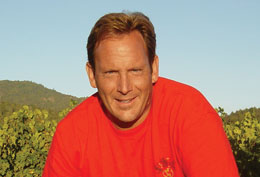 Stuart Spoto
Stuart Spoto '82 used to make wine at home for fun. Now he makes wine commercially — but still at his Sacramento home.
Spoto Wines, the first residential bonded winery in Sacramento County, makes its Cabernet Sauvignon and Bordeaux blends with grapes from the Oakville Station, UC Davis' own research vineyard in the heart of the Napa Valley. "Our operation is just like what you would find in Napa, but on a smaller scale," Spoto said.
Spoto learned the art of making fine wines from his father, Henry Spoto Jr. of Davis, who has been featured in Wine Spectator magazine for his artisan wines.
After earning his degree in chemical and civil engineering, Stuart Spoto spent several years working as a civil engineer. But he continued to make wine as a hobby and, about eight years ago, he decided to turn his winemaking passion into a business. "For awhile, I maintained my day job to pay the bills, but, as of 2010, I went full time making wines and I am so happy with how everything has turned out."
Spoto Wines have won numerous awards at the California State Fair and other wine competitions, and received high scores from Wine Spectator. But Spoto sometimes still has trouble believing his success. "Making wine was just a fun hobby that I did with my dad," he said. "If you'd told me 30 years ago that I would have my own winery, I wouldn't have believed it."
Spoto Napa Valley Wines is truly a family business, spanning three generations. Spoto's daughter, Arianna, who recently completed a degree in wine and viticulture at Cal Poly San Luis Obispo, assists with distribution. Spoto's wife, Christy Benty Spoto '83, has also been an integral part of Spoto Wines.
Spoto said he enjoys participating in the Cal Aggie Alumni Association's Vintage Aggies Wine Program and the Mondavi Center's "Uncorked" winetasting events for donors. "I pour wines on campus, while seeing alumni that I haven't seen in years and supporting other great alumni winemakers."
For more information, visit the Vintage Aggies Wine Club.
Back to Alumni: Traveling the world with Aggies