THE CARD CATALOG . . . DISCARDED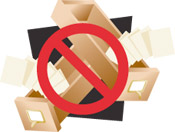 The card catalog cabinets stand empty along the back wall of the campus Bargain Barn, past the reconditioned electron microscopes, shelves full of old computers, two arcade games, discarded office desks and dented filing cabinets waiting for resale.
No longer needed in the university library, which has converted its main catalog from paper to digital, 44 catalog cabinets had joined the other items awaiting reincarnation. But what to do with a behemoth cabinet with a metal rod running through the bottom of each of its 72 drawers? Storage for baseball cards, recipes, fabric scraps, scrapbooking materials, screws and bolts?
I can't think of a use or place for them in my life. Nonetheless, I greet the tall, hardwood cabinets like old friends. I haven't used a card catalog in ages. After years of using online databases and keyword searches, I can't quite remember exactly how the card catalogs were organized, what information was listed on the cards or where I started when I wanted to look something up.
But my index and middle finger start to move, walking in air, when I think back to my own days as an undergraduate, flipping through the 3-by-5-inch cards, searching for possible sources for term papers. When I open a drawer, the brass pull feels smooth, reassuring and familiar.
Some of these cabinets, long the gateway to the university library's stacks, still have their signs: "Author/Title," "Facts An," "Hobbs, Q." But each drawer is empty, except for the rods that used to keep the cards in place.
The university library started the paper-to-digital switch in the early 1990s, when it stopped filing new cards to the main card catalog. After completing the conversion, the library emptied the card cabinets and moved them out last summer, freeing up more room for study space.
Not many undergraduates will miss them. Many haven't used a card catalog in years, if they've ever used one at all.
"I remember them existing, but in our public library, not at school," said freshman Joseph Ferreira of Folsom, as he waited for a tour of Shields Library and orientation to using online research tools.
The last time Stephen Schram, a freshman biotechnology major from San Mateo, used a card catalog he was an elementary student who had to stand on a chair in order to reach the drawers. He remembers another drawback in using card catalogs to look up his research topic. "You had to know how to spell it properly."
One student, Cassandra Manning, a wildlife conservation major who used card catalogs through high school in Dublin southeast of San Francisco, says the card system seemed friendlier. "I find the computer one more confusing."
Still, at one fall orientation tour at the library, not a single student asked about card catalogs. Instead, their questions concerned the library's wireless network for their laptops and whether they could copy online journal articles onto a computer disk.
While a faculty Academic Senate committee endorsed the removal of the card catalog last spring, not all faculty members were pleased. "I knew this baleful day would come sooner or later," bemoans evolution and ecology professor Arthur Shapiro, who says the card catalog was better for finding materials that are old, obscure or in other languages.
Myself, I love online catalogs because they are so fast and accessible. I can look up materials in the 10-campus university system without even going to the library. Moreover, I can tell if a book is checked out, request a book and often read journal articles, historical newspapers and other materials online.
So why did I feel so wistful when, sitting at a Shields Library work station recently to use the online catalog, I reached for a piece of scratch paper, turned one over and recognized it as a discarded catalog card? The cards stacked by the computer all bore titles and authors starting with H and I, on subjects like horses, heart disease and iron.
Suddenly, I felt a little like the fellow in the Sherlock Holmes story, The Red-Headed League, who was hired to sit in an office and hand copy the encyclopedia: "Eight weeks passed away like th is, and I had written about Abbots, and Archery, and Armor, and Architecture, and Attica, and hoped with diligence that I might get on to the Bs before very long."
As a library user, I haven't lost the chance, should I ever choose, to read books listed on those recycled catalog cards. But I still have this nagging sense, like the Holmes character, that I haven't gotten to the Bs yet.
The card catalog—in its indubitable, 19th century, taxonomic sort of way—made all that collective knowledge in the library's vast holdings seem so neatly organized. With each subject sorted, stacked and cross-referenced in neat little boxes, all that information seemed more attainable somehow.
Online catalogs are far more powerful tools, giving faster, wider access to more information. But with the end of the card catalog, I lose an illusion of hands-on control that comes from flipping through the card catalog. While there's no way that I could ever read all 3 million volumes in the university library, I could at least, had I wanted, run my fingers over all those 3-by-5 cards.
— Kathleen Holder