CENTURY MARK

Break out the birthday candles—lots of them! Your alma mater just passed a 100-year milestone. On March 18, 1905, Gov. George Pardee signed an act to establish a university farm school for the University of California. The first page of a draft of that bill, written by a Sacramento judge named Peter J. Shields, is shown at right. The same act also created a commission to pick the site and appropriated $150,000 to buy the land. It would be more than a year before that commission selected a tiny town then known as Davisville from more than 70 proposed sites around the state. In 1908–09, the first students enrolled. In coming issues, UC Davis Magazine will mark some of the key events and dates leading up to the centennial anniversary of the opening of the University Farm School.
— Kathleen Holder

ASTHMA BREATHING ITS LAST BREATH?
A recent discovery, seven years in development, is giving new hope to sufferers of allergic airway disease, or asthma.
Researchers in UC Davis' Department of Anatomy, Physiology and Cell Biology and at the campus's Primate Research Center have helped develop a vaccine that appears to halt the symptoms of asthma and repair damaged lungs. While current treatments for the common respiratory ailment simply alleviate the symptoms, this new vaccine may offer a permanent cure.
"This is the only treatment capable of reversing the damage to the lungs and airway," said Charles Plopper who, along with Michelle Fanucchi and six other UC Davis faculty, headed the project.
In studies funded by the National Institute of Environmental Health Sciences, the researchers used the primate center's controlled environment to induce a condition in monkeys that met the criteria for asthma outlined by the National Institutes of Health. In a study performed on these monkeys, the vaccine cleared the lungs and healed scarring within 44 weeks.
The vaccine, called immunostimulatory sequences, or ISS, works by changing the way the body responds to inhaled allergens. In asthma patients, hypersensitive receptors on the surface of cells respond to infectious agents by prompting the nervous system to constrict the airway. ISS, derived from a bacterial DNA, binds to receptors that elicit an immune system response—as occurs with a bacterial infection—thus overriding the asthmatic reaction.
Testing of the vaccine is in only its earliest stages, and Plopper stresses the importance of keeping the study's findings in perspective. In order for ISS to be approved for clinical use, the Food and Drug Administration will have to have a greater knowledge of its long-term effects, and there is still much, according to Plopper, that even the developers don't know.
"Is it going to be harmful in the long run? Is it going to be effective long term? The other thing we would like to do is to test how effective this would be with children."
Despite uncertainty, the study's findings have been "overwhelming," said Plopper. "Everybody was surprised. It's not 100 percent, but nobody thought it would be quite this [effective]."
— David Owen

NAMESAKES: HICKEY GYM
Vern Hickey
1900-1987
One of the first things people noticed about Vern Hickey was his big, strong hands. A former college football star, Aggie coach and Davis mayor, Hickey left a lasting impression with just a handshake.
"The first time I shook hands with him, his hands enfolded my whole arm. He took pride in that," said retired coach Herb Schmalenberger, who likened Hickey's hands to those of Rodin's sculpture The Thinker.
But Hickey's legacy was a coaching philosophy that put students first, said Schmalenberger and a succession of other coaches who followed in Hickey's footsteps. "He developed a philosophy of the student-athlete that is still with us today," said Schmalenberger.
Hickey, a native of Everett, Wash., had been a two-time all-coast selection at halfback at Washington State University and played in the first East/West Shrine football game in 1925. He joined UC Davis in 1937, where he coached football and golf—and in addition, during the early years, baseball, basketball, water polo and swimming. He aslo served as athletic director from 1961 until his retirement in 1967.
Off campus, he was a member of the Davis City Council from 1947 to 1960, serving as mayor in 1954–1959. He also chaired the planning and recreation commissions, served as police commissioner and chaired the Davis Chamber of Commerce board of directors. He was named 1953 Davis Citizen of the Year and was inducted posthumously to the UC Davis Athletic Hall of Fame.
Hickey once told a newspaper reporter that the most important lesson athletics teaches students is how to work with others.
"He gave me one bit of advice when I started coaching: 'A pat on the back goes further than two on the butt,'" said his son, Bill, a retired Sacramento City College Hall of Fame wrestling coach. "He always tried to find something good in anything bad and build off that. I've tried to follow that."
— Kathleen Holder

GOT ANTACID?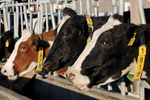 California dairy cows produce only half the amount of air pollution that had previously been believed, says the UC Davis scientist conducting the first controlled study of its kind.
And in fact, air-quality specialist Frank Mitloehner found that most of a dairy cow's contribution to smog comes not from her manure, but from her belching.
Those unexpected findings may substantially change the thinking and the practices of California regulators and dairy operators trying to reduce air pollution, Mitloehner said. "We have to re-think [the contention] that the only good solutions are engineering solutions, such as capping or aerating manure lagoons, and consider biological avenues such as animal feeding and management. For the first time we can tell dairy farmers the source of their air pollution."
For three months, Mitloehner studied dairy cows in controlled environmental chambers to collect precise measurements of the volatile organic gases and other pollutants like ammonia and methane produced by the animals and their waste. The information is urgently needed by the $4.6 billion, 1.5 million-cow California dairy industry—the largest in the world—as dairy producers try to comply with strict new pollution rules.
The study was prompted by concern over air quality in the San Joaquin Valley, which ranks as the worst in the country. The No. 1 source of ozone (smog) air pollution in the valley is exhaust emissions from trucks and cars. The No. 2 source is thought to be gases from cows on dairy farms.
But Mitloehner found that cows and their waste produce only about 6.4 pounds of volatile organic compounds (VOCs) per year—half the amount estimated in 1938 study, on which California's rigid new air standard is based.
Furthermore, Mitloehner found that about 40 percent comes from excreta.
Mitloehner is lead scientist on the $85,000 study, which is funded by the U.S. Environmental Protection Agency and the San Joaquin Valley Air Pollution Control District.

— Sylvia Wright