CHILEAN FRESH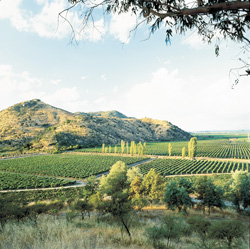 Chile is one of the world's leading fresh-fruit exporters, thanks to a group of UC Davis alumni.
By Kathleen Holder
Nearly all the table grapes you eat during the winter come from Chile, but you could also say they are the fruit of UC Davis. The same goes for the Chilean-grown apples, peaches, nectarines, pears and avocados that you find out of season in your grocery store.
More than 50 Chileans who studied agricultural sciences at UC Davis in the 1960s and 1970s—the "Davis boys"—are widely credited with helping to transform their country into one of the world's leading fresh-fruit exporters.
Now, there is a new wave of Chilean scholars—protégés of the first Davis boys—who are pursuing graduate studies at UC Davis with hopes of helping their country tackle a new array of challenges, from improving fruit and wine quality to expanding fish farming and cleaning up pollution.
And campus officials are working with a nonprofit business incubator in Chile to develop UC Davis innovations in food processing, fish farming, agricultural biotechnology and other fields as Chile seeks to diversify its economy beyond copper and fruit exports. Chile last summer became the first South American country with a free-trade agreement with the United States.
A Fruitful Exchange
| | |
| --- | --- |
| | Among the many UC Davis alumni in Chilean agriculture are fruit producer José Domingo Godoy (from left); Anthony Wylie, dean of agronomy at Santo Tomás University; Carlos Fernández, a researcher at the nonprofit business incubator Fundación Chile; and Edmundo Bordeu, enology professor at Catholic University of Chile. Photo by José Luis Risetti, El Mercurio. |
Anthony Wylie, dean of agronomy at Chile's University of Santo Tomás, said he saw great potential to expand Chile's fruit production before coming to UC Davis in 1965. He earned a master's degree here in 1966 and a doctorate in 1969.
He was one of the first Chileans to take advantage of "convenio Chile-California," a 1965–73 exchange agreement that sent UC professors to Chile and Chilean graduate students to UC campuses. Most of the Chilean students came to the Davis campus to study agriculture.
The convenio was established with funding from the Ford Foundation at a time when the United States sought new alliances in Latin America to counter communism.
Wylie said he chose UC Davis over other agricultural programs around the world because California's climate is so similar to Chile's and because, for fruit science, "Davis was the best."
At UC Davis, Wylie focused his research on peaches, studying varieties and production techniques that could be adapted for Chile. Moreover, he said, he learned a scientific approach to problem solving, which he and other alumni taught—and still teach—to their students back home. "It has a multiplying effect."
What followed, beginning in the mid-1970s, was a fruit boom that transformed the Chilean countryside and contributed to the nation's rising standard of living, according to Chilean and UC Davis experts on Chile's agricultural development.
The phrase "Davis boys" derives from the "Chicago boys"—Chileans who studied the neoliberal economics of Milton Friedman and Arnold Harberger at the University of Chicago and launched economic policies that made Chile a model for free-trade advocates. Those policies were started under dictator Augusto Pinochet and extended by succeeding democratic governments.
The Davis boys provided technical expertise on what crops to introduce to Chile and how to grow them. "These scientists, then mainly professors in Chilean universities, took the lead in explaining to the farmers how to make these changes," said Lovell "Tu" Jarvis, UC Davis professor of agricultural and resource economics and an associate dean for the College of Agricultural and Environmental Sciences.
"They identified California varieties that could be grown in Chile and exported to world markets, and then helped farmers adapt production practices to produce high-quality fruit," Jarvis said. "They knew how to do basic research and taught farmers how new technology and better management could improve profits. Their contributions were crucial to the fruit sector's tremendous progress between 1974 and 1991."
Fruit exports from Chile rose from $50 million to $1 billion during that period and have continued to grow since, Jarvis said. Chile now produces about 95 percent of the table grapes imported by the United States in the winter.
With the growing season in the Southern Hemisphere from January through March, table grape imports helped rather than hurt California growers, Jarvis said. "People got used to eating grapes year-round," he said. Consumption rose, as did California growers' sales and prices.
UC Davis history professor Arnold Bauer, an authority on Latin American history who wrote a well-known book on Chilean rural society, said that changes in Chile's central valley over the past few decades have been dramatic.
"I first came to Chile in the later 1960s when the central valley countryside was still devoted to the traditional activities of cereal, wheat mainly, and livestock, with a few nice wineries, large haciendas or fundos, and lots of raggedy campesinos," Bauer said via e-mail from Chile where he has directed an Education Abroad program the past three years.
"Now, driving south from Santiago to Talca and even beyond, one sees hardly anything but stretches of vineyard, rows of apple, peach, pear and apricot trees and, every now and then, huge packing houses, mainly the result of foreign investment by Del Monte, Dole, Uni Frutti and so on. The fields of fruit trees and vineyards are, by and large, owned by Chileans; the commercialization of the product is largely in foreign hands.
"What Pinochet and the Chicago boys did was carry out, in their terms, a 'capitalist revolution' in the countryside with the expected up and down sides. The Davis boys were important in providing the technical expertise in the fruit and grape sectors. I think that the convenio with the University of California and the University of Chile was, in the terms expressed, very successful, even 'fruitful' if you don't mind the pun."
Generational Impact
The Chile–UC Davis links have had long- lasting effects. UC Davis alumni, with advice from UC Davis professors, also helped transform Chilean higher education by establishing agricultural-sciences curricula.
When Carlos Crisosto was an undergraduate student at the University of Chile, most of his major professors were UC Davis alumni. Even though the convenio had expired and there were fewer scholarships for Chileans to study here, Crisosto came to UC Davis to get his horticulture master's degree in 1982. "UC Davis was the most distinctive university in agriculture," he said.
He now works as a Cooperative Extension specialist at the UC Kearney Research and Extension Center near Fresno, where he researches ways to improve handling, packing and shipping of table grapes, nectarines, fresh market peaches, plums, apricots, kiwifruit, figs, olives and Asian pears.
Reinaldo Campos, who earned his doctorate in plant biology at UC Davis in 2001, said UC Davis was his first choice for graduate school.
"The possibility to get many ideas of great scientists is remarkable at Davis," said Campos, who now conducts research on fruit and vegetable physiology and post-harvest techniques for Chile's National Institute for Agriculture Research.
About 25 Chilean students were enrolled this fall at UC Davis, most of them in graduate programs, according to Wes Young, director of Services for International Students and Scholars. That is far fewer than the hundreds of students from China, Korea or Japan. However, Chile, a relatively small country with about 15 million people, still ranks 13th among foreign countries for numbers of students attending UC Davis.
"A lot of people come here because of the professors we had," said Cristóbal Uauy, a doctoral student here researching wheat genetics. "We always heard about the quality of education at Davis, and also of the shared interests."
Uauy, co-founder of the Chilean Cultural Association of Davis, said many other Chilean graduate students are junior faculty members who continue to receive salaries from their universities on the condition that they go back and work two years for every year they spend here. "The idea is not to have the brain drain from Chile," Uauy said.
UC Davis fellowships cover his fees here, so he is not obligated to return immediately after finishing his Ph.D. in 1½ years, leaving open opportunities for postdoctoral research. However, he said he wants ultimately to go back, as do most Chilean students. "There's a national pride in how we're doing compared with the rest of Latin America. We want to be part of that. We want to help our country."
However, he says that rising fees and visa restrictions are discouraging other Chileans from applying here. Few new students arrived this year to replace the 10 who finished their studies and returned home, he said. "It's getting harder to get money. It's getting harder to get visas."
More than half the Chilean students study agricultural sciences, Uauy said. But a few study atmospheric sciences under meteorology professor Robert Flocchini, an expert on how agriculture contributes to air pollution. Three others study history.
Even one of the history students said the long-standing UC Davis–Chile ties influenced his decision to come here. Pablo Whipple, whose history dissertation focuses on 19th century Peru's ruling class, said colleagues at the Catholic University of Chile and friends studying here recommended UC Davis to him.
Future Directions
Alan Bennett, an internationally known UC Davis plant sciences professor and associate vice chancellor for research, said the university is seeking new funds from the U.S. and Chilean governments to bring Chilean graduate students here and to provide opportunities for California students and faculty to carry out research in Chile.
Bennett has been working with Chilean colleagues to develop technology transfer programs. Last year, he worked with the nonprofit Fundación Chile in developing a national plan for getting Chilean research innovations to market. Created in 1976 by the Chilean government and ITT Corp., Fundación Chile seeks to diversify the Chilean economy by creating new companies based on sustainable natural resources.
Bennett also developed an agreement between Fundación Chile and UC to identify technologies developed at UC campuses that could be commercialized in Chile. "The university would like to see its technology further developed," Bennett said. "In some cases, a technology is not being developed in the United States because it doesn't fit into existing industries here that are typically further advanced but may make sense in the still-developing Chilean industry sector."
Bennett said educational exchange programs like the one that trained Chile's Davis boys are critical to future innovations in both countries. "It's really through the students that these technologies can be developed."
Chile is a good partner because, in addition to UC Davis' many alumni there, the country shares a similar climate, strong research in agricultural biotechnology and many of the same natural resources as California.
Chile's main export is copper, but it is increasing its exports in crops, fish and forestry products. As its economy moves from non-renewable resources to renewable resources, Bennett said, Chile faces a great need to clean up the copper mines.
At Fundación Chile, Bennett has been working with alumnus Carlos Fernández, who earned a doctorate in plant physiology from UC Davis in 1978 as one of the last Chileans to come under the convenio. He worked 20 years for Monsanto in Brazil, Europe and Davis before returning to Chile five years ago.
Fernandez said UC Davis' help in developing technology transfer programs is welcomed in Chile. "In our country, this process is very weak," he said.
"Our country is a good producer and exporter of raw materials—fruit, minerals, something you take from the environment. We want to add value to all those natural resources. To add value, we need to produce new technology.
"Certainly the valuable technology is at UC Davis," he said. "The general consensus is that the University of California, and UC Davis especially, is a center of knowledge and innovation that is first-line in the world."

Kathleen Holder is associate editor of UC Davis Magazine. Top photo courtesy of Chilean Fresh Fruit Association.