FOUR MORE YEARS?!
Applying to graduate school is a more complicated decision—and process—than applying to college.
By Marion Franck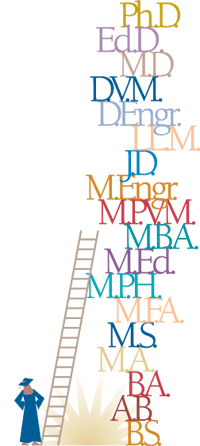 When my daughter applied to college, I was ready, willing and able to help her. After all, I knew the value of college, and I'd been through the application process myself.
Graduate school was another story.
It sounded good, but what was the right timing? What were the right steps? These questions dogged me as I watched my daughter struggle through senior year writing an 80-page honors thesis. Why give up some perfectly good classes to do that?
It turns out that I was not alone in my confusion.
Nick Tooker, a Ph.D. candidate in environmental engineering at UC Davis, reports that his parents wondered if graduate school itself made sense.
"They didn't understand why I would give up a starting salary of $50,000 a year to spend five years and end up with a starting salary of $50,000 a year."
Tooker's decision was spurred by his passion for teaching. Although he could have secured a good job at Chevron-Texaco or Micron with just an undergraduate degree, he loves to teach and wants to do so at the college level.
Indeed, college teaching is the goal of many graduate students, but dozens of other reasons for advanced study exist as well. Some fields, such as social work or city planning, require a master's degree, which usually takes one to two years. Other kinds of work require a doctorate, which takes at least four years, often six and sometimes 10.
A survey of 2002 UC Davis graduates found that, within a year, 38 percent had gone on for some type of advanced degree.
Where to Begin
Even when parents understand their students' motivation for graduate school, they often feel ignorant about the application process. Is their son or daughter a good candidate? What kind of financial support is available? What does the student have to do to get in?
If parents wrongly assume that applying to graduate school is just like applying to college, their advice may be counter-productive.
"If your parents don't know anything about your specialty," explains Hope McCaslin, a UC Davis graduate student in engineering, "they're not going to know what a good school might be." A parent might recommend the University of California or the Ivy League to a son or daughter who replies,
"But the University of Wisconsin is the hot place for what I'm doing."
Rarely do parents know that the match between the student and the Ph.D. thesis adviser can be more important than the name of the school. Last year the Chronicle of Higher Education, the leading newspaper about college, reported that mismatches between advisers and students are a primary reason for students quitting doctoral programs. This is no small matter, since the drop-out rate is high, estimated at 40-50 percent, with more students leaving the humanities than the sciences.
Finances are another topic about which parents may be misinformed. Although some students drop out due to money problems, parents should not assume that all graduate school programs will either drain their pocketbook or burden their student with staggering long-term debt. Unlike law and medical school, many graduate programs provide funding in the form of fellowships, teaching assistantships or research assistant positions. In general, more funding exists for Ph.D. programs than for master's programs.
Getting Ready
If your student has begun talking about graduate school, here are ideas to consider:
1. Graduate school should not be undertaken just because "it's what comes next." Students who enroll without real plans are especially likely to drop out.
Jenni Halpin, a UC Davis graduate student in English, elaborates, "The stress in graduate school is high for everyone, but it seems more manageable for those of us who came for a clear purpose."
Of course, part of any "clear purpose" should be a reality check; in some fields, the competition for college teaching positions is fierce.
2. A good time to begin preparing for graduate school is junior year. Students should have two goals: identifying their academic passions and establishing strong credentials.
Many students seek internships or write honors theses. Anything that involves doing research—the principal activity of graduate students—is excellent preparation.
Future graduate students should get to know their undergraduate professors, who can advise them on programs and write letters of recommendation. For some graduate programs, students will be expected to identify potential advisers as part of the application process, and undergraduate professors can help with that, too.
How else can a student prepare?
Conor Murphy, a doctoral candidate in education at UC Davis, advises students to "get jobs that apply to your field. Know a lot of people's work. If you've done your reading as an undergraduate, when you go for the grad school interview, you'll be more comfortable.
"I compare the interview to going to a dentist. A dentist can see if you've been brushing consistently for six months or just as hard as you could for 30 minutes before your appointment."
3. For many students, it is wiser to apply for a Ph.D. than a master's program. Students should discuss this topic with their undergraduate professors. In general, graduate schools make a greater commitment of time and money to Ph.D. candidates. Many of these students don't lose out on their chance for a master's degree; some programs allow them to get it along the way.
4. Students should expect the application process to be stressful, especially if they apply while still in college. Great amounts of time will be eaten up filling out applications for admission and funding, and traveling to interviews. Students also take standardized tests for which test preparation courses (a gift from parents?) can be helpful.
5. The application process is more personal than it is for undergraduate school.
Graduate departments make a long-term commitment to a very small number of students, so they want to know them before they choose. For that reason, the student's "personal statement" is even more important than when he or she applied to college.
The task can be daunting.
Maura Grady, a UC Davis doctoral student in English, says, "Suddenly all the things that in a normal setting would make you interesting are the same for almost everybody else who is applying. It can be a little soul-destroying when you sit there and realize, 'There's nothing cool about me. I haven't joined the circus. I haven't done something really, really exciting.' I advise applicants to start early and to have a lot of people read their statement."
6. Applying to graduate school is a non-standardized, even disorganized process compared to applying to college. In some cases, the application goes to the graduate office; in others, to the department. In some cases, test scores go to the graduate office; in others, to the department—and so on.
Timing varies. Students who apply in fall may hear from graduate programs in February—or April. Schools may invite students for interviews before making a decision, or they may accept students and then invite them to visit. Some trips are paid; others are not.
Candidates may find themselves crisscrossing the country as they check out their favorite programs. But rarely can a student choose a school simply because he or she likes it best. Funding packages differ, not only in the amount of money offered but also in the number of years of funding and in the obligations attached, such as a requirement to teach. As April 15 approaches—the universal reply date—students weigh many factors as they choose which program to attend.
7. Even with all its twists and turns, the application process makes sense.
It is comforting to know that the skills a student needs to apply are also the skills that make a good graduate student. If your son or daughter can establish relationships with faculty, do research about graduate programs, write a good personal statement and perform well in an interview, he or she will be well-suited to graduate school.
If your student doesn't have those skills yet, don't panic. Taking time out for work, internships or extra study before graduate school is rarely a mistake.

Marion Franck is a Davis writer and regular contributor to campus publications for parents.