Volume 27 · Number 3 · Spring 2010
Darrell Steinberg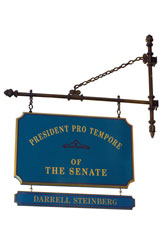 Should anyone ever be so inclined, they won't have to build a monument to Darrell Steinberg at the UC Davis School of Law. It already has one.
Before he graduated in 1984, and long before the Americans with Disabilities Act, Steinberg led a tenacious campaign to make King Hall's moot courtroom accessible to disabled students like his friend, Mimi Jones, J.D. '85, a polio survivor who used a wheelchair.
Steinberg remembers it clearly. The crusade, he said, changed his life. Law professor Margaret Johns could not hold back the tears when she talked about it.
"Darrell made it his personal campaign to get a wheelchair lift in the moot courtroom so that Mimi could participate in arguments, like everybody else," Johns said. "Law students are so busy and Darrell took so much time. He was patient but relentless. . . . This was like a human rights issue to him and he was not going to give up."
Jones died a few years later, but for Steinberg — now 50, a seasoned politician and the leader of the California state Senate — it was his first taste of the power of advocacy.
"It was a lot of fun to engage in a righteous cause and to see it through, to not give up and to not take 'no' for an answer," he said during an interview in his office, the spacious digs of the Senate president pro tempore. "To this day, that is a touchstone for me in all the various battles I've been in."
Expected to win re-election to a second and final four-year term later this year, the Sacramento Democrat is positioned to serve as the Senate's leader and arguably the second most powerful politician in the state for the next five years.
On the day he assumed the leadership post in December 2008, he outlined a daunting agenda that began — and some feared might end — with a concerted effort to solve the state's chronic fiscal troubles. More than $60 billion in cuts, accounting maneuvers and tax increases later, he faces yet another multibillion-dollar deficit.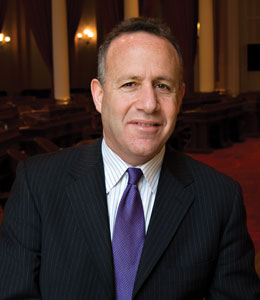 "This is a moment in history. I feel that weight," says Darrell Steinberg, president pro tem of the California Senate and a 1984 graduate of the UC Davis School of Law. (Photo: Karin Higgins/UC Davis)
Nonetheless, he delivered a big water deal and is preparing to move on to other priorities such as renewable energy, a new approach to land-use planning, education reform and curbing the state's dropout rate. All are pieces of his overriding cause — rehabilitating the Legislature's anything-goes, Animal House image before it's too late, before the push for a constitutional convention or a part-time Legislature becomes unstoppable.
"This is a moment in history," he said. "I feel that weight.
Steinberg's ability to muscle his way through the state's monumental fiscal problems and then plunge into the intractable world of water politics has drawn high praise, even from across the aisle.
Dan Schnur, a former Republican strategist who is now director of the Jesse M. Unruh Institute of Politics at the University of Southern California, said Steinberg is the best leader the Senate has had in at least 20 years.
"The only reason I can't extend that further is because I moved to California in 1990," Schnur said. "He's smart. He understands the system. He's principled, but he understands when it makes sense to compromise in order to achieve those principles.
"And he's one of the most genuinely decent people you will find in politics in either party, at any level."
Steinberg lives in the Pocket area of Sacramento with his wife, Julie, and their children, a daughter, Jordana, and son, Ari. He starts almost every day with a solo 30-minute jog to maintain his physical and mental well-being.
He also replays the sage advice he's collected over the years from former lawmakers like Santa Clara Democrat John Vasconcellos, who once told him "it's more fun to serve during good times, much more important to serve during the difficult times."
"This is an important time," Steinberg said.
Yet the state's problems probably would have been someone else's headache had Steinberg followed his first inclination and gone to UC's Hastings College of Law in San Francisco, not far from his hometown of Millbrae. But UC Davis captured his heart at first sight.
"When I looked at both schools, I decided on the spot I wanted to go to Davis," Steinberg recalled. "I loved the campus and I thought if I'm going to go through what everyone describes as the rigorous law school experience, I wanted to be in a place where I could enjoy some other things as well, in a more, sort of low-key environment.
"It was a tough choice. But . . . if I had been inclined to go the other way, I don't think I'd be sitting in this chair today. Because Davis led to my getting a job in Sacramento, which led to getting involved in the Sacramento community, which led to politics and, 25 years later, I have an important job."
In truth, it might have happened anyhow. The political itch first developed in elementary school and appears to have been incurable. He ran for his first elected office in fifth grade.
"I won in fifth, won in sixth, lost in seventh, won in eighth — student body president," he said with a glint. "Won in ninth, won in 10th, lost in 11th and then in 12th, decided not to run."
After a brief stint as a corporate lawyer, followed by a decade as an employee rights attorney for the California State Employees Association, Steinberg re-entered politics in 1992, when he was elected to the Sacramento City Council. He served on the council for six years before winning an Assembly seat in 1998.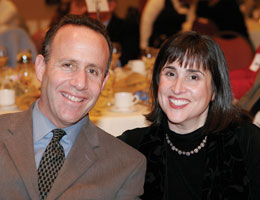 Steinberg and wife, Julie, at a dinner in support of Proposition 63. Steinberg considers the success of the mental health initiative one of his greatest political achievements.(Photo courtesy the office of Senate President Pro Tem Darrell Steinber)
Perhaps his greatest political victory came in 2004, when California voters approved Proposition 63, an initiative he championed. The measure added a1 percent income tax surcharge on millionaires to raise more than $1 billion a year for mental health programs.
"I look at that and, no matter what else I do or don't do, I know that over time hundreds of thousands of people who desperately need help will get the help because of the work that I participated in with others," he said.
As a liberal in a Legislature dominated by Democrats, Steinberg has enjoyed many victories and public service in general — until last year. Confronted with the worst budget crisis in state history, he spent much of the year poring or haggling over few options, all painful. The grueling negotiations, the vicious sniping, the cuts that had to be dealt to the state's poor and infirm took a personal toll he had never experienced before.
It was the first in 15 years of public service that he had not enjoyed. He's done a lot of thinking about that. Yet, despite some lingering frustration, he can't contain his natural optimism.
"We got through the worst budget crisis in history, that continues, and despite a lot of pain, California is still standing," he said. "And on water, we achieved a major breakthrough."
The complex water package depends heavily on an $11.1 billion bond issue that voters still must approve. The funds would pay for new water storage and other infrastructure projects as well as environmental protections and improvements in the critical Sacramento–San Joaquin River Delta.
That Steinberg is still standing, and even upbeat, after the past year surprises no one who knows him well. Smart enough to graduate in the top third of his law class, he is often described as something of a political anomaly: an earnest, unaffected nice guy who learned as a high school tennis champion that victory often goes to those who can keep the ball in play.
"He's got an incredible work ethic," said Sen. Dave Cogdill, a Modesto Republican and a former Senate minority leader. "He's a workaholic. I tease him about that."
Cogdill, a conservative who sat across the table from Steinberg during much of the budget and water negotiations, said his liberal counterpart is "well respected, not only in his caucus, but throughout the building."
The nice guy credentials were on display during Steinberg's odd journey to the Senate leadership post. In an arena where one of the oldest rules is to put up the votes when you have them, Steinberg did that but then agreed to wait nine months before taking over from Sen. Don Perata, D-Oakland, to avoid a confrontation. Although never announced, the vote reportedly was not close, with all but perhaps three of the Senate's 25 Democrats lining up with Steinberg.
Outside the Capitol, the Steinberg stories are no different. Robert Dresser, a Sacramento attorney and immediate past chairman of the Jewish Community Relations Council, has known Steinberg for years and still plays golf with him occasionally.
"I think he lets me win, frankly, because I'm older than he is," Dresser said. "It's respect for elders."
At the law school, Dean Kevin Johnson said Steinberg is held up to students as a role model "of what you can be ethically, with integrity and with impact, as a lawyer.
"He's a walking exemplar of what public law schools should be doing," Johnson said. "I have a great deal of respect for him because I also know he's a devoted family man . . . We've talked about how hard it is to balance all this stuff we've got going on with our obligations to our families, and he takes that very seriously."
Although not much in dispute, the nice guy label has become something of a running joke, according to Steinberg. In the same breath, however, he warned those who might be tempted, not to underestimate him.
"I think it's actually a myth — not that I'm a nice guy. It's a myth that you have to be a jackass or a jerk to succeed in politics. What I have that maybe makes up for that . . . is I think people would describe me as a dog on a bone.
"If you're going to succeed, persistence and tenaciousness are two of the most important attributes you can have. So I always say to people, never confuse being a nice person with lack of fire or lack of resolve."
Republican Gov. Arnold Schwarzenegger was among those who saluted Steinberg for his tenacity during the tedious water negotiations.
"Ten months ago, Sen. Steinberg looked me in the eyes and said, 'We're going to get water done this year,'" Schwarzenegger said during a November press conference. "And I saw his passion . . . He worked from that point on tirelessly, with all of the different people, with all the organizations, Democrats and Republicans. He brought everyone together."
Steinberg also has demonstrated a willingness to engage in the rough-and-tumble of the job, what he called "the bare-knuckle and difficult parts of being a legislative leader."
Bare-knuckled? Darrell Steinberg?
"You know what, you'd be surprised," he insisted. "When necessary, I must say I have gotten more comfortable over the years with genuine confrontation. I mean, I've always enjoyed a good fight, in a courtroom, on the floor of the Legislature. Look at some of my speeches on YouTube, my floor speeches. I get into it.
"But I'm also not afraid to have a hard conversation."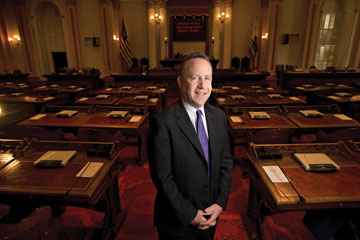 Steinberg on the floor of the California Senate chamber (Photo: Karin Higgins/UC Davis)
In his first year as Senate leader, Steinberg has doled out a little discipline, crossed powerful, like-minded interest groups and angered some of the Senate Democrats who chose him to be their leader.
Public employee unions that consider Steinberg one of their strongest allies were alarmed at the depth of cuts in budget compromises he embraced. One of the state's most powerful unions, the California Teachers Association, also opposed recent education reforms that moved through the Senate with his blessing. The legislation was designed to make the state eligible for up to $700 million in federal "Race to the Top" funds.
Some Senate Democrats were sharply critical of the water package and Steinberg's support for a bill that exempted a proposed Los Angeles-area football stadium from the California Environmental Quality Act.
The water deal also caused Steinberg some personal embarrassment, when the multibillion-dollar bond issue drafted to finance the package was found to include $10 million for a civil rights center he has fought for in downtown Sacramento.
"That was a mistake, my mistake," he said.
But he argued the earmark for the civil rights center — a project inspired by the firebombing of three Sacramento synagogues in 1999 — was a mistake in judgment, not an ethical lapse.
Months earlier, Steinberg had emphasized ethics in his remarks to the law school's 2009 graduating class.
"The real question, which thoughtful lawyers and thoughtful people confront, is how close should you ever get to the line," he told the gathered students. "More broadly, will you define ethics for yourself, in your career and in your lives in a manner that allows you to say to your own little voice . . . 'I'm doing the right thing' "?
The tortuous budget negotiations, the difficult choices, the pressure from special interests had prompted a lot of that kind of internal reflection, about ethics and "being true to yourself," Steinberg confided then.
After news of the earmark leaked, Steinberg lopped the $10 million even though the bond issue still contains hundreds of millions of dollars for projects in other members' districts.
"He shouldn't have done it," Schnur said of the $10 million set aside. "It was a dumb mistake. But if that's the worst mistake he makes in his career, it's a pretty good career."
UC officials hope it will also be a long career. In addition to a law degree from UC Davis, Steinberg has an undergraduate degree in economics from UCLA and attended UC Berkeley for two years. To no one's surprise, he has become a go-to guy when the university needs help at the Capitol.
Always supportive of the law school, he offered calming reassurance when the King Hall expansion project was briefly suspended last year because of the state's financial squeeze.
"We were weighing what we were going to tell our alums, our faculty, our students," Dean Johnson recalled, "because we had foundation funding of millions of dollars that was likely to get taken back if we didn't continue with the project.
"Those were hard times. . . . But we were able — with Darrell's reassurance and moral support — to tell the alums and everybody, 'Hang in there. We're going to weather this.' And we did."
Last year, when legislation was introduced to repeal the university's historic constitutional autonomy, UC officials responded quickly with an opposition campaign focused on the Senate, and Steinberg in particular. UC President Mark Yudof, among others, called the Senate leader.
The measure later died quietly after Steinberg pulled it back to the Rules Committee and held it there.
"I want to do better by them," Steinberg said of the UC and higher education generally. "I am sickened by the decisions that we have made over the past year-plus.
"I know in my heart, given the constraints of this system, that they were decisions that were unfortunately necessary. But I think [given] the demonstrations, the student activism, what we've seen in light of the fee increase proposal, which is directly related to the budget cuts, that this is the year where we must take a hard line on further cuts to public education and higher education.
"That's not a guarantee," he added, "but it is a clear recognition that, just as the other side can hold out because they won't cross a line, we must say that California, its history, its reputation, its future is about educating people and we've already gone well beyond what is reasonable on the cuts side."
Steinberg has expressed reservations about the governor's proposed constitutional amendment to shift funding from state prisons to higher education. The initiative would limit prisons to no more than 7 percent of the state general fund while guaranteeing higher education at least 10 percent.
Other Aggie lawmakers
In the California Legislature:
Assemblymember Charles Calderon (D-Whittier), J.D. '75
State Sen. Ellen Corbett (D-San Leandro) '77
Assemblymember Pedro Nava (D-Santa Barbara), J.D. '77
Assemblymember Cameron Smyth (R-Santa Clarita) '94
In Congress:
Rep. David Loebsack (D-Iowa), Ph.D. '85
Rep. George Miller (D-Martinez), J.D. '72
Rep. Jackie Speier (D-San Mateo) '72
"I like the idea, it is aspirational," he said. "But it would have been a much more effective call to action six years ago. If you look at the history of the budget over the past six years, prison spending has increased 32 percent and higher education spending has decreased 9 percent."
UC officials were encouraged by the governor's call to reorder the state's funding preferences and have said they hope to work with him and lawmakers to develop a viable proposal to restore higher education's status as a top priority.
When his Senate career ends in 2014 — term limits will force him to give up his seat — Steinberg figures to be positioned to run for any number of higher offices, such as attorney general or the governor's office, although the latter has not been held by a Northern Californian in more than 40 years.
He also could return to King Hall, although he sounds like he had enough when he taught labor law for a semester in 1998.
"I loved it, but I must say it was one of the most challenging professional experiences of my life," Steinberg said, laughing. "Just preparing for (class) and then making it interesting, making it relevant, relearning the law that I have forgotten over the course of 15 years. It was a lot of work, but I really enjoyed it."
If re-elected to his seat and as Senate leader, Steinberg said he will have five tough years ahead, with much to be done to right the state's finances, to improve the state's water outlook and schools, to make climate change and transportation standard components of land-use policy — and to rehabilitate the Legislature's image.
"I still have a long way to go. Lot more I want to do. Still have the fire. Still have the same basic belief, not a naïve belief, that with these positions you can do a great deal of good. I'll see where it takes me."