Volume 26 · Number 3 · Spring 2009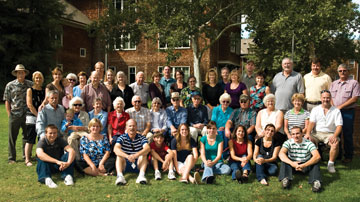 More than 40 relatives of the late John Rogers gather, as part of the UC Davis Centennial celebration, near the spot where he opened the gate of a former farm in 1906 for UC to establish the Davis campus. The reunion last September brought together three generations of the Rowe, Rominger, Chiles and Campbell families, which include a number of Aggie alumni. A brick gateway, built in 1983 for the 75th anniversary of the arrival of the campus's first students, marks the spot between Dutton and Young halls east of the Quad. (Karin Higgins/UC Davis)
Alumni
A Century of Connection
For some alumni, the history of the campus's first 100 years is a family tale.
By Brooke Converse
All alumni can claim a share of UC Davis' 100-year history, with some tracing Aggie connections for multiple generations. But for members of the Rowe-Rominger family, the UC Davis Centennial marks a full century of kindred ties.
"My family, the university and the cattle business are so intertwined, I hardly know where to start," said Evelyne Rowe Rominger '51. It was her uncle, John Rogers, who first opened the gate in 1906 when the University of California acquired the first 780 acres for the Davis campus. Rogers had managed much of that farmland and became foreman of the university farming operation. A brick gateway now marks the spot on the campus's eastern edge near Young Hall where the old wooden farm gate once stood. Rogers' descendents recently gathered at the gate as part of the Centennial celebration.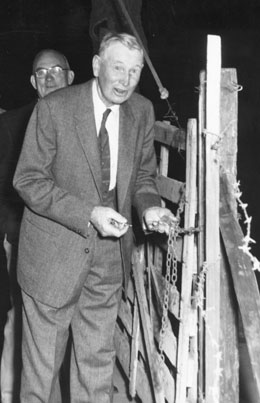 John Rogers, who unlocked the gate in 1906 when UC officially took possession of the land for the University Farm, re-enacts the historic milestone in 1956. (UC Davis Special Collections)
In January 1909 the University Farm accepted its first full-time students. Evelyne's father, John O. Rowe '13, enrolled the next fall after graduating from eighth grade. The University Farm initially had trouble attracting students because many rural families felt they could teach their sons all they needed to know about farming. John O., as he was called, was interested in livestock. "He took every class offered, but viticulture," said Evelyne. "It's ironic considering that our family now has a winery in Davis."
The milking shorthorn herd that Rowe developed is still in the family. Evelyne's brother, Stuart Rowe '53, continues to win championship ribbons and cooperates with cattle projects of the animal science department and the veterinary school, where his brother Charles' wife, Joan Dean Rowe '78, D.V.M. '80, is an associate professor.
In the 1960s, the Rowes lived on a farm a few miles from the campus. One day, Evelyne's mother, Lillian Rowe, drove by the campus and noticed workers preparing to bulldoze the few remaining fig trees from the original farm of Jerome Davis, the namesake of the city of Davis. Lillian told her daughter, who called then-Chancellor Emil Mrak. He walked out of his office and stopped the bulldozers. Those trees stand to this day east of Olson Hall, with a plaque explaining their historic importance.
Evelyne and her brothers Stuart, Charles and James all attended UC Davis. During her time on campus, she worked in a number of positions at the California Aggie, including editor in fall 1949. She was also in the band, as the majorette, the only female in what back then was still an all-male performance band. There she met her future husband, Richard Rominger '49, who played trombone in the front row.
"Rich has been told he has more relatives in the UC Davis alumni directory than anyone else," Evelyne says. "Our children like to say both of their grandfathers attended the first Picnic Day." Evelyne herself has attended almost every Picnic Day since she was born. Rich once told graduating seniors in a commencement address that when he and his wife talked about having their first child, she wanted the baby to be born in any month but April so she wouldn't have to miss Picnic Day.
"I like the pancake breakfast because it's the first chance of the day to see so many people I know. The exhibits are wonderful, but I always end up talking to people. I love taking my grandchildren to the parade."
In 1993, Rich was appointed deputy secretary of the U.S. Department of Agriculture by President Bill Clinton. The Romingers still managed to attend Picnic Day during the eight years they lived in Washington, D.C.
All four of the Rominger children went to UC Davis. Rick '76 graduated with a B.S. in agricultural economics and business management. Charlie '79 graduated with degrees in agricultural science and management, and agricultural engineering. Bruce '80 graduated with honors with a degree in plant science. Ruth spent two years at UC Davis studying applied behavioral sciences before transferring to UC San Diego.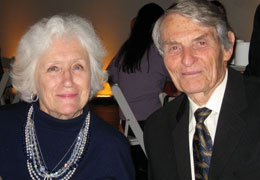 Evelyne and Rich Rominger
All three Rominger boys came back to help run the family farm. In 2004, Charlie helped start Rominger West Winery in Davis. After Charlie died in 2006, Rick took over the business side of the winery while Bruce stepped in to manage the vineyards. In recent years, Rominger West has been a close partner of the Cal Aggie Alumni Association, hosting CAAA's Vintage Aggies Wine Club tastings.
Through the years Rich and Evelyne have stayed active on campus. Evelyne served on the Alumni Scholarship committee and was founding president of the Nelson Art Friends, the support group of the Nelson Gallery. Rich served as a UC regent representing alumni in 2004–06 and spent time on the UC Davis Foundation and CAAA boards of directors. In 1978 he received CAAA's Jerry W. Fielder Memorial Award. In 1989 Rich and Evelyne jointly received the Award of Distinction from the College of Agricultural and Environmental Sciences and, in 2003, CAAA's Distinguished Achievement Award.
As UC Davis begins its second century, the next generation of Romingers may join the Aggie family. At the magazine's press time, Evelyne and Rich's oldest grandson, Justin Rominger, was waiting to hear if he had been admitted for next fall. "Justin has watched his uncles and his dad Bruce's research projects with UC Davis and seen them keep up the relationships with the people they met on campus," Evelyne said. "All Justin ever wanted to do is farm with his dad and Uncle Rick, and going to UC Davis could help that happen."
---
Brooke Converse is CAAA's communications officer.