Volume 26 · Number 3 · Spring 2009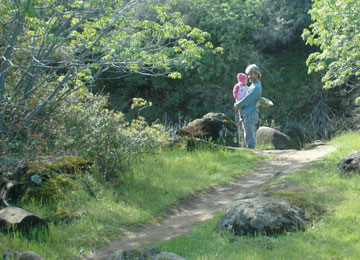 (Photo: Lyndsay Dawkins)
At Home in Nature
Get outside and reconnect to the real world at Stebbins Cold Canyon Reserve — a piece of "campus" 45 miles from Davis.
"Nature is not a place to visit; it is home," writes Gary Snyder, Pulitzer Prize-winning poet and UC Davis professor emeritus. And for UC Davis students and teachers, and for many living in the Davis area, the doorway to that home opens at Stebbins Cold Canyon Reserve.
Stebbins is one of 36 reserves in the statewide UC Natural Reserve System — a diverse set of protected ecosystems owned or managed by UC campuses. As the natural landscapes of California gradually recede from encroaching development, the six natural reserves that are managed by UC Davis are increasingly essential to the university's mission of education, research and public outreach.
The Stebbins Reserve is a pleasant 45-minute drive from the UC Davis campus along the agricultural back roads of Yolo County. The 577-acre preserve in the green foothills near Winters is named for G. Ledyard Stebbins, an eminent evolutionary ecologist and botanist who taught at UC Davis from 1950 to 1973.
"Stebbins was one of the first to recognize its extraordinary biodiversity," said reserve director Virginia "Shorty" Boucher. "Faculty used it for field trips and classes for many years even before it was purchased and incorporated into the UC Natural Reserve System."
Today, a diverse mix of public programs for children and adults provides an opportunity for them to experience and learn about the natural world. Guides lead outings that combine nature with their personal passions for science, theater, painting, poetry, photography, heart-pounding hill climbs or leisurely meanders.
The goal is to inspire participants young and old alike, leaving them with a sense of place and a feeling of connection with the outdoors and its cycles of renewal, says Jeff Falyn, guide and program coordinator.
"It's amazing to see people get turned on to a little piece of nature," says Falyn. "Some people come to the reserve with very little exposure to the natural world. What draws them in initially is the range of themes we offer in our guided outings. If someone is interested in entomology they attend Bugs in the Night or if they love plants they might sign up for Botanical Drawing. The themes bring people to the reserve, and once they show up nature does the rest."
Last year, some 750 people joined in more than 60 organized outings. On the following pages are the thoughts of four locals who found a natural home at Stebbins Cold Canyon Reserve. Discover a UC reserve in your region, and you may find a home, too.
Resilient nature
Michael Barbour
Professor Emeritus
Plant Sciences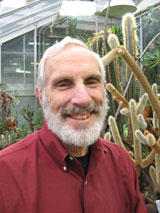 Michael Barbour
"As a child growing up on the western edge of the Sonoran Desert, I became familiar with the smell of sage scrub, even though I hadn't a clue what the names of the plants were. That scent memory brought me back as a graduate student to study how desert vegetation tolerates extremes of aridity and heat. I still use smell to experience and identify plants and often feel and taste them as well. (Fortunately, few plants in California are poisonous, so I've survived this habit.)
"When I lead hikes at Stebbins, it's not just plant names that I teach, but a holistic view of why plants are distributed on the hillsides as they are. After identifying the dominant species and the types of vegetation found there, I explain why blue oak woodland grows on northeast-facing slopes and why chaparral shrubs are on southwest-facing slopes, why riparian trees lose their leaves in winter and what grassland becomes when it doesn't burn often enough. As we walk, we experience the same differences in temperature and stoniness that plants do.
"The sheer resilience of foothill vegetation is impressive. An outbreak of western tent caterpillar virtually denuded the oaks for two consecutive years, but when the population crashed, the oak trees and shrubs produced normal canopies within a year. When a wildfire charred chaparral on one hillside, half a year later many shrubs had resprouted and the spaces between were filled with colorful native plants that germinated when their seeds were exposed to the fire's heat. The chaparral recovered within six years.
"We seem to be grounded by this attachment to resilient nature, and courses in the Nature and Culture major discuss forms of this attachment in different cultures. I was fortunate to join colleagues in the sciences and humanities who co-taught these courses — Gary Snyder, Robert Thayer and David Robertson among others. I find it hard to determine who learned more from those courses, the students or me."
Touched by a story
Lyndsay Dawkins
Stebbins Volunteer
Small business owner
Mom to girls ages 4 and 7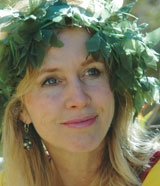 Lyndsay Dawkins
"As a kid I spent weekends at a cabin near Winters, swimming in a pond, catching frogs and lizards, getting muddy and grubby. Giving children a connection to the natural world is what feeds my soul. It's my creative outlet. Kids love a story. So, instead of forcing kids — kids never like to be forced to do anything — to appreciate nature by pointing out this plant or that bug, four years ago I tried something different. I started a nature program for kids using interactive stories called Nature's Theater. Last year I presented 10 different Nature's Theater stories at Stebbins and many more at local schools and camps.
"During the theater, kids hike a trail or wander in a park and meet up with unique and unusual characters. Teenagers and adults play the characters. The teenagers feel empowered as they lead the little kids. One of my favorite characters to play is Mother Nature. Kids gravitate to her gentleness and seemingly endless wisdom.
"Most of the stories are designed for the kids to become heroes, to solve a problem or make a difference. They leave feeling proud and with an experience they will remember for a long time.
"This really fulfills me, and sometimes at night I think of all the kids who have been touched by a Nature's Theater story. I think about the kids who have learned about water conservation in "Glug, Glug and the Water Boss." I know of a little girl who has returned for the last three years to learn about birds and interact with Birdman. I remember when 15 first-graders spontaneously ran and hugged me when I was saying goodbye as Mother Nature. But the thought that gives me goose bumps is thinking of the children developing a sensibility of care and concern for the Earth. That is what keeps me doing what I'm doing — over and over again."
Felt like home
Emily Evans, graduate student
Emphasis: Environmental Education
UC Davis School of Education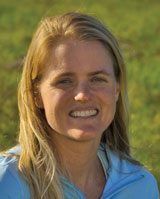 Emily Evans
"After 12 years of living on the edge of north coast wilderness, my husband, Nate, and I moved to Davis to attend graduate school. Stebbins was the first place that we visited that felt like home. The landscape features are very different, but the open space and community of people that visit Stebbins eased our transition into Central Valley life.
Other Reserves
Stebbins Cold Canyon Reserve is one of 36 UC reserves that protect 130,000 acres of natural land throughout California. Six are administered by UC Davis.
"Both Nate and I found ways to integrate outdoor activities and time at Stebbins into our lives. He did one of his studies on ticks in the canyon. An ethnography class gave me an opportunity to spend more time there. The class included an assignment to immerse myself in a culture and study it at the same time, so the volunteer guides became my study culture and I became an insider in their activities.
"I love being active, and I took advantage of the fact that the reserve was close enough that I could leave at 7 a.m. on my bike and still get there in time for guide training two hours later. A bike ride cultivates an awareness of the land and how things are situated, the roll of the hills and the smells along the way.
"Studies in environmental education indicate that childhood experiences formulate how we connect, or disconnect, from nature throughout our lifetime. My study of the Stebbins guides proved that to be true. But I wonder what education can do in a society that spends so much time indoors. If forming attachments to natural places can teach responsibility for natural resources, then we need to know how to reconnect people to these places."
A place without pizza delivery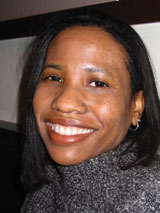 Vatrena King
Vatrena King
Frequent visitor to Stebbins
Mom to boys ages 4 and 7
"I used to live in Los Angeles and work as a singer. I was in my late 20s before I took my first hike, and I jumped at every little noise. Then four years ago my husband and I moved from a house with a little backyard in Pasadena to a couple acres in Yolo County.
"I don't want my children to be afraid in the outdoors. I want them to notice the rhythm of the seasons and to have a sense of place and a sense of themselves, not just sit inside and look out. They point things out to me now that I never noticed before — what trees are in bloom, what birds are migrating. They know what a California newt looks like if they see one.
"The boys have been going to Nature's Theater at Stebbins for two years, meeting the "Birdman" and learning about water conservation in "Glug Glug." My older son reminds me not to waste water. They know about what makes the native plants special, and they pay attention to the animals and the phases of the moon.
"It took my Mom some time to get used to visiting us in our new country life with our five chickens. Mom had enjoyed telling her friends that her daughter lived in Los Angeles and sang on the Ally McBeal show. Now my Mom sees what the kids are learning and that we didn't move backward by choosing a place without pizza delivery. When Mom was startled by the flock of wild turkeys that came through the yard, I remembered how I once felt when I was outdoors in an unfamiliar place.
"I don't miss Los Angeles, except maybe the restaurants. When I sing these days, it's for fundraisers and festivals."
For more information about guided hikes, Nature's Theater and other public events, visit the Stebbins Reserve Web site.