In this issue
Third floor Mrak Hall
University of California, Davis One Shields Avenue Davis, CA 95616
(530) 752-1930
Volume 26 · Number 3 · Spring 2009
Coed finally bares all
A.S.S. excites a sleepy '70s campus.
By Jean Jasper Edwards '76
I'll admit it. I was bored. 1974, my sophomore year, brought ennui and a ho-hum attitude about school and the campus in general. The late '60s had de-constructed old notions, and nothing exciting had emerged to replace the old order. The ebullience of the disco revolution and the aftershocks of late '70s crises — such as Davis' links to the Jonestown carnage and the sweetheart murders — had not hit us yet. Tradition had been dismantled by revolution, and revolution had quieted into a world of timid moratoriums and cautious correctness. Davis was homogenized and safe, as flat and pale as the concrete architecture that was fashionable on the burgeoning UC campuses.
True, we tried hard to find our relevant causes. I was an earnest Bible study and worship leader, one of a few dozen young women who spent our days pedaling around campus from prayer meeting to prayer meeting modestly wearing long pinafores. But even our clutch of UC Davis ministry groupies had missed the excitement of the "Jesus People Revolution." It had already happened along the Southern California beaches and been co-opted by mainstream denominations.
Excitement was in short supply in 1974. I picketed the first-ever X-rated film festival at Freeborn Hall, trying to stop my male classmates from watching screenings of Fritz the Cat. The biggest breakthrough was the entrance of women into the previously all-male marching band. The student body made a feeble attempt at some sort of relevance by electing a guy named Dave Homecoming queen. The first double-decker bus arrived. Still, in many respects, I longed for Davis to be part of the world of social excitement and relevance.
I am certain that my restlessness was shared by many other Davis natives. For those of us who had grown up in Davis, attending every Picnic Day and visiting our faculty parents in their labs and offices, the campus offered little that was novel. My own father, a respected veterinary professor and former dean of the vet school, welcomed me as a frequent visitor in his lab at Haring Hall. I had all the academic support I needed. Then, early in 1974, I found my chance to shake things up. Maybe some of you will remember…
A classified ad appeared in the California Aggie. The small three-line ad went something like this:
"Aggie Streaking Society (A.S.S.) will meet this Friday at noon, Quad flagpole. All are welcome."
The ad ran for three days. On Friday, hundreds of students showed up stark naked and streaked the Quad. The three Sacramento television news stations had been tipped off and were there reporting. The story was carried in the California Aggie, Davis Enterprise, Woodland Democrat, the Sacramento Bee, the Sacramento Union and made it onto the Associated Press wire. There was even an interview with someone who identified themselves as the president of A.S.S. I did not streak. I did not even watch, finding it in conflict with my faith, but I read the stories and watched the news. I was filled with glee. There was a fun energy on campus.
But now it can be told: There was no real A.S.S. I placed the ad. The circumspect Bible study leader in the prim pinafore was the catalyst for the pent-up ambitions of dozens of restless Aggies. And once the streaking train left the station, there were a number of other exuberant displays.
The pièce de reésistance was the appearance of a streaker in Stylianos Spyridakis' packed history class in 194 Chem. The young man had a captive audience, including me. Dr. Spyridakis, then young and hip in a leather jacket and dark glasses, did a fabulous double take, even removing his dark glasses for a better look. For a shining moment, our campus had found a new means of expression and silly fun. UC Davis was actually on-trend, albeit with something as superficial as the streaking movement. I felt powerful. Still, I told no one.
Later in 1974, the Aggie football team began the longest winning streak in the history of Toomey Field. It was a good year for streaks. It was the beginning of a post-Vietnam social renaissance. And I learned a good lesson about the power of a well-timed announcement.
---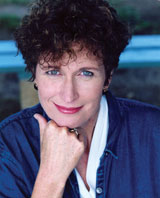 Jean Jasper Edwards '76 lives in Morrison, Colo., with her husband, kids, two dogs and two cats. She earned her M.A. in education at Stanford University in '78 and taught music in Palo Alto before finding a career as an instructional designer and industrial video producer. She visits Davis monthly to be with her parents, Donald Jasper (emeritus professor of veterinary medicine) and Elizabeth Jasper (former English instructor). Jean would still like to know the identity of the fellow who streaked Spyridakis and also who came forward as self-proclaimed president of A.S.S.