Volume 26 · Number 3 · Spring 2009
Sports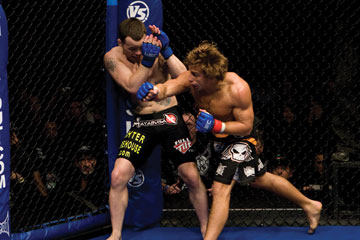 Urijah Faber '03 in his January 2009 first-round victory against mixed martial arts pioneer Jens Pulver in San Diego. Faber is seeking to regain his World Extreme Cagefighting featherweight title. (Josh Hedges/WEC Productions)
The 'California Kid' — Fighting for an 'Extreme' Dream
The success of mixed martial artist Urijah Faber '03 puts a new spotlight on Aggie wrestling and gives college grapplers a new chance to go pro.
By Wes Collins
Smile for the camera phone. Sign an autograph. Listen to how great you are. Imagine that scenario repeating about a dozen times over and you'll get a feel for what Urijah Faber experiences
whenever he returns to UC Davis to watch Aggie wrestlers compete.
Since graduating in 2003 with a bachelor's degree in human development, the former Aggie wrestling standout has become a star in the fast-growing sport of mixed martial arts—the "California Kid," long-time featherweight champion and the top draw of the World Extreme Cagefighting organization.
His success and the rise of mixed martial arts, or MMA, have given collegiate wrestlers a new option
to continue competing at a professional level while giving Aggie fans a hero to cheer on.
"I always envisioned myself going to the top of the sport," said Faber. "I just had no idea what that would entail. I dreamed about being where I am right now."
Faber launched his professional career soon after graduating from UC Davis, where he holds the record for all-time wins (92) and dual wins (42), twice qualified for the NCAA Division I Championships and placed at the Pacific-10 Conference Championships.
Since his 2003 pro debut, Faber has risen to the top with a 22-2 record and has become the face of the WEC. The "California Kid" defended his featherweight title over a two-year span before his loss to Mike Brown in late 2008. Following a victory over former champion Jens Pulver in January, Faber says he is guaranteed a shot at regaining his title in a rematch with Brown.
MMA is a full-contact sport that allows a variety of grappling and striking techniques. Most fights are taken to the ground, which favors wrestlers. The sport has quickly become one of the most popular in America, pushing boxing against the ropes. Pay-per-view fights including the big names of MMA have pushed over 1 million buys, nearing the draws boxing regularly experienced in the mid and late-1990's. According to mmajunkie.com, the biggest draw came at Ultimate Fighting Championship (UFC) 66 in 2006 when more than 1 million fans paid to watch the rematch of Chuck Lidell and Tito Ortiz.
In recent years, other collegiate wrestlers have taken to the sport and won championships. Former NCAA champion Brock Lesnar recently claimed the heavyweight title in the UFC, which is the biggest organization in the sport and is run by the same company that owns Faber's WEC. Other fighters with college wrestling backgrounds include former UFC light heavyweight champions Liddell, Ortiz and Randy Couture. According to a 2008 Yahoo! Sports article, a total of 14 former NCAA national champions have competed in the sport.
One of those past NCCA champions is former Aggie assistant coach Mark Munoz, who left his UC Davis position last spring to pursue a professional MMA career. Munoz is currently 5-0 with his debut fight in the UFC coming up. He competes in the light heavyweight division (186–205 pounds), which is arguably the toughest weight division in the sport with former title-holders and big-ticket draws Liddell and Ortiz.
"I'm happy that guys like Urijah and Mark are out there making money and using their wrestling skills," said UC Davis head wrestling coach Lennie Zalesky. "The sport has become safer over the years and I love watching it. I don't know if I would have done it (coming out of college), but it's a direct carry over for wrestlers."
The sport has taken steps to distance itself from its no-holds-barred image. As new fighting techniques emerged, many rules were added to keep the fighters safe and get the sport sanctioned. A referee is in place to stop the fight when somebody is knocked dizzy or when blood nears the eye. The option for an opponent to tap out (surrender) is considered honorable.
Tim Lajcik, a former UC Davis wrestler, head coach and 1994 Cal Aggie Athletics Hall of Fame inductee, said safety has improved from the early and mid-1990s when he dabbled in the sport during its infancy.
"When I first looked at getting into the sport I was hesitant because there weren't a lot of rules and I came from a wrestling background, which is a very honorable sport," Lajcik said. "They added rules later on to get it sanctioned, and right now I'd say it's much safer than boxing. MMA matches normally end very quickly after somebody is taken down. In boxing, you endure a sustained beating."
Faber agreed, saying that mixed martial artists face less risk of injury than boxers.
He predicted that as the sport continues to grow in popularity, more collegiate wrestlers will follow his path to the professional ring.
"I feel like this is basically the new trend," he said. "Amateur wrestlers are one of the biggest recruiting groups there is for MMA now. It's exciting for the wrestlers because they never really had this option [of professional status] before."
---
Wes Collins is an assistant for athletics media relations.