Volume 26 · Number 3 · Spring 2009
Giving
Honoring the chancellor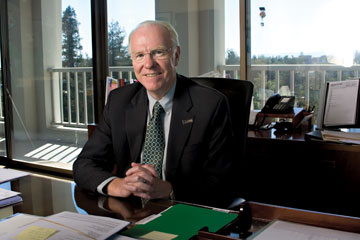 UC Davis community members are invited to make a gift to the university in honor of Chancellor Larry Vanderhoef, who is stepping down July 1. (Photo: Karin Higgins/UC Davis)
Tributes focus on student and staff scholarships and the
UC Davis Annual Fund.
When Chancellor Larry Vanderhoef announced in 2008 that he would be stepping down this July 1, members of the UC Davis community began considering ways to honor his service. Two areas have been identified for those who wish to pay special tribute to the chancellor's accomplishments through gift support: a new student and staff scholarship fund and the UC Davis Annual Fund.
The new Larry N. Vanderhoef Scholarship Fund for Students and Staff will provide needed support for students to study abroad and also for UC Davis staff members who wish to continue their education. Additionally, donors may direct gifts in honor of the chancellor to the UC Davis Annual Fund to support pressing needs and promising opportunities. Those who give $1,000 or more to the Annual Fund become members of the UC Davis Chancellor's Club, a group of campus supporters with whom the chancellor has been engaged throughout his tenure.
"Chancellor Vanderhoef's leadership and vision are tremendous. On his watch, UC Davis has progressed to a place among the very top universities in the nation," said Pam Fair '80, chair of the UC Davis Foundation, which promotes philanthropy for UC Davis and manages donated resources for the advancement of the university. "I am pleased that these two gift areas have been identified as ways to honor the chancellor's legacy. The scholarship fund represents his strong commitment to broadening the horizons of undergraduates and ensuring further education opportunities for staff. And unrestricted support for UC Davis recognizes the value that the Annual Fund and Chancellor's Club have had for Chancellor Vanderhoef and the university during his tenure."
A strong advocate for global links between universities, Vanderhoef has long supported providing opportunities for UC Davis students to study in other countries. By studying abroad, students can learn about and engage with other cultures, and gain a new perspective on our complex yet shrinking world. "They often tell me the experience changed their lives," Vanderhoef said. "I'd like every one of our students to have that same opportunity." Studying abroad also helps students appreciate the richness of the diverse community on campus. The new Larry N. Vanderhoef Scholarship Fund for Students and Staff will allow more students from a wider range of backgrounds to study abroad than ever before.
Giving to the UC Davis Parents Fund
Gifts to the UC Davis Parents Fund provide valuable undergraduate student support.
The scholarship fund will also enable UC Davis staff members to advance in their careers by helping them to continue their education.
The chancellor has remarked that he discovered very early at UC Davis the extraordinary dedication of the staff — and believes that this dedication is unmatched at any of the many universities with which he's familiar. "UC Davis staff members truly view the university as 'family,' and want to spend their careers here," Vanderhoef said. The scholarship fund will help them to do so by giving them the opportunity to further develop their talents and strengthen their credentials.
UC Davis has seen rapid growth and outstanding academic achievements since Vanderhoef became chancellor in 1994. Philanthropic support also has increased dramatically, marked for example by gifts of $35 million to name the Mondavi Center for the Performing Arts and to establish the Robert Mondavi Institute for Wine and Food Science; $10 million to name the new home of the Graduate School of Management, Maurice J. Gallagher, Jr. Hall; and $100 million to establish the Betty Irene Moore School of Nursing. Thousands of other generous gifts, large and small, have helped to support and strengthen UC Davis' mission of teaching, research and public service.
Vanderhoef attributes some of the university's strength to the loyal and ongoing support of the UC Davis Annual Fund, which is made up of contributions each year from thousands of alumni, parents, students and friends of UC Davis. Gifts to the Annual Fund are unrestricted, so these gifts can be directed to meet any need on campus, such as the Chancellor's Fellow awards for outstanding young faculty, scholarships for top high school graduates and new computer labs where students can conduct research and complete papers.
In addition, the interactions that Vanderhoef has with members of the Chancellor's Club heighten awareness regarding the benefits of philanthropy to UC Davis and give the chancellor a chance to connect with some of UC Davis' most dedicated supporters.
Bob Murphy '63, chair of the Chancellor's Club, believes that a gift to the Annual Fund is a perfect way to honor everything that has been accomplished at
UC Davis under Vanderhoef's leadership.
"I've known Chancellor Vanderhoef for over 20 years and have watched, with great respect, how UC Davis has advanced under his leadership to the very top ranks of U.S. universities," Murphy said. "Unrestricted gifts have always been, and will continue to be, an important resource to the chancellor, allowing the university to make strategic investments in students, top-ranked faculty and areas of opportunity that are not fully met by state dollars alone. A gift in his honor to the Annual Fund will help UC Davis keep the extraordinary momentum that Larry has generated."
See the upcoming summer issue of UC Davis Magazine for more information on the achievements during Chancellor Vanderhoef's tenure.