Volume 25 · Number 4 · Spring 2009
A Shot at the Stage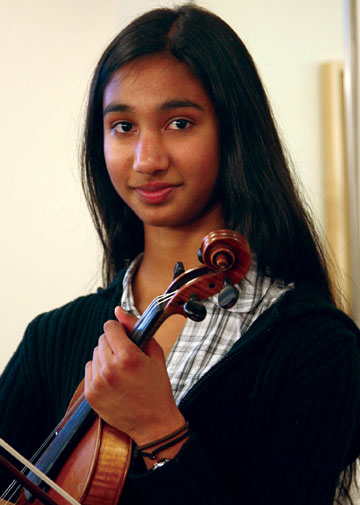 Violinist Maya Ramchandran, of El Cerrito, was among 55 young musicians competing for scholarships and a chance to perform at the Mondavi Center. (John Crowe/UC Davis)
The Mondavi Center's Young Artists Competition is attracting scores of fourth-through 12th-grade musicians and vocalists from throughout the state.
The lobby of the Robert and Margrit Mondavi Center for the Performing Arts is, depending on the day and time, typically either empty and locked or packed with throngs of eager spectators. On one winter afternoon, though, the center hosts a steady flow of quietly apprehensive children and teenagers — all lugging musical instrument cases of various sizes — and their painfully nervous parents. The parents do the talking, checking their offspring in at a table just inside the front door; their manic energy lies somewhere between eager apprehension and blind panic.
The anxiousness of both children and parents makes perfect sense. After all, this is the Mondavi Center's fourth annual Young Artists Competition. Here, young classical instrumentalists and vocalists compete for cash scholarships of up to $3,000 and a chance to perform on the center's Studio Theatre stage.
After check-in comes the waiting. Some teens and children chat with fellow members of musical duos, trios and quartets. But most seem overtaken by shyness and sit quietly on benches and folding chairs arrayed in the lofty entrance hall.
The parents, on the other hand, stalk like tigers. "Is there a practice space nearby where my son can warm up?" one father asks. It's a question that is repeated many times over the course of the afternoon. There is no such practice space available until 15 minutes before audition time. The parent turns away, does a lap around the tables and chairs, loops back to the check-in table, asks some other questions ("Where can we eat around here?" is a popular one) and then veers off again. His child, a teenage boy with tousled hair, sits quietly at a table, his cello case on the carpet at his side, his eyes following his pacing father with no sign of emotion.
Periodically, a woman in a smart black business suit appears with a clipboard and calls to the children and teens, sometimes individually and sometimes to two or three or four at once. The nervousness of parents rises to a bursting point. The young people lift their instruments and pass through a doorway. From the lobby, one can watch their backs as they walk down a brightly lit hallway and disappear through a second door, leaving their parents to wait in the lobby.
Some of those parents press their ears to the wall to hear what sounds their children are producing — sounds that, if audible at all, are muffled by insulation, pipes, wires and drywall.
Just getting to this point is an accomplishment. Each competitor was required to submit a CD of a performance, a bio and a letter of recommendation from a music teacher. Now comes the real test: performing before a silent panel of judges and trying to distill all the hours of practice, lessons and hard-earned skill into a few minutes of perfection. This is the musical equivalent of the 100-yard dash, except the contestants are not judged on speed but rather on technique, virtuosity and that less quantifiable attribute: emotional intensity.
The Young Artists Competition grew out of an annual family concert developed in 2003 by pianist and Mondavi Center Artist-in-Residence Lara Downes. "What I would do is invite kids from the area to perform based on recommendations from teachers," Downes explains. "At a certain point, maybe two, three years in, I realized that this wasn't really quite fair and wasn't quite what it could be. So we opened it up to auditions."
In 2005 UC Davis biologists John and Lois Crowe attended the concert. They were so impressed by the young performers that they approached Downes with the idea of starting a scholarship fund and turning the auditions into competition. With the help of the Crowes and co-sponsors Barbara Jackson and Mary Horton '63, M.S. '66, the Young Artists Competition was born.
The competition is open to pianists, instrumentalists, and chamber ensembles enrolled in grades 4–12 and vocalists in grades 9–12. "It's grown exponentially every year," Downes says, "in terms of the geographical range of the contestants and the quality as well."
This year's competition drew 106 entries from as far away as San Diego, with 55 making the cut for the live auditions. Winners return to perform at a March 29 matinee concert at the Mondavi Center. Other performance opportunities for winners will take place throughout the state, with local performances at venues such as Steinway Hall in Roseville, the R.H. Phillips winery near Esparto, the Fairytale Town summer concert series in Sacramento and others.
---
Inside the audition room, judges sit at a long table, its surface covered with small stacks of notepaper, pens and coffee cups. It is midday and the judges have already heard a long series of competitors of varying abilities.
Judges this year, in addition to Downes, include San Francisco Opera Center Director and soprano Sheri Greenawald, members of the Cypress String Quartet ensemble in residence at San Jose State University, pianist Lino Rivera and Sacramento Opera and Lake Tahoe Music Festival Artistic Director Timm Rolek.
The judges ask each performer what his or her first piece will be and ask for copies of the music so that they can follow along. Often, after a few minutes' performance, a judge will raise a hand. Even the most virtuosic performance stops. "Thank you," the judge will say. "What will you be performing next?" The process continues. Each musician has prepared and memorized three pieces — each from a different musical period — and each vocalist two songs, one from a classic American musical and an aria or art song in another language.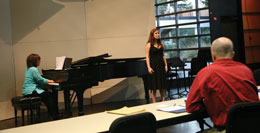 (Photo: John Crowe/UC Davis)
One standout performance comes from the violin/cello duo Doori-Moa. Michelle Lee of Dublin and Taeho Oh of Sunnyvale demonstrate a variety of extended techniques — plucking the strings, harmonic bowing, and changing tempos and meters. They make eye contact with each other repeatedly as they play, making the starts and stops of the complex score seem effortless and perfectly timed. When they finish, they seem to know they have played well, laughing a bit and chatting briefly with the judges, telling them that Doori-Moa means "together" in Korean.
When the competition results come out a few days later, Doori-Moa is on the list: Senior Division prize for ensemble performance. Other Grand Prize winners are pianists Alex Chien of San Jose and Kevin Sun of Sacramento.
Others are not so lucky. "I kind of messed up a little," Daniel Peng, a 12-year-old violinist from Folsom had said after his audition, averting his eyes from his mother's.
For Peng, winning would mean "Fame! Money! Everything a kid wants!" He laughs when he says this, an obvious joke, and his mother quietly laughs with him.
"Winning or losing is not really your objective," says his mother, Susan Cheng. "The objective is that you want to play at a different level. Even though you didn't win, you learned through the process… I think this is something he learned. And I want my child to be in the process to do that so that he plays at [a] high level."
To prepare for this competition, Peng practiced violin up to three hours daily. "I don't have time to finish my homework at home so I try to finish all of it at school," he says. Asked about when he has time to play video games, Peng laughs and says, "Never!" He adds, smiling, "I feel guilty if I don't [practice]."
Susan Cheng says her son is self-driven. "If the kid didn't enjoy it, the parent would have a hard time pushing it forward," she says. "It comes from his heart. He wants to be the best. So I think that's the motivation for him to stay on."
Still, Peng's smile is luminous, in part because his audition is over and he is heading off to a local restaurant with his mother to get a double cheeseburger. "Now I can relax," he says.
---
Downes, as a concert pianist, understands what the young performers go through. In addition to overseeing the competition, she was preparing for a Jan. 24 appearance at the Kennedy Center in Washington, D.C. for an 80th birthday tribute to jazz giant Benny Golson. Downes performed "On Gossamer Wings," a classical piano piece that Golson composed specifically for Downes.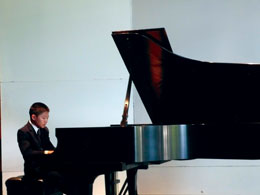 (Photo: John Crowe/UC Davis)
Downes also recognizes a need to develop future generations of classical musicians, as well as listeners. "One of the things I've loved the most, since I started touring and performing, are those opportunities when, in conjunction with a main stage performance, I end up in a classroom and I play for the kids. When I ask them 'What do you think about that piece of music?' instead of talking about Beethoven's influences they tell me what they think. It's so gorgeous and it's so real for them. They have no prejudices; they have no preconceptions and they hear it with open ears. For me as a musician and for the future of music, that's the most important thing."
With digital music on the rise and arts education declining, fewer children today are exposed to live classical music. "When I was a kid, middle-class households had a piano in the living room," Downes notes, "and that's just not true anymore. Kids have so many things that are offered to them in terms of entertainment and if there's not that awareness and presence at home or at school, how are they going to find out about it?"
That's where the Young Artists Competition comes in.
"The standard audience is getting older and we're trying to bring in new ones," Downes says. "You can do all the marketing you want and you can be as clever and as cutesy as you want, but honestly we're just not going to have an audience for this music and we're not going to have a universe for this music unless it's through the kids."
---
Christian Kiefer earned his Ph.D. in English from UC Davis in 2006 and is a musician and freelance music writer. More information can be found at www.christiankiefer.com.
Photographer John Crowe is a professor emeritus of molecular and cellular biology and a supporter of the Young Artists Competition.