Volume 27 · Number 3 · Spring 2010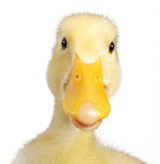 End Notes
Move Over, Ducks
There's something funny in the water at the arboretum and no, it's not the green slime. River otters have taken up residence near the Native American Contemplative Garden adjacent to King Hall. Otter sightings began last summer when three of the critters made an appearance — possibly a mother and two offspring. Andrew Fulks, manager of the Putah Creek Riparian Preserve, says the otters may have traveled to the arboretum from the west, via the old channel of the creek that once flowed through the arboretum and into South Davis. With muddy, shallow water full of crayfish, turtles, carp and bass, the arboretum provides an ideal habitat for the playful creatures. One or two otters can still be spotted from either the contemplative garden or the Mrak bridge in mornings and evenings.
Primetime
UC Davis may get a little airtime on the new NBC series Parenthood, a spinoff from Ron Howard's 1989 light-hearted drama. When the show's producers designed a scene involving a college fair, they contacted Laurie Lewis, UC Davis' publications design manager, for a variety of campus goods. She mailed off a table drape, flags, pencils, bookstore bags, etc.
Apparently, the producers liked the UC Davis gear so much they decided that an ob-gyn on the show should have both undergraduate and M.D. degrees from UC Davis. So Lewis created some official-looking fake diplomas for use on the set. At least one scene involving UC Davis is tentatively scheduled to air on March 30. The show revolves around four adult siblings and their parents and premiered March 2.
Recipes
Frosted Flakes:
1. Buy box of Frosted Flakes.
2. Pour Frosted Flakes into bowl.
3. Add milk.
4. Eat.
That's the extent of law professor Carlton Larson's culinary expertise, at least according to his contribution to The Cookbook: A Uniform System of Cuisine published by UC Davis law students, staff and faculty members. But you can also find delectable recipes for Cajun-style paella and Peter Pan Neverland cookies.
Modeled after The Bluebook—a ubiquitous style guide and citation manual that governs legal writing—the cookbook took shape in the fall of 2008 thanks to Katherine Dick and Lowell Chow, both third-year law students. All proceeds from its sale support the King Hall Legal Foundation's mission of enabling UC Davis law students to provide vital legal services to underrepresented communities in Northern California, the nation and the world. A new edition is planned for next fall. To get your copy for $10, email the organization at contact.khlf@gmail.com.
Better Late Than Never
At age 76, most people would be relaxing during retirement. For Isao Fujimoto, senior lecturer emeritus, the past few years have given him precious time to catch up on his dissertation research. In February, 50 years after starting his doctoral degree, Fujimoto received his Ph.D. from Cornell University's College of Agriculture and Life Sciences.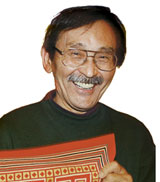 Isao Fujimoto (UC Davis archival photo)
Fujimoto put his research on hold in 1967 when he was recruited by UC Davis to join the faculty and develop programs in community development and Asian American studies. He jumped into an academic career working in rural sociology, farm labor issues, ethnic studies, social justice, and community, immigration and labor organizing.
"The dedication, commitment and focus of the people in organizations where I've worked have been a source of energy and inspiration that has kept me going," Fujimoto said. "That's why I never gave up on completing my Ph.D., even if it took nearly 50 years."
Fujimoto's dissertation in development sociology evolved from his boyhood experiences. His Japanese-immigrant parents and siblings were farming on the Yakima Indian Reservation in eastern Washington when the U.S. government rounded them up and interned them in government camps for the duration of World War II. For the past decade he has worked with emerging immigrant organizations in California's Central Valley, which provided the focus of his dissertation, Dynamic Mosaic: California Central Valley Partnership's Collaborative Multiethnic Approach to Organizing Immigrant Communities.