Volume 27 · Number 3 · Spring 2010
Connect, Engage and Sustain
The Cal Aggie Alumni Association (CAAA) is working harder than ever to bring alumni, students, parents and friends of UC Davis more opportunities to network, reconnect and get involved—at any level.
For more information about any of the programs mentioned below or to get involved, e-mail alumni@ucdavis.edu or call (530) 752-0286.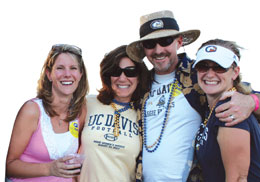 Join
Students, join the Student Alumni Association (SAA) and become one of more than 1,100 students enjoying the benefits and opportunities an SAA membership provides. Alumni, enjoy the benefits of a CAAA membership — like discounts on UC Davis logo gear at the UC Davis Bookstore and library privileges at all 10 UC campuses. Parents, join the Aggie Parents Association or sign your student up for a CAAA membership.
Participate
Alumni, reconnect with Aggies at campus events like Alumni Awards and Picnic Day. Students, support SAA by attending events like Pajamarino and Aggie Diner. Parents, stay connected to your student and campus by attending Parent and Family Weekend and Picnic Day.
Mentor
Students, through your SAA membership, get involved with programs like Aggie Classrooms, helping kids in low-income neighborhoods strive for college. Alumni, share your knowledge, experience and memories with current UC Davis students. Provide insights into your career path through networking events like Aggie Diner and Take an Aggie to Lunch. Parents, provide support and ideas for students or be a resource to other Aggie parents.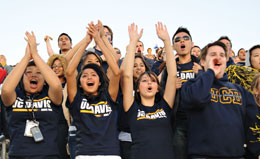 (Photo: Karin Higgins/UC Davis)
Give
Parents, help students by giving to programs that support their academic pursuits. Students, carry on a tradition started in 1982, when graduating seniors began giving back to their alma mater through the Senior Class Challenge, a program of the UC Davis Annual Fund. Alumni, provide student support through the CAAA scholarship fund or donate to another UC Davis program or campaign.
Advocate
Alumni, write to California decisionmakers and share the importance of your University of California experience. Students, share your university experiences with legislators through SAA or the UC Davis Lobby Corps. Parents, share your family's UC story with elected officials and prospective Aggies.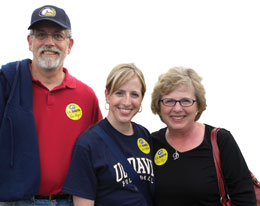 Volunteer
Students, help spread the word by volunteering at pregame events and career networking events. Alumni, help out at events on and off campus year-round, read scholarship applications, join a committee or the CAAA Board of Directors. Parents, volunteer to host student welcomes in your city or town.
Partner
Parents, share your corporate or business connections with the CAAA and help bring members new benefits and networking opportunities. Students, help a greater number of students on campus by bringing different clubs together. Alumni, co-sponsor an event that brings Aggies together and strengthens the UC Davis network.