Volume 29 · Number 3 · Spring 2012
The Campaign for UC Davis: Meet Brian Casey
UC Davis' new planned giving director explains the benefits of planned gifts.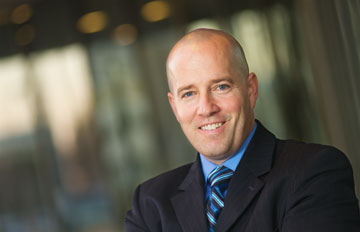 Brian Casey (Karin Higgins/UC Davis)
After 16 years in fundraising at universities in Pennsylvania and Iowa, Brian Casey arrived at UC Davis last fall as the new executive director of planned giving — "excited to join this prestigious university," he said, and eager to meet "the many individuals who are investing in UC Davis to make it great."
Philanthropic support helps the university excel, addressing the most pressing issues facing the world today and preparing the leaders of tomorrow. "Since my arrival," Casey said, "I've heard many people comment, 'I wish I could do more for UC Davis.' Making a planned gift is one way to do just that."
Here he answers several of the most frequently asked questions about planned giving:
What is planned giving all about?
A planned gift is any gift that brings others into the planning process, whether it's your tax, legal or financial advisers, family or the university. Planned giving provides several ways to do more for UC Davis at minimal or no upfront costs to you — and these gifts provide flexibility for you, now and into the future.
What are the benefits of making a planned gift?
Gift for a new
art museum
Thanks to a $10 million gift from Jan Shrem, proprietor of Clos Pegase winery in Napa Valley, UC Davis will be home to a new art museum that will serve as a teaching and cultural resource.
A key benefit is that it can be structured in a way that costs you nothing during your lifetime, allowing you to make a substantial gift — maybe larger than you thought possible — and one that can have a significant impact for generations to come.
Another benefit is that planned gifts such as bequests are revocable, so that you retain control and use of the assets as well as the flexibility to modify your gift intentions at a later time.
Also, planned giving offers certain tax and income benefits that reduce the actual cost of the gift, thus allowing you to accomplish more with less.
How can planned giving help in planning for my retirement?
Gifts such as a charitable gift annuity or charitable remainder trust can be structured to provide income for the rest of your life, or to provide for a loved one. They can be set up so that the income begins sometime in the future, which can be helpful in planning for your own retirement or for the educational costs of children or grandchildren.
Is it possible to make a difference now with a planned gift?
Because they're flexible, planned gifts can be structured to take effect whenever you decide — after your passing, during your lifetime, or both. Through a charitable lead trust, for instance, a gift is structured so that it starts making an impact immediately. Even if you choose to make a planned gift that won't become effective until later, you can also "fill in the gap" with annual gifts, which go to work immediately to support today's students, faculty and programs.
Where can I learn more?
Campaign highlights: Already making a difference
With two years still to go in The Campaign for UC Davis, nearly $777 million in philanthropic donations from more than 87,500 friends and supporters (as of Feb. 19), are already helping to provide students with innovative opportunities for learning and discovery.
The Office of Planned Giving can help you explore and weigh the benefits of each gift method. We can also meet with you and your professional adviser so that, together, we can determine the best way to meet your philanthropic and financial goals.
You can also visit plannedgiving.ucdavis.edu. The Gift Planning Toolbox has a "Build Your Gift" section and a "Gift Calculator" to help you plan your gift.
For more information, contact Brian Casey, executive director of planned giving, at 530-754-4105 or bscasey@ucdavis.edu.