Volume 29 · Number 3 · Spring 2012
A pound of cure
Emergency doctor takes a novel approach to the treatment of gunshot injuries — prevention.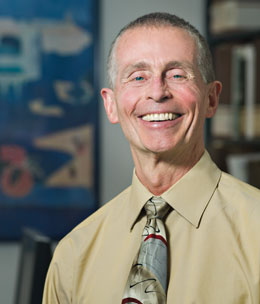 Garen Wintemute
(Karin Higgins/UC Davis)
The décor of Garen Wintemute's office at the UC Davis Health System in Sacramento is spare — a few bracketed wooden shelves, two Diego Rivera posters from the Detroit Institute of Arts and a number of tacked, unframed images of planets and nebulae. One item, on top of a metal filing cabinet, stands out — a bottle of Smith & Wesson 44 Magnum hot sauce.
The high-caliber condiment is a deliberately ironic choice for a man who has made a career of studying the ways in which firearms manufacturing, marketing, sales and distribution contribute to injuries and fatalities.
For the past 30 years, Wintemute, M.D. '77, a professor of emergency medicine and director of UC Davis' Violence Prevention Research Program, has used epidemiology — the study of the spread and causes of health problems in populations — as well as undercover investigative techniques to push a public health approach to guns and gun regulations. It is, says Claire Pomeroy, dean of the School of Medicine, "his life's work. He's going to do it no matter what. He's a national thought leader; he's respected. Yet he's not doing it to get respect — he's doing it for the cause."
Wintemute has explored how licensed gun retailers are required to perform background checks on potential weapons buyers, but how private sales in most states are not covered by these regulations. Sometimes, he has found, gun dealers offload their weaponry in private deals as a way to get around restrictions on sales and customers.
"Far and away, the leading proximate source of crime guns is the private sales market," Wintemute wrote in his 2009 book of essays and photographs, Inside Gun Shows: What Goes On When Everybody Thinks Nobody's Watching, published by the Violence Prevention Research Program. "More than 85 percent of recovered crime guns have gone through at least one private party transaction following their initial sale by a licensed retailer."
Over the decades, as Wintemute has immersed himself in the minutiae of gun-market structures, he has dug deep into state and federal cause-of-death data and criminal justice statistics to track gun deaths. He has studied which kinds of guns, sold under what circumstances and circulated over how many years, tend to be disproportionately used in crimes. And he has gone undercover into the shadowy world of gun shows and gun dealing to chronicle the distribution channels through which weaponry circulates. Partly for this reason, in the late 1990s Time magazine anointed Wintemute one of its "12 heroes in medicine."
"Garen is very passionate about his work," says Nathan Kuppermann, chair of the Department of Emergency Medicine. "His impact is far and wide. His impact is very upstream; research that tries to identify the evil gun sellers from the legitimate gun sellers."
For Wintemute, while treating individual gunshot victims — as he does at the UC Davis Medical Center — is important, even more vital is employing what Pomeroy terms "an evidence-based approach, to see what the real drivers [of gun violence] are."
Wintemute says, "I can do more for patients as a clinician working on the prevention side than on treatment."
In pursuing this approach, he has made a myriad of enemies in the gun- owning and promoting worlds. Paul Blackman, a retired National Rifle Association researcher who claims to like Wintemute even while vigorously disagreeing with him, says the professor is pushing an approach to data that is "amusingly simple. I thought it [his work] was seriously flawed."
Wintemute is confident that he has won the intellectual argument, but he is realistic about the political milieu into which he seeks to inject his ideas. Among politicians, Wintemute's arguments routinely lose out to those of Blackman and other NRA advocates.
In the mid-1990s, when current Republican presidential candidate Newt Gingrich was House speaker, the Centers for Disease Control and Prevention was barred from using any of its research dollars to study gun injuries. Throughout the last 20 years, one state after another has passed laws to expand or relax laws concerning the carrying of concealed weapons and other pro-gun legislation. More recently, a growing number of political figures have signed onto a legal interpretation of self-defense known as the "expanded castle doctrine." Under this doctrine, if you are in your home and you shoot an intruder, simply claiming that you felt threatened can serve as a legitimate legal defense. Finally, in 2011, Congress banned all federally funded agencies from promoting gun control.
But at the same time that Wintemute has been losing political battles, he has been building his reputation among public health advocates at respected institutions across the country. "I was immediately drawn to him," says Jeri Bonavia, executive director of the Wisconsin Anti-Violence Effort Educational Fund, who first met Wintemute at a gun-violence prevention conference in Washington, D.C., in the mid-1990s. Sixteen years later, the two remain close friends and colleagues. "He not only spoke what clearly was the truth, but also did so in a way that made it very accessible. It didn't feel at all Ivory Tower."
Wintemute, thin almost to the point of gauntness but with a remarkable energy, never tires of explaining the problem to his audiences. "Most shot people who die, die within minutes. We make firearms very widely available — including to people who should not have access, who are not law-abiding — and including firearms that have little to no legitimate civilian purpose. As a result, we experience tens of thousands of largely preventable deaths and injuries every year."
Despite the fact that overall violent crime and murder rates have declined year-over-year for close to 20 years, gun violence has remained at a high plateau, according to Wintemute. It peaked in the early 1990s, fell slightly through the late 1990s, and then, since 1999, has essentially flatlined — at a far higher level than was the case before the spike in gun violence during the 1980s and early 1990s. So, too, have suicides-by-gun remained stubbornly high.
Wintemute goes to his computer and pulls up a slew of charts that show that African Americans and Latinos suffer disproportionately high rates of injury and death from gun violence. They also reveal an interesting corollary: When the number of new guns entering the market increases, so too does gun violence. This, he explains, is the "new gun hypothesis," developed by UC Berkeley law professor Franklin Zimring. Old guns, locked away in collectors' homes, according to this theory, tend to do less damage than newer guns, which circulate rapidly through the market.
---
For Wintemute, his current position as éminence grise of the public health approach to firearms violence has been a long time coming.
Originally from Long Beach, Wintemute was fascinated by medicine from a young age. Growing up in the 1950s and '60s, he read and learned about the broader world during a time of tremendous social transformations. He wanted to combine the two interests. International public health work seemed to him to be the way to go.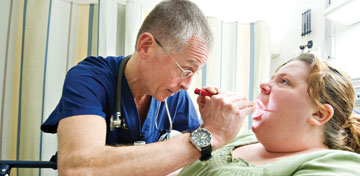 Garen Wintemute treats a patient exhibiting symptoms of streptococus infection. (Karin Higgins/UC Davis)
In 1969, Garen headed east to do his undergraduate studies at Yale. Four years later, homesick for California, he returned, enrolling at the UC Davis medical school and specializing in family practice medicine. But something about family practice left him feeling unfulfilled. He did a spell practicing emergency medicine and then in the early 1980s, his wanderlust took over.
Wintemute went to Cambodia to serve as a medic in remote areas only recently liberated from the genocidal governance of Pol Pot's Khmer Rouge. People in these parts routinely stepped on landmines, or were caught in the crossfire as the remnants of the Khmer Rouge duked it out with the new Vietnam-backed government. The medical facilities available to treat often-horrific wounds were rudimentary at best.
"We didn't have sterile equipment; we didn't have anything," Wintemute recalls of those months. "We were practicing bush medicine — amputations under local anesthesia, that kind of stuff."
Wintemute returned stateside convinced that he wanted to make a career that would merge his medical training with public policy. He headed east yet again, this time to enroll in Johns Hopkins University's public health program. There, as the Cambodia experience grew more remote to him, he realized that he was more interested in domestic public health emergencies. He enrolled in a course, taught by a young attorney named Steve Teret, on what was then a new science: the science of injury prevention. Wintemute immediately caught Teret's eye by ostentatiously balancing on the back two legs of his chair. A cracked head-in-the-making, thought Teret; how ironic in an injury prevention lecture. Within minutes, however, Teret was captivated by Wintemute's ability to frame an issue, and by his student's understanding of the importance of approaching firearms as a single broad public health issue with a set of underlying causes.
The respect was mutual. Teacher and student rapidly became intellectual collaborators and fast friends. "He's extraordinarily articulate," Teret, co-director of Johns Hopkins' Center for Law and the Public's Health, says of Wintemute. "He has an intellectual charisma."
At the time, the two refocused the discourse on gun violence "away from the person pulling the trigger and toward the person making the trigger," inverting the NRA's old adage that "guns don't kill people; people kill people." They rented a car, drove through the Connecticut River Valley — at that time the epicenter of the U.S. gun-making industry — and took photographs of gun factories. They took the photos back into the classroom and started describing the sites as "point source pollution; that's the environmental health term," says Teret. "Like a factory dumping [toxic waste] into a sewage system. These companies were putting millions of new handguns into the stream of commerce each year."
A decade later, Wintemute produced a similar project regarding the gun dealers of Southern California. His report, Ring of Fire, released in 1994, provided a devastating indictment of the business practices of the gun industry in an era of escalating gun violence and often-lethal gang activity. The report concluded that people with prior felonies, who were failing background checks, sought out guns made by specific manufacturers; that people who bought weapons from these manufacturers were particularly likely to then use them in crimes; and that smaller caliber weapons, in particular, were being sold with a nod and a wink to clients who were more likely to use them for illegal purposes.
Since more than 80 percent of the smaller caliber weapons sold in the United States were being manufactured in California, at the time, the report implied that reining in California's small-arms producers would have a large impact on gun crimes nationwide.
Not surprisingly, California's gun lobby went after Wintemute with a vengeance. The NRA sought to discredit his methodology, and Wintemute himself was repeatedly harassed and threatened.
---
While the political tide runs against him, Wintemute continues his efforts to study and reduce gun violence.
"In most years," says Wintemute's friend, RAND's director of health Arthur Kellermann, "gun control is second only to abortion as a controversial political issue in the United States. Fainter hearts than Garen have dabbled in the field and then been driven out, or just been ground down."
Wintemute, however, says that despite the political setbacks he stays motivated. "I started this in the Reagan administration," he notes. "I do this work because our society and the people in it matter to me. And improving the quality of the human condition matters to me. And I love the science."
Read a Ukrainian translation of this article.