Volume 29 · Number 3 · Spring 2012
Sports
KDVS: Alternative Sports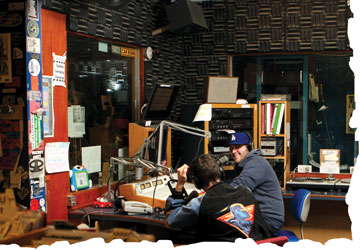 Steve Vote, right
Aggie broadcasters cultivate their talents on campus radio.
"The show is running long, maybe three to five minutes."
Steve Vote, the sports director at UC Davis' student station KDVS 90.3 FM, shrugs off this news. His episode of Aggie Talk, a Tuesday night sports talk show, will start a few minutes late. KDVS advertises itself as "freeform radio," so strict adherence to a schedule is not necessarily the highest priority.
The lead-in program to Aggie Talk is a dramatic radio play. The news of the delay comes from Mick, a local legend as well-known for delivering pizza as he is for his show called The Chicken Years. Nearly every square inch of the office's wood-paneled walls contains a sticker for an obscure musical artist.
As Vote and his co-hosts take to the airwaves, the discussions of the NFL conference championships and the Aggies' Big West basketball matchups seem completely out of place in this sanctum of Bohemian existence.
Yet KDVS, nestled in the dingy basement of Freeborn Hall, has launched an impressive number of sports broadcasting careers.
---
On May 3, 2011, former UC Davis baseball standout Daniel Descalso slammed his first major league home run, lifting the St. Louis Cardinals to a 7–5 win.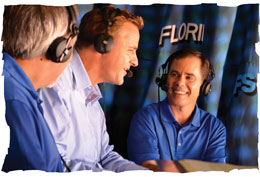 Rich Waltz, right
More Aggies
Other Lower Freeborn Hall alumni in sports broadcasting:
Tim Sullivan '90, former KDVS sports director, now works as a producer at ESPN.
Eric Hasseltine '96, a veteran of both KDVS and Sacramento's KHTK 1140 AM, serves as the radio voice for the NBA's Memphis Grizzlies. He also has a daily sports talk show on WMFS ESPN 92.9.
Jason Ross '94, now the sports director at KHTK, handles play-by-play for Sacramento State football and hosts pregame, halftime and postgame segments for the Sacramento Kings.
Scott Marsh '93, M.B.A. '95, calls both Aggie football and men's basketball action while serving as KHTK sales manager and marketing director. He also assists on the Kings' broadcast team.
Matias Godinez '08 finished his third season as the color analyst for the San Francisco 49ers Hispanic radio network.
Upstairs in the Busch Stadium press box was another former Aggie infielder who had also reached the big leagues — although through a different path. Rich Waltz '86, who helped UC Davis capture Far Western Conference baseball titles in 1984 and 1985, called the action for Fox Sports Florida as the voice of the visiting Florida Marlins (now Miami Marlins).
Despite his lofty position in the broadcasting world, Waltz did not enter UC Davis with such career plans. "It wasn't until my last college baseball game that I started thinking long and hard about how I could get to the big leagues in some other capacity," he recalls. Waltz became the KDVS sports director in 1985–86, announcing Aggie football and basketball games that year. After graduation, he began his search for broadcasting positions.
Waltz' long road through the professional radio and TV ranks began with a minor league ice hockey team in Spokane, Wash. It traveled through stops in Wichita and Las Vegas, which opened doors to Big Sky and Pac-10 Conference telecasts. He called his first major league game in 1994, then covered various sports on ESPN before becoming the TV play-by-play voice for the Marlins in 2005. Waltz also fills in for Bob Costas on the MLB Network and announces major college football and basketball on Fox Sports.Throughout his travels, one of Waltz' fondest memories occurred at a baseball game in Pittsburgh in 1999. Handling play-by-play for ESPN, he was reunited with a veteran producer named Andy Reichwald '87.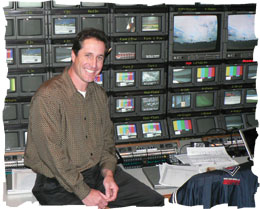 Andy Reichwald
One year younger than Waltz, Reichwald now enters his 11th year as a producer for ESPN's Monday Night Baseball coverage and his seventh season as an associate director for Monday Night Fooball. Like Waltz, Reichwald began his career on the 10,000-watt signal of KDVS. He joined the station as a sophomore, assuming the typical menial tasks of a new volunteer. "Literally, the first thing I did for KDVS was sweep the floor," he said.
But Reichwald's diligence and expertise soon afforded him a spot as a sports correspondent for the KDVS evening news show.
"That was my first on-air experience," said Reichwald. "I remember sitting with that mic in front of me and my heart was thumping."
Reichwald teamed with Waltz on KDVS broadcasts as a junior in 1985–86, then took over the reins of sports director as a senior. By then, he had caught the bug. Reichwald later earned his master's degree in broadcast journalism at USC, then landed an entry-level job on a small startup later known as SportsChannel. So impressive was his work that ESPN recruited him to join their team in the early 1990s. Reichwald has served at the national network ever since, "working his way up the food chain" to his current positions.
Following the footsteps of his KDVS predecessors is Ben Taylor, who contributed on Aggie Talk and game broadcasts before earning the title of sports director as a junior in 2009–10. Like Waltz, Taylor created a website to host audio and video demo reels. He attended a job fair at baseball's winter meetings and continues to follow up on leads. "There is not a lot of movement among broadcasters in minor league baseball, so it's hard to break in," he said.
In the meantime, Taylor currently calls UC Davis women's basketball games and frequently joins the Aggie Talk team on KDVS.
"My first actual time on the air was during Aggie Talk," Taylor recalls. "I know there were a lot of 'uhs' and I lost my train of thought. There was a panicky moment where I didn't really know where I was going and I just kept going. In the professional world, you can't do that. But KDVS allows you to make those mistakes."
According to Waltz, such mistakes offer the best opportunities to learn. "Broadcasting is like riding a bike," he said. "Until you fall on your butt and get back on the bike, you won't know how to ride. KDVS allowed us to fall on our faces and then get back on the air."
---
The hour of Aggie Talk flies by, and Vote wraps up his show in time for the New Age program that follows. He vacates Studio B and chats briefly with his all-volunteer team of Joey Kistler, Sammy Meckler and Greg Cotta.
Cotta is particularly excited but also a little nervous, having learned that he would get his first chance to handle play-by-play on the upcoming Aggie women's basketball broadcast. As Waltz might say, Cotta is about to hop on the bike for the first time. If he falls on his face, so be it — he'll just hop back on. It's all part of the learning experience that KDVS provides.
And if history is any guide, it's the first ingredient in a recipe for success.