Volume 28 · Number 1 · Fall 2010
Campus Views
Making Research Physical
Research can take many shapes — including theatrical performance.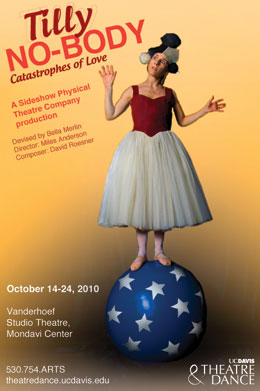 I arrived at uc davis two years ago from the U.K. to head up the acting program in the Department of Theatre and Dance. As a professional actor and author of five books on acting, I've always been fascinated by the way in which theatre can transform people. That transformation may be actors (like Johnny Depp) becoming various characters, or audiences being transformed — in their thinking and feeling — by the stories unfolding before them in the shared space of the auditorium. The exciting challenge for me in this current research project is how to transform archival material, history, literature and theory into a piece of entertainment. How can I share with people a different worldview — through my own body, voice, imagination and emotions?
The story I'm telling — Tilly No-Body: Catastrophes of Love — features the turbulent marriage between famous German playwright Frank Wedekind and his much younger actress-wife, Tilly. What drew me to the material was a question that probably haunts most of us at some point in our lives: Who on earth am I?
I found myself asking that question after I arrived here in September 2008 — a British actor on a U.S. science-focused campus. Suddenly I was seeing the world through other eyes: those of both an 'alien' and a nonscientist. Not only 'Who on earth am I?' but 'What on earth am I doing here?' — in the sense of rigorously questioning the vital roles that both cultural diversity and the humanities play in all our lives.
"Who am I?" can be a particularly big question for an actor: When not acting, you can almost feel as if you have no identity. Without a playwright's words, what have you got to say? This issue underpins Frank and Tilly's life. As an unknown 18-year old actress, Tilly knew she was on to a good thing marrying a famous older writer (who loved her, and she, him). But little by little she found herself in a catch-22. She depended on Frank so much to give her an identity that in the end she suffered a nervous breakdown.
I dove right into the Wedekinds' lives with the help of Professor Gail Finney in the Department of German and Russian and Margret Greiner, my invaluable Munich-based collaborator/translator. Tilly No-Body is an intricate piece of practice-as-research including strands of letters, plays, biography and original songs and music.
This has been a truly collaborative process. Tilly No-Body is hosted by Sideshow Physical Theatre (resident performing company of the Robert and Margrit Mondavi Center for the Performing Arts and resident professional company in the Department of Theatre and Dance) with artistic director Della Davison (professor of dance). The design team comprises esteemed professors Maggie Morgan (costume), Thomas Munn (lighting) and John Iacovelli (set). International collaborators are U.K. actor Miles Anderson, who is the director, and German scholar and musician David Roesner (University of Exeter, U.K.), the composer.
In conjunction with Tilly No-Body, a one-day symposium will explore the topic of "Creating and Acting Identity: Practice-as-Research." Campus contributors include scholars from sociology, English, comparative literature and Shields Library, as well as theatre graduate students and the U.K. playwright and Granada-Artist-in-Residence Lucy Gough, Laura Grindstaff of the Consortium for Women and Research and Jennifer Langdon at the Davis Humanities Institute. These participants come together in this sharing of research at its most interdisciplinary, embodied and diversified. Already I'm becoming aware of potential future collaborations. Indeed, a personal dream is to establish a research project with the Center for Mind and Brain on the manifestations of stage fright — a theme touched on in Tilly No-Body, as Frank and Tilly both suffered from stage fright. Watch this space!
Tilly No-Body plays Oct. 14 — 24 in the Mondavi Center's Vanderhoef Studio Theatre. More information, including ticket purchase options, is available through the Department of Theatre and Dance. "Creating and Acting Identity" will be held 10 a.m.–5:30 p.m., Friday, Oct. 22, in Lab A, Wright Hall; this event is free.