Volume 28 · Number 1 · Fall 2010
Supreme Justice
The nominee for California chief justice is one of us, and it's a first.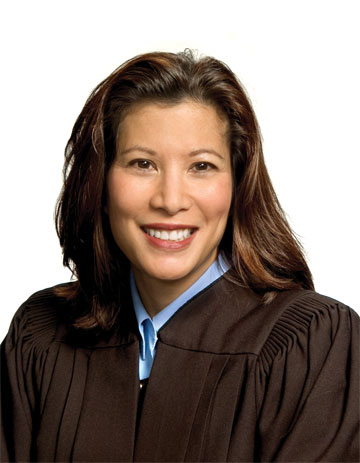 Tani Cantil-Sakauye
Tani Cantil-Sakauye already has been many things in an extraordinary life — farm workers' daughter, cheerleader, homecoming queen, waitress, national moot court champion, blackjack dealer, prosecutor, Municipal Court judge, Superior Court judge and appellate court justice.
And she's not done yet.
On Jan. 3, if all goes as expected, the 1984 graduate of the UC Davis School of Law will be sworn in as just the 28th person to serve as chief justice of the California Supreme Court. She would replace Chief Justice Ronald George, who announced his retirement after 14 years in the position.
Cantil-Sakauye, 50, couldn't help but marvel at her own life story when Gov. Arnold Schwarzenegger introduced her to a Capitol crowd on July 22, the day after her nomination.
"Governor," she said, "today you have changed my family's history. Now, from our daughters' perspective, they have a set of grandparents who worked in the fields. They have a set of grandparents who were interned for four years. They have grand uncles, uncles, cousins who are war veterans. And their mother?
"Well, a man of remarkable vision nominated her to lead the highest court in California. Is history remarkable or what?"
Schwarzenegger, who appointed Cantil-Sakauye (pronounced cahn-TEEL sah-kah-OO-way) to the Third District Court of Appeal six years ago, called her a "living, breathing example of the American Dream."
"She came from humble beginnings, the daughter of parents who instilled in her the values of hard work and perseverance and the belief that in America, with that hard work and perseverance, you can achieve about anything," the governor said.
With the historic appointment, Cantil-Sakauye would become the first Asian-American to lead the court. She also would give the court its first female majority.
The appointment is no less historic for UC Davis and its nationally ranked School of Law, which could have an alumna leading the state's high court for the next
20 years or longer. Cantil-Sakauye also earned her undergraduate degree, in rhetoric, at UC Davis in 1980. Like Schwarzenegger, she is a Republican.
"This is the sign of a maturing law school, a law school on an upward trajectory," School of Law Dean Kevin Johnson said, noting the law school has climbed steadily over the past few years to 28th place in national rankings compiled by U.S. News & World Report magazine.
"We're on a roll," Johnson added.
Cantil-Sakauye's appointment undoubtedly will help raise the law school's national profile.
"The California Supreme Court is one of the leading state supreme courts in the U.S.," Johnson said. "Historically, it has been at the cutting edge of many different developments in the law and other states look to California Supreme Court opinions for guidance."
Due to the sensitivity of the confirmation process, Sakauye has not been granting many interviews. But she offered glimpses of her life at the Capitol introduction and in a candid, moving address to a small group of aspiring UC Davis law students a few years ago. The speech was to a 2007 awards banquet of the King Hall Outreach Program, a summer program that helps prepare undergraduates who are first-generation college students, often from disadvantaged backgrounds, for law school.
That description fit Cantil-Sakauye when she and her older sister, Kim, J.D. '84, enrolled at the law school in 1981. She told the students in the outreach program that she was once a quiet, polite Filipina American girl who had worked in the tomato fields and knew little of life beyond them.
The youngest of four siblings, she grew up in Sacramento's Land Park neighborhood and graduated from McClatchy High School where she was a cheerleader and homecoming queen. She recounted a particularly memorable moment for the Capitol audience, which included husband Mark Sakauye, a Sacramento police lieutenant whose Japanese American parents were interned during World War II, and their two daughters, Hana, 14, and Clare, 12.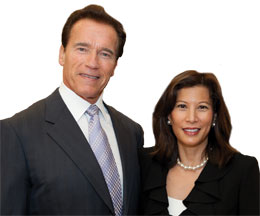 Gov. Arnold Schwarzenegger calls Tani Cantil-Sakauye "a living, breathing example of the American Dream."
Her mother had taken her as a child to a Veterans of Foreign Wars hall without air conditioning, where they sat on metal chairs, to see what she had never seen before, a Filipina lawyer, Gloria Ochoa '66, J.D. '76, the first female Filipino American to graduate from the UC Davis School of Law.
"My mother threw me the elbow jab and said, 'You could do that too,'" she recalled. "I didn't know what 'that' was, but I knew the elbow jab and I knew that whatever Gloria was doing and had done was important, good work for the public." She and Ochoa are now close friends.
Cantil-Sakauye would bring 20 years of judicial experience to the high court. In addition to six years on the appeals court, she was a Sacramento Superior court judge from 1997 to 2004 and a Sacramento Municipal Court judge from 1990 to 1997. She earlier served in former Gov. George Deukmejian's administration and as a Sacramento deputy district attorney.
After graduating from law school, she worked briefly as a blackjack dealer in Reno when she could not find a job in law.
In addition to participating in rulings, the chief justice oversees a statewide judiciary that includes more than 1,700 judges, several hundred other judicial officers, 21,000 court employees and a budget of roughly $4 billion.
Sen. Darrell Steinberg, a Sacramento Democrat and leader of the state Senate, was one of her classmates, another member of the law school's remarkable class of '84.
"I thought she was a great, great choice and I told the governor that," said Steinberg.
"It is, of course, a job where you help decide the most important cases coming before the entire state, but it's also a political and administrative job and I think she is more than well-suited for it because she's just very good at understanding people and where they're coming from."
Vikram Amar, a UC Davis law professor and associate dean for academic affairs, seconded Steinberg's assessment.
"She seems very good with people," Amar said. "You don't hear anybody complain about how she plays with others, and that's a particularly important trait for the chief to have, not just because the chief runs the court, but also because the chief is the liaison to the Legislature and to the public at large."
From a sampling of opinions she's written, Amar said Cantil-Sakauye appears "independent minded" and unafraid to render difficult decisions, such as the reversal of criminal convictions in one case, when the law required it. Likewise, Johnson said Cantil-Sakauye is "clearly in the judicial mainstream."
"She is an independent thinker," he said. "She's a thoughtful person and she listens. She's a humble person and I think her work reflects careful craftsmanship. She takes the law seriously. It's not a game to be played."
Said Amar: "She's been a judge for 20 years — that's a long time — even though she's only 50. Certainly she's well-qualified. She's got a good sense of the kinds of issues that come to the California Supreme Court and she knows what the challenges are that face the lower courts."
But judges ultimately are defined by the unforeseeable events and cases that unfold before them, Amar said.
"You pick a judge in part because of what they've done in the past," he said. "But they define themselves going forward based on things we can't predict. It's hard to know what the defining issues in the next 20 years are going to be."
While she may not have been well-known outside the legal community before her nomination, Cantil-Sakauye has been no stranger around the law school. Within two weeks of her nomination, she had agreed to be the school's commencement speaker next May.
In addition to her work with the King Hall Outreach Program, she has spent time with first-year students in the law school's writing program. For the outreach program, she and other colleagues on the appellate court allowed students to deliver mock arguments before them and then critiqued their performances.
"Most of these students have never had any real interaction with a lawyer," said Cristina Gapasin, associate director of admissions and outreach at the law school. "So, to be in a judge's presence and to get that much time and feedback in a real courtroom, in a court of appeal . . . it's very motivating. I think it makes them realize, 'Regardless of my circumstances, I can do this.'"
Cantil-Sakauye's nomination has touched off a round of reminiscing around the law school and among her classmates. She also invoked warm memories of her time at King Hall in her 2007 remarks at the outreach program's banquet. She recounted long runs after studying late at night, playing softball and intramural basketball.
Steinberg said they were part of a close group that celebrated birthdays together.
"We were friends," the Senate leader said during a break from a recent round of budget negotiations. "I think we had most of the same classes together . . . She has a star quality about her. You could tell that she was someone who was going to go places."
Law professor and former dean Rex Perschbacher arrived at King Hall the same year Cantil-Sakauye did. She was in the first class he taught, on civil procedure. He remembers an engaging, well-prepared student in a tough class from which he gained some of his greatest friends.
"One of her great virtues — and this doesn't characterize Tani Cantil alone here at the law school — was that there wasn't a careerist orientation," Perschbacher said. "She was truly interested in the law, in how it might work to advance justice, how it fit with society — and she cared about that."
They would meet again many years later, when Perschbacher was summoned for jury duty and found himself before his former student, pleading as a new dean for a hardship waiver. He was dismissed, but only after he persuaded a skeptical Cantil-Sakauye that he deserved a pass.
"She interrogated me," Perschbacher said. "She remembered me, but made sure I jumped through all the hoops."
Law professors can have a profound effect on the lens through which their students see the law, Perschbacher said. It's something he's given some thought to since Cantil-Sakauye's nomination was announced.
"It's quite humbling," he said, "to know she might be chief justice of the California Supreme Court. I was trying to teach her personal jurisdiction and subject matter jurisdiction [whether a court has the authority to hear a case], and I hope I did an OK job."