Volume 28 · Number 1 · Fall 2010
Oil Spill Rx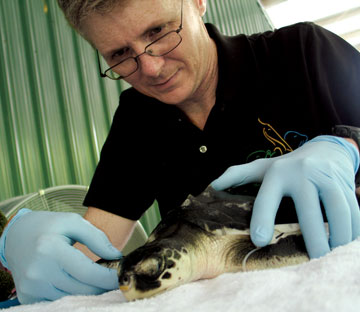 UC Davis oiled wildlife expert Michael Ziccardi examines a rescued Kemp's ridley turtle. (Sylvia Wright/UC Davis)
On the front lines of the gulf oil disaster, veterinary scientist Michael Ziccardi is writing the book on saving oiled sea turtles and mammals.
Sea turtle L-109 seemed to be dead.
Even healthy sea turtles can become so still that they appear to be lifeless. But now L-109, one of the many animals in peril during the Gulf of Mexico oil spill, was unresponsive to prods and pinches.
A veterinarian pressed a Doppler heart monitor against the turtle's throat. If the monitor's little speaker didn't produce the normal whooshing sound of blood flowing to the heart, her caretakers would know she was gone.
L-109 had been found three days earlier with several other turtles during at-sea capture operations, covered in the frothy, oily, beige-brown foam that veteran spill workers call, incongruously, "mousse." L-109 was a female Kemp's ridley turtle, 2 to 3 years old, about the size of a large dinner plate. She looked like she had been tossed in café mocha salad dressing.
The crude oil that L-109 had been breathing, drinking and absorbing came from the mangled Deepwater Horizon wellhead, 5,000 feet deep in the gulf.
Since her rescue, L-109 had been cleaned, fed, tested, rested and medicated. Her cleaned shell was jet black with a row of blunt peaks stretching from head to tail. Her underside was white. Her face was mottled black and white, and ended in a parrotlike beak evolved for grabbing fish, crabs, squid and sea urchins.
Now the veterinary team huddled around L-109, asking each other — had they done something they shouldn't have? Not done something they should have? If Turtle L-109 should die, what would be the survival odds for her fellows?
---
Other spill experts
Three other UC Davis faculty members have key roles in the scientific aspects of the Gulf of Mexico oil disaster. Read about them...
When BP's Deepwater Horizon oil and gas well erupted on the night of April 20, it put thousands of animal species at risk, from microscopic plankton and larval fish to 110,000-pound sperm whales. Biologists immediately became concerned about the five species of sea turtles living in the Gulf of Mexico: Kemp's ridley, green, leatherback, hawksbill and loggerhead. All are listed as threatened or endangered under the U.S. Endangered Species Act.
Most veterinarians in a crisis can look to some established medical reference for help. Practice standards exist for the vet confronting a tumor in a cat's bladder or a heart murmur in a zoo bear. Even in the arcane world of oil-spill-response medicine, veterinarians know how the percentage of red blood cells varies between a brown pelican and a Pacific loon. However, on that April night, when crude oil began gushing into the world's most populous sea-turtle habitat, there was no such reference for turtles. There was no plan for getting collection teams onto beaches and boats to bring oiled turtles into emergency centers. There were no emergency centers.
But there was a veterinarian with the spill expertise and organizational savvy to help develop that plan: Michael Ziccardi, D.V.M. '93, M.P.V.M. '94, Ph.D. '03, a UC Davis associate professor of veterinary medicine and a veteran of more than 30 oil spills.
If oil-spill responders wore campaign ribbons like military officers do, Ziccardi's chest candy would include all the recent major engagements. He led veterinary efforts at the start of the Prestige oil spill response in Spain in 2002; worked in Louisiana on oiled pelican chicks after another oil-rig spill in 2005; and led the wildlife response for the 2007 Cosco Busan spill in San Francisco Bay, which sent more than 1,000 oiled birds into his care as director of the California Oiled Wildlife Care Network, the most advanced program of its kind in the world.
Alumni in the gulf
At least a dozen alumni—leading experts with the California Department of Fish and Game's Office of Spill Prevention and Response— have also been assisting in the Gulf of Mexico.
Since the age of 4, Ziccardi has been fascinated by sea otters and other marine mammals. As an undergraduate at UC Santa Barbara, he cared for injured seals with the local marine mammal stranding program and helped with dolphin necropsies (animal autopsies) at the Santa Barbara Museum of Natural History. At the UC Davis School of Veterinary Medicine, he focused on free-ranging wildlife, then started on a doctorate in epidemiology.
At the same time, the California Oiled Wildlife Care Network was just being developed, and Ziccardi began treating oiled animals while doing his doctoral research on methods to better detect subtle oil exposure in sea otters.
The Oiled Wildlife Care Network, a program of the UC Davis Wildlife Health Center, is funded by a per-barrel tax on the California oil industry. The Wildlife Health Center, a program of the School of Veterinary Medicine, manages the network for the state Department of Fish and Game.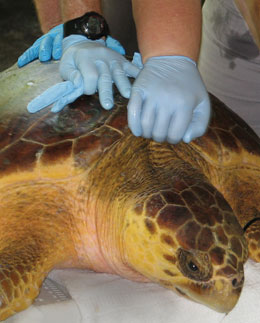 A 120-pound female loggerhead, the largest turtle rescued in the spill.
(Sylvia Wright/UC Davis)
The network has 29 participating wildlife-rescue organizations and 12 emergency-care facilities standing ready to take oiled animals. Ziccardi and UC Davis veterinary colleague Jonna Mazet have established research-based medical and nursing protocols for oiled birds that are considered the international standards.
In addition to his expertise with oiled birds, Ziccardi in 2005 drafted the U.S. national plan for rescuing and treating oiled marine mammals, such as dolphins and seals. Now, in 2010, as thousands of gallons of crude oil poured daily into the Gulf of Mexico, those guidelines and protocols were being pulled off the shelves and devoured by federal wildlife officials in the National Oceanic and Atmospheric Administration (NOAA) Fisheries Service.
On April 27, the Deepwater Horizon Unified Command (officials from the U.S. Coast Guard, BP and the state of Louisiana) called in the first wildlife experts to deal with oiled birds — experienced senior staffers of Tri-State Bird Rescue Research Inc. of Delaware.
Ziccardi was dealt a more scientifically challenging assignment: establish and lead the Marine Mammal and Sea Turtle Unit, which would be responsible for the lives of dolphins, whales, manatees and sea turtles.
No more than a dozen animals of any of the species had ever been treated for oil exposure.
"We're doing something never done before: building protocols on the fly, based on our experiences with other animals in other spills," Ziccardi said. "The entire thing is challenging. Nothing has happened in this spill that you can pull out of a book and say, 'Yeah, this is what you do.'
"How do you clean an oiled turtle? No one's done it in large numbers. How do you help an oiled dolphin stranded on the beach? Do you wash it there, or load it into a sling and transport it, oiled, to a rehab facility? Even the simple things that we know for birds aren't simple for the species that we're dealing with."
---
Early on April 29, fresh off a red-eye flight from Sacramento, Ziccardi for the first time walked into the BP building in Houma (pronounced "HO-muh"), La., that had been converted into an oil-spill-response command center. Built for training 100 offshore oil-rig workers, it now was filling fast with 10 times that number of helicopter pilots, meteorologists, oceanographers, geographers, logisticians, petroleum engineers, fish and wildlife biologists, security guards and public relations specialists.
For the next two months, with only a one-week break, Ziccardi sat in a small classroom, elbow-to-elbow with an increasing number of other wildlife operations staffers. He occupied a single seat at a U-shaped table for 12 to 16 hours every day. Behind him, under giant maps of the crenulated Louisiana coast, U.S. Fish and Wildlife Service staffers radioed GPS coordinates of oiled pelicans to biologists in boats.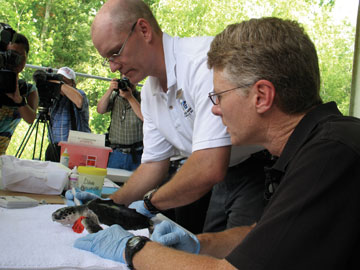 In a news conference at the Audubon Nature Institute near New Orleans, UC Davis oiled wildlife expert Michael Ziccardi, right, and Audubon veterinarian Robert MacLean listen to the heartbeat of a recovering oiled Kemp's ridley sea turtle.
(Sylvia Wright/UC Davis)
In the early days, as the numbers rose steadily for oiled birds but not for other animals, Ziccardi helped to write and implement oiled turtle and manatee response plans, based largely on his 2005 mammal protocols. On marine mammals, he worked closely with key NOAA staff, including Teri Rowles, national coordinator of the National Marine Fisheries Service's Marine Mammal Health and Stranding Program; Blair Mase, southeast regional marine mammal stranding coordinator; and Nicole Adimey, the U.S. Fish and Wildlife Service's manatee stranding coordinator. On sea turtles, his key collaborators were Barbara Schroeder, national sea turtle coordinator for the National Marine Fisheries Service; Brian Stacy, lead medical officer for the turtle effort (and a former UC Davis veterinary resident); and Gary Shigenaka, a marine biologist in the NOAA Seattle office.
Their plans prepared personnel and facilities for all varieties of affected animals, be they oiled, unoiled or unknown, living or dead. They produced protocols for cleaning oil from animals' outsides (mayonnaise and Dawn dishwashing detergent) and insides (activated charcoal, more mayonnaise); measuring body temperatures and taking blood samples; feeding, housing and returning animals to the wild; and storing and analyzing the bodies of animals that did not survive.
Ziccardi worked with NOAA to identify every rehabilitation center in its stranding networks and to zero in on the facilities that had the capacity, veterinary expertise and interest in treating large numbers of oiled animals. The team also reached out to other facilities throughout the six-state region to see who might be able to house animals long-term after they were de-oiled.
Then he waited for his plans, so reasonable on paper, to succeed or fail in the real world.
Looking back, Ziccardi says, "I was probably the best person for the job, not necessarily because of my extensive knowledge of marine mammals and sea turtles, but because of my knowledge of how spill responses work and my ability to translate that to those species.
"In a spill, I would rather be in the wildlife facility working on the animals. But this time, that's not where I was needed. What was needed was someone to help direct the efforts — to convert the existing mammal- and turtle-stranding networks into an oil-spill-response network."
---
By the time Sea Turtle L-109 crashed that early June night, Ziccardi and his team had revised the turtle-care protocols twice. He had also started sending capture boats farther offshore than any previous spill responder. "Since the turtles weren't coming to us, we went to them." (Those pioneering "on-water captures" have since accounted for more than 97 percent of turtles rescued.)
Even before the Deepwater Horizon explosion, the gulf's sea turtles were in trouble: "Few animals are at greater risk from an unfortunate confluence of global changes, widespread disease, and a host of problems of human origin," NOAA's Shigenaka wrote in 2003. "The latter category includes . . . habitat destruction, . . . entanglement in plastic trash, the persistent belief that turtle flesh and turtle eggs confer nearly supernatural health benefits, [and] the inherent beauty and rarity of turtle shell jewelry . . . ."
So, to the people of the Sea Turtle and Marine Mammal Unit, every turtle's survival mattered. But when Sea Turtle L-109's doctor pressed the heart monitor against her throat, there was only silence. She was dead.
Later that night, at L-109's pool, there was a second alarm, then a third: Other turtles were dying.
---
At the Houma command post, when Ziccardi wasn't helping to revise the turtle and mammal rescue plans, or extending them westward through Texas and southeastward to the Florida Keys, he was explaining them to news media and the public via interviews and a blog on the UC Davis website.
He frequently was asked about the possibility that turtles were dying in the intentional burning of oil on the gulf surface. The prospect was horrifying, and while Ziccardi never did find evidence that turtles were being killed, "It was likely — after all, we had been collecting turtles in the same waters," he said. Soon there was a standing order that every Controlled Burn Operations boat rescue turtles before lighting fires.
In June, the central topic was the 50,000 baby turtles that would soon crawl out of their Alabama and Florida nests and into the oily gulf waters. The team devised another unprecedented strategy: Note where turtles laid their eggs, wait 50 days, collect the eggs and drive them in foam-padded boxes to a Florida facility for incubation. When they hatched, the thousands of baby turtles would be released into the Atlantic Ocean.
By far, the question Ziccardi heard most was: Is it better, as two biologists have suggested, to kill oiled animals than to catch and clean them? Ziccardi's answer: Absolutely not. "From half to three-quarters of all the oiled animals we treat in our California program survive and are released back to the wild. My answer to those who say euthanasia is better is that we help these animals more by saving them."
---
In the hours after L-109 and the other two Kemp's ridley turtles died, the entire turtle-mammal team was on high alert. Ziccardi and the other veterinarians suspected that the deaths might have been caused partly by imbalances of sodium and potassium, which are essential to normal cell and organ functions. "It may have been something in the oil they ingested that caused kidney damage. Or the way we were managing their care — in the water or the food."
To cover all the bases, they instituted more frequent blood tests to check electrolyte levels, increased the salt content in the turtle pools and changed the water more often.
Since the spill began, although more than 435 live oiled turtles have been rescued, only those three have died.
Ziccardi and his team stay vigilant, ready to adapt to new developments.
"Changes are part of the living document of an oiled wildlife response," Ziccardi said. "The difference is, with birds, we change after every spill. With turtles we are changing weekly, because we are learning so much as we go."