Volume 28 · Number 1 · Fall 2010
End Notes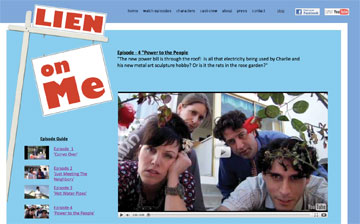 Wacky Webisodes
The American dream turns into a nightmare in Lien On Me, a Web series created by nine alumni affiliated with the UC Davis theatre and dance department. It's about Realtor Johnny Columbus who can't seem to sell any houses to save his own. His life is further complicated when his quirky friends move in after losing their apartment and Johnny's boss leaves him with her creepy nephew, Blake, to learn the realty trade from him. "I have no idea how it got to that," said the show's director and co-producer, Nino Mancuso '04. Originally the show began with the idea of a suburban commune where everything is recycled and people grow their own food. "We had noble purposes at the beginning, but then fart jokes and fake mustaches started popping up."
The series is shot at the house of David Beatty, M.F.A. '05, who plays Johnny and co-produces the show. "It became this wacky show about all these people who live together," he said. "[The series] is like a little child. It sort of grew up. As a parent, you try to mold it, but it has a mind of its own." Twelve episodes about five minutes long each have been filmed.
Other alumni working on the show are co-producer Ammar (Mahmood) Ramzi '04, Heather Williams, M.F.A. '04, Dyan McBride, M.F.A. '05, Alexandra Goodman '03, Lee Samuel Tanng '02, Claire Bennett, M.F.A '06, and Jordan Woods '02.
New Kids on the Block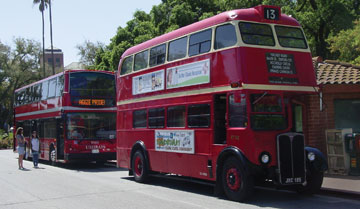 Two modern American-style double-decker buses have joined the Unitrans fleet, which started in 1968 with double-deckers that students purchased and brought here from London.
"Riders love the comfort of the new buses and the large windows," said Anthony Palmere, assistant general manager of Unitrans. "They are also much easier to drive."
The new buses have wheelchair access and air conditioning (amenities you will not find on the old buses). And their doors open to the curb, unlike the British-style buses that have doors on the left side and require a Unitrans conductor in back to act as a flagger when passengers exit into the street. Nevertheless, the student-run bus system is putting a conductor on each of the new buses. "The conductor is there for consistency in scheduling our staff — since a vintage bus could be substituted at the last minute — and to allow for faster boarding through both the front and rear doors," Palmere said.
Unitrans plans to keep its 1948, 1952 and 1954 double-deckers in service; two of these run on clean diesel, the other on compressed natural gas. Unitrans expects to retire a 1950 bus at the end of this year, Palmere said.
He credited staff and student mechanics with keeping the buses in regular service for more than 40 years — twice as long as they ran in London.
Unitrans in August also began regular service on Sundays for the first time in its history.
Whole Latte Lunch
How many places on campus can you buy a caramel macchiato with an extra shot of espresso? At least seven, according to Chancellor Linda Katehi. "I should know," she wrote in a recent guest column in the Davis Enterprise. "This magical elixir is often my liquid lunch, a potent combination of espresso, caramel and steamed milk that powers me through the day. My sources on campus tell me there are three future sales locations penciled onto the campus drawing board."
Her espresso bar tally was among her "Top 10 List of Things You Might Be Surprised to Know About UC Davis."