Volume 28 · Number 1 · Fall 2010
News & Notes
Rising Writer: Exploring Hearts of China, U.S.
Yiyun Li's graceful tales of the human condition are raising eyebrows in highbrow places.
In June, the editors of The New Yorker chose the UC Davis assistant professor of English as one of 20 American fiction writers under age 40 who exemplify the best of their generation — a high honor from one of the nation's most esteemed literary magazines. Li was chosen in particular for her "haunting sociopolitical stories" set in her native China and in America.
The New Yorker editors wrote, "These 20 men and women dazzlingly represent the multiple strands of inventiveness and vitality that characterize the best fiction being written in this country today."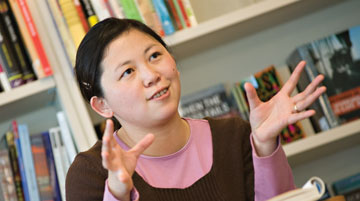 Yiyun Li: "I love language and I love writing. I'm fascinated by people, and I like to tell their stories and make up stories."
(Karin Higgins/UC Davis)
Li, 37, drew rave reviews last year for her first novel — The Vagrants (Random House) — which centers on the 1979 execution of a counterrevolutionary in China. This fall her second novel, Gold Boy, Emerald Girl (Random House), a collection of nine stories, is scheduled for release.
"What was notable in all the writing, above and beyond a mastery of language and of storytelling, was a palpable sense of ambition," the editors stated.
Li, who came to the United States in 1996 to pursue a doctorate in immunology but became a writer instead, said it was a "great honor" to be recognized by The New Yorker. She wrote a new story for the competition.
"I was very happy about the story — probably happier than being included on the list," she said of the piece set in the Midwest. A previous story she also wrote for The New Yorker was set in Idaho.
"These two stories, in a way, indicate a new direction for my writing. Many of my other stories and my novel were set in China. Of course China will always be part of my subject, but now that I have lived in America for 14 years, I feel this country is starting to show up more in my writing."
Li published a debut collection of short stories, A Thousand Years of Good Prayers, in 2005. The book won the Frank O'Connor International Short Story Award, PEN/Hemingway Award, Guardian First Book Award and California Book Award for first fiction. Two years later, she was selected by Granta magazine as one of the Best Young American Novelists.
To qualify for The New Yorker list, writers had to have produced one book or manuscript as well as a new work for The New Yorker.
In her newest book, Gold Boy, Emerald Girl, Li weaves a tapestry of the Chinese and Chinese-American experience. In the title story, a professor introduces her middle-aged son to a favorite student, unaware of the student's true affections.
"I love language and I love writing," she said in a 2009 interview. "I'm fascinated by people, and I like to tell their stories and make up stories."
Li does not write any of her stories in her native Chinese; she chooses instead to write exclusively in English. She learned English in China, starting lessons at age 12.
"I had never written creatively in Chinese, so when I began to write fiction, English became my first language in storytelling," Li said.
She told The New Yorker that the first piece of fiction that resonated with her as a child in China was The Arabian Nights. A second-grade schoolmate lent her a copy of the classic work; the assignment called for finishing it in just three days.
"We both thought it was a book for children," she said. "Oh my, I had three wild days of reading, remembering so many vivid details without understanding any."
A New Vision for UC Davis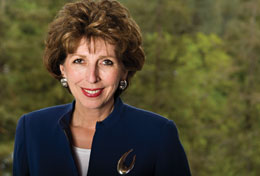 Chancellor Linda Katehi
(Karin Higgins/ UC Davis)
Chancellor Linda Katehi has released an ambitious plan for making UC Davis more competitive in the next decade. The goal is to move the university into the ranks of the nation's top five public research universities.
The 17-page document released in July, UC Davis: Vision of Excellence, recognizes the university's responsibilities to the public as a land-grant institution and highlights its mission to improve the human condition.
The vision statement grew out of several rounds of public comment from internal and external audiences, including alumni, donors, local opinion leaders and university leaders. The next step is for the individual schools, colleges and divisions to create their own objectives, based on the vision statement.
"To all members of the extended UC Davis community," said Katehi, "I ask you join me in this spirit of optimism. Embrace this ambitious vision for our university. Working together, we are certain to achieve a truly extraordinary second century of excellence."
It outlines six primary goals to help define new directions.
Big Green Ideas
An upcoming summit on climate change at UC Davis could mark a pivotal event in the fight against global warming.
In announcing his selection of UC Davis to host the Governors' Global Climate Summit 3 on Nov. 15–16, Gov. Arnold Schwarzenegger said the university's long history of world-class environmental research sets the stage for world leaders to create a green future.
"Our past summits brought together leaders and experts from around the world to work on solutions to address climate change," Schwarzenegger said.
Chancellor Linda Katehi welcomed the decision, noting that UC Davis is the "destination and model" for sustainable change in the region, the nation and around the world.
"Few universities can rival UC Davis in our overall research, innovation and solutions, environmental stewardship and campus commitment to sustainability."
In May, Schwarzenegger visited campus for a "green roundtable" — E3: Economic Prosperity, Energy and the Environment — that kicked off a series of networking events and initiatives to help drive green innovations into the marketplace.
Then, Schwarzenegger said, "UC Davis is a university that doesn't just talk about and theorize about the kind of interesting things that you develop here, but you also put it on the market and you make it workable and it has such a tremendous effect."
This November's summit is scheduled to take place in the Mondavi Center for the Performing Arts, the first time it has been held outside of Los Angeles.
Greenhouse gas and the food supply
Rising levels of atmospheric carbon dioxide interfere with plants' ability to convert nitrate into protein and could threaten food quality, according to a study by UC Davis researchers.
The scientists suggest that, as global climate change intensifies, it will be critical for farmers to carefully manage nitrogen fertilization in order to prevent losses in crop productivity and quality.
"Our findings suggest that scientists cannot examine the response of crops to global climate change simply in terms of rising carbon dioxide levels or higher temperatures," said lead author Arnold Bloom, a plant sciences professor. "Instead, we must consider shifts in plant nitrogen use that will alter food quality and even pest control, as lower protein levels in plants will force both people and pests to consume more plant material to meet their nutritional requirements."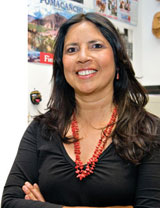 Zoila Mendoza
(Cheng Saechao/UC Davis)
The study examined the impact of increased carbon dioxide levels on wheat and the mustard plant Arabidopsis.
Peruvian Pilgrims
Zoila Mendoza, a professor of Native American studies, has been awarded a $22,000 Guggenheim fellowship to continue her research on a recurring pilgrimage that Peruvian highlanders take through the Andes. Mendoza, an anthropologist who has been studying the dances, music and festivals of her native Peru, is one of 217 artists, scientists and scholars who received Guggenheim fellowships this year.
The 2010 recipients at UC Davis also include Petr Janata, an associate professor in psychology who studies the mind and music.
Mendoza's latest research focuses on a pilgrimage in which Quechua-speaking peasants and herders walk for three days and two nights up and down mountain paths, amid almost constant music and dance, to reach a sanctuary for worship. The 85-mile journey starts at an elevation of nearly 12,000 feet and climbs to 16,000 feet. Mendoza has made the grueling trek three times.
Curbing Dog Fighting
The nation's first criminal dog-fighting DNA database will be maintained at the UC Davis Veterinary Genetics Laboratory.
Established by the American Society for the Prevention of Cruelty to Animals, the Humane Society of Missouri and the Louisiana SPCA, the database is designed to help the criminal justice system investigate and prosecute dog-fighting cases.
The Canine CODIS (Combined DNA Index System) will contain individual DNA profiles of dogs that have been seized during dog-fighting investigations and from unidentified samples collected at suspected dog-fighting venues. This will enable investigators to establish connections between breeders, trainers and dog-fight operators. Blood collected from dog-fighting sites also will be searched against the Canine CODIS database to identify the source.
Hope for Newspapers' Survival
The nation's struggling newspaper industry has a future, but it will require a commitment to sweeping change that could include a public-private ownership model and help from organized labor, according to a UC Davis study.
To survive, newspapers must evolve into the "networked information provider of the future — the networked, entrepreneurial local information hub," said Chris Benner, associate professor of community and regional development. That will allow them to expand their audiences and revenue sources.
Also, newspapers should explore hybrid ownership structures with a nonprofit element that would allow foundations and individuals to make charitable and tax-deductible contributions. The study recommended building bridges across the longstanding firewall between newsrooms and business and advertising departments, and a more active role for newspaper unions.
Protecting Uruguay's Water
UC Davis scientists are helping rice farmers in the South American country of Uruguay stop polluting their waterways — including drinking-water sources and a globally valuable nature reserve. The researchers helped Uruguayan university colleagues devise a simple water test that tells whether it is safe to drain flooded rice fields.
Developing best rice-farming practices to avoid release of toxic chemicals to the environment is especially urgent in Uruguay, because water drained from the country's main area of rice cultivation flows into the marshlands of the Eastern Biosphere Reserve, which is also the headwaters of streams and rivers that provide water to hundreds of thousands of people and millions of birds.