Volume 27 · Number 3 · Spring 2010
Sports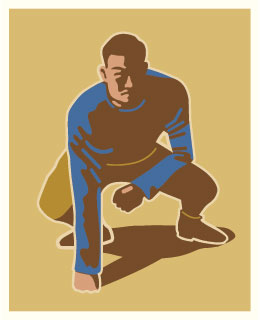 A stylized drawing of Aggie star Mitsuo "Mits" Nitta (Illustration by Jan Conroy/UC Davis)
How the Bears saw the 1939 game
From 66 Years on the California Gridiron by S. Dan Brodie
The 1939 season opened at Berkeley on September 30th with the doubleheader scheduled. Once again it was the California Aggies and the College of the Pacific. Cal head coach Stub Allison knew that the Grand Old Man of Football, Amos Alonzo Stagg, was preparing for his best year at the Tiger School, and thus he saved his regulars for that contest and turned the Aggies over to seconds and thirds.
What Stub didn't know, however, was that Vern Hickey, coach of the Aggies, was also preparing for one of his better seasons.
The Bears got off to an easy early lead as Gerry Lutes picked up teammate Orv Hatcher's fumble and dashed twenty-four yards to score. Following the California kickoff, the Aggies were unable to gain, but surprised the Bears with a long kick that set them back on their haunches. After one play failed to gain, the Bears went into punt formation, but Aggie end, Mitsuo Nitta, came charging through to block the kick, scoop up the ball and dash into the end zone. Dick Francis of the Mustangs (should be Aggies) converted, and the little school from Davis was leading the big, bad Bears 7–6. California thought little of this, shrugged it off and prepared to receive the kickoff. But after getting the ball they once again were unable to gain, and back into punt formation they went. Then Nitta proceeded to duplicate his trick of a few moments before, and the bewildered varsity was trailing 14–6.
The Aggies scored no more in the first half, but kept the Bears safely away from goal at the same time. During the rest period a shocked Stub Allison called on his first team to start the second half. Fortunately for California the first-stringers did prove superior to the Aggies, and proceeded to roll up points as advertised. The first score came on Tony Firpo's eighteen-yard dash around left end, and a seventy-four-yard march sent Ted Hubert over from the two-yard line just as the quarter ended. At the start of the final period Stub felt that his chastised second team was ready and sent them back into the game. They proved their worth as Orville Hatcher shot off left tackle for seven yards and a score, and then threw a pass to Ray Amling in the end zone for the final points of the 32–14 game.
A breathless first team came up for the second game of the day against the COP (now UOP) Tigers, and was no match for the Stockton club. The Bears played a listless game, for they were physically tired from their efforts earlier in the day. It was not, however, until the third quarter that Doug Smallwood of the Tigers went over from three yards out to give the Tigers a 6-0 victory and produce headlines in the papers the next day.
Read more at aggiesvsbears.ucdavis.edu