Volume 25 · Number 4 · Summer 2009
Hope Takes Flight in Peru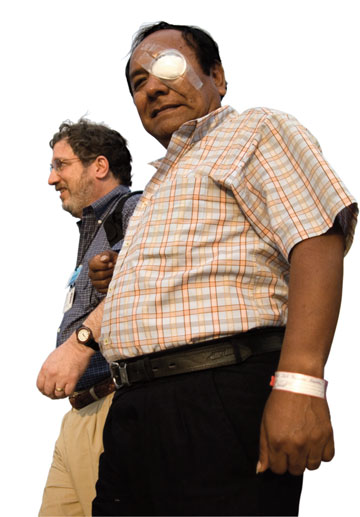 Eye specialist James Brandt helps patient Salomón Orbeso
step off the plane after surgery. (Luanna Letts/ORBIS International)
Three UC Davis ophthalmologists travel on the world's only flying eye hospital, and find their own eyes opened in a Peruvian city.
Eye specialists James Brandt, Susanna Park and Annie Baik are greeted like celebrities when they walk through the doors of the Instituto Regional de Oftalmologia in the northern Peruvian city of Trujillo. More than 100 patients crowded into the waiting room burst into applause. Some of them have traveled hundreds of miles and waited all day in hopes that the UC Davis doctors could help save their vision.
It is screening day on a two-week program of the ORBIS Flying Eye Hospital, the world's only airborne ophthalmic surgical training facility. The specially equipped DC-10 aircraft, operated by nonprofit ORBIS International, travels the world to deliver sight-saving resources and training to countries where basic eye care and ophthalmologists skilled in the latest surgical techniques are beyond the reach of most of the population.
During the next several hours, Park, Brandt, Baik and their colleagues will examine grandmothers with cataracts, babies with retinal defects, children with soccer injuries and adults with eyes damaged by a virulent infection or inflammation. In each case, the doctors first determine the extent to which the vision problem represents a teaching opportunity for local doctors.
"It is heart-wrenching to see a child whose vision has been irretrievably lost to malnutrition or an untreated eye injury," Brandt says. "The tools and skills exist to prevent the vast majority of the world's blindness, but they're just not adequately available in the developing world. We traveled to Peru to close that gap."
The expertise of the Flying Eye Hospital's permanent staff is sup-plemented on each journey by volunteer faculty members — doctors, nurses and biomedical engineers from the world's leading eye centers who donate vacation and personal time to fulfill ORBIS' mission. Pilots and flight mechanics, too, are volunteers, making the plane an internationally recognized symbol of humanitarianism on the part of the medical and aviation communities.
This February trip marks the second time that Brandt, director of the UC Davis Glaucoma Service, has participated in an ORBIS program. He traveled to Vietnam in 2008 and recruited Park, a retina and uveitis specialist and associate professor, and Baik, a clinical glaucoma fellow, for the Peru program.
That level of participation from a single hospital is unusual. "In the nearly four years that I have been on the Flying Eye Hospital," says Hunter Cherwek, medical director, "I have not seen an eye center make such a committed effort to provide their best faculty during one week of an ORBIS program as UC Davis has here in Peru."
"Participating in an ORBIS mission is extremely rewarding," Brandt says. "And when your heart isn't swelling, it's also a great deal of fun. Patients and doctors alike are incredibly grateful for our presence. Ophthalmology patients in general are happy and grateful, but this is a different order of magnitude. And that spirit is compounded by the esprit de corps of the ORBIS team itself. You're part of an international collaboration, working side-by-side with colleagues from home and peers from Canada, Australia, Great Britain and other countries. It's amazing."
The spirit of exhilaration and shared purpose is put to the test as the medical team screens prospective patients. Selection criteria are strict. Patients must present a worthwhile teaching opportunity and have a good chance of a positive outcome. Priority is given to children and those who are blind in both eyes, at risk of losing their vision in a second eye or who are unable to pay for surgery on their own.
The World Health Organization estimates that 45 million people worldwide are blind and an additional 269 million have vision so poor that carrying out routine tasks is nearly impossible. Yet an estimated 80 percent of the blind suffer needlessly — their blindness caused by conditions that are easily treatable like cataracts or preventable like vitamin A deficiency.
In Trujillo, the UC Davis team must turn away many patients whose vision could be treated.
"Any number of factors could separate one case of glaucoma, strabismus [crossed eyes] or childhood blindness from another," Brandt says. "Perhaps the cataract is congenital. Or the eye trauma is severe enough to present a rare opportunity for a local surgeon to practice the minute suturing needed to repair it. We make those determinations multiple times an hour on screening day."
Those decisions take a toll on the doctors. "It's exhausting and emotionally draining," he says. "It's more than difficult to have to say no to patients who could be helped. Especially when they've traveled on foot, buses, bicycles and in cars, sometimes across hundreds of miles, for what may be their only chance to regain their vision or avoid permanent blindness."
---
Once patients are selected, four days of intensive surgeries and follow-up begin.
Aboard the Flying Eye Hospital is a complete operating suite and a three-bed pre-op and recovery room. It's equipped with the latest diagnostic and surgical equipment, comparable to that found in typical eye hospitals in the U.S. and Europe.
In the 48-seat classroom at the plane's front, doctors gather for lectures, discussions and live broadcasts of surgeries being performed in the operating room. If needed, surgeries can also be broadcast to a classroom outside the aircraft or to a nearby hospital. Trainees are able to question operating surgeons via a two-way audio system.
This is ORBIS' 10th plane-based program in Peru and its second in Trujillo, where it is engaged in a long-term effort to make the Instituto Regional de Oftalmologia (IRO) a "center of excellence" and a magnet for specialized eye care and training for northern Peru as well as parts of neighboring Ecuador, Colombia and Brazil.
This particular Trujillo program, sponsored by one of ORBIS' principal corporate supporters, FedEx, will train 82 doctors, 128 nurses and nurse technicians, and 10 biomedical engineers. Built around the skills of the UC Davis team, it focuses on glaucoma, cornea and retina diseases, uveitis (inflammation of the eye's middle layer), pediatric ophthalmology, and diabetic retinopathy (diabetes-related retina damage).
---
Among the patients grateful for treatment is Salomón Orbeso, a retired hospital worker from Trujillo. Three previous surgeries by Peruvian doctors have not helped his glaucoma, he says. A fourth surgery performed by Brandt is different — "a miracle." This time, Orbeso receives a valve implant in his eye to relieve the pressure that can cause nerve damage and blindness.
Orbeso, 60, says he hopes his vision will improve enough for him to drive a taxi part time to help support his wife and granddaughter. "I feel very happy. [The operation has] given me back the desire to move ahead."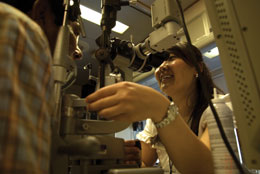 Glaucoma specialist Annie Baik examines patient
Salomón Orbeso. (Luanna Letts/ORBIS International)
He says he was touched that Brandt would personally escort him from the plane after his operation.
Brandt, in turn, says he finds inspiration in the spirit of his patients — among them a woman crippled by polio and suffering from glaucoma. "She has very deformed legs and is wheelchair bound," he says. "Yet she had the most beautiful and persistent smile on her face throughout my time with her. Despite everything she was being forced to endure, she was upbeat and grateful for the attention we were giving her."
Another patient, a young woman named Elsa, presents a cataract case that the UC Davis team would have found difficult to treat in Sacramento, let alone in the narrow confines of the ORBIS DC-10 — and with an audience full of trainees. "She had a very bad cataract complicated by uveitis," recalls Brandt. "Removing her cataract was a highly delicate process that kept my heart pumping throughout. This was one of the cases where, if ORBIS hadn't been here, local doctors wouldn't have had the capacity to save her vision. But . . . now that we've shown them how, that's no longer the case."
Some conditions encountered by the UC Davis doctors are rare — such as Vogt-Koyanagi-Harada syndrome that Park diagnosed in a blind 5-year-old girl. Unusual in adults and rarer still among children, this syndrome involves many organs that contain the pigment melanin and is characterized by hearing problems, vision loss from inflammation of the eyes (uveitis), and loss of hair and skin color. "The local doctors had treated her earlier with eye drops or low-dose corticosteroid for two months without much success," says Park, whose specialties include uveitis. "Vogt-Koyanagi-Harada syndrome . . . requires treatment with a much higher dose of corticosteroid therapy in order to avoid blindness."
Baik, the clinical fellow, said treating patients in Peru strengthens her reasons for studying medicine in the first place. "Here, it's impossible to lose sight of who these patients are and what they had to overcome to be on the Flying Eye Hospital," she says. "It's really reconnecting me with the joy I feel in the practice of medicine — the real sense of fulfillment that a doctor gets from interacting with patients and working together to find a treatment plan that works for them."
---
The Trujillo doctors are eager to share their most challenging cases and sharpen their skills with the latest laser and other techniques, such as injections. "They're all very smart, with a good fund of knowledge," Park says. "But I did notice some unexpected gaps. For example, I was asked to lecture about using drug injections to treat retinal diseases such as macular degeneration and diabetic retinopathy. The trainees were under the impression that the drug injected in the eye lasted many months, when in fact it lasts only one month; patients need to be re-examined and re-injected frequently, or their condition won't heal. It took just minutes to impart that knowledge, which will last these doctors a lifetime."
Similarly, while the IRO has modern ophthalmic equipment, the UC Davis team noticed that some devices were in need of repair or were being used incorrectly.
In trying to treat a patient with diabetic retinopathy, Park and colleagues discovered that the laser machine in the local hospital was malfunctioning. "So we transferred our patient to the ORBIS flying eye hospital, which is equipped with the latest laser instrument. There, we were able to administer the laser without a problem." An ORBIS biomedical engineer showed his Peruvian peers how to fix the broken laser and treatments resumed at the local hospital.
Such training is critical in a medical field so dependent on technology, Brandt says. "It's very common for a microscope to go down because of a missing part. If you have two operating rooms and one microscope isn't working, that's a big impact, because one operating room is essentially shut down until that microscope gets fixed. So by teaching them to repair the microscope, you've doubled the hospital's throughput."
---
A key goal of this mission is to help diabetic people in the region learn how to protect their eyesight.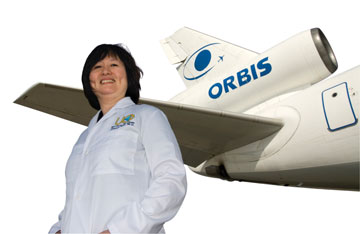 Susanna Park outside the Flying Eye Hospital. (Luanna Letts/ORBIS International)
Before the plane's landing, a FedEx-sponsored study found that only about half of Peruvian diabetes patients received eye exams, Cherwek says. ORBIS was working with IRO to reach out to diabetic patients with prevention messages and procedures.
To help local doctors better treat eye conditions in diabetic patients, ORBIS also delivered a PASCAL photocoagulator donated by its Silicon Valley manufacturer OptiMedica. The device improves doctors' precision in using lasers to reduce swelling and close abnormal blood vessels in the eye, as well as reducing pain and the number of treatments for patients.
"The number of people with diabetes worldwide is expected to be 366 million by the year 2030," Cherwek says. "That's double what it is today. After 20 years, more than
75 percent of those patients will have some form of diabetic retinopathy. So it's just vital to put machines like the PASCAL into the hands of eye doctors in the developing world if we're to forestall a massive surge in the rate of diabetes-related blindness."
Watching closely as the machine is demonstrated is Luis Deldes Del Risco, a Peruvian retina specialist. "Seventy percent of the patients we see are diabetic," he says, "and right now there is work being done to improve the referral system within the health community, so that number will continue to grow."
After the visiting doctors leave for home, Del Risco will continue his training through ORBIS programs. An online telemedicine program will enable him to consult with Park on individual cases. And a FedEx fellowship, administrated by ORBIS, will send him to a U.S. eye institute for advanced studies in diabetic retinopathy.
---
Other UC Davis doctors have volunteered on previous ORBIS missions, including Rick Lewis, glaucoma (Libya, Kazakhstan, Thailand, China, Jamaica and Malaysia); Mary O'Hara, pediatric ophthalmology (China); and Mark Mannis, cornea specialist and chair of the Department of Ophthalmology (India).
Brandt, who continues to consult with doctors he trained on his previous ORBIS program in Vietnam, says he hopes to organize another UC Davis team venture in 2010. "When you complete a mission, you see clearly that you've transferred skills on a lasting basis to another person in another country," he says. "The relationships, and the training, endure."