Volume 26 · Number 4 · Summer 2009
End Notes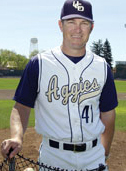 Run of Rexes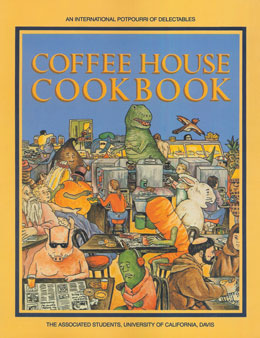 Back in print
If you missed buying this 1986 Coffee House cookbook before it sold out, you have another chance to own the recipes for CoHo croutons, brownies, fowl salad and more. Reprints are available through the UC†Davis Bookstore for $19.99 each. Sharon Coulson, Coffee House director, said she expects a new volume to be published soon, with recipes from the CoHoís first and second cookbooks, along with some new ones. In the meantime, try three popular recipes ó tabouli, cheddar leek soup and Orange Chocolate Chippers cookies.
A streak totally unrelated to the Aggies landed head baseball coach Rex Peters on Jim Rome's national radio sports talk show in February. Rome inadvertently booked three people named Rex in a row and, once he realized it, took it as far as he could. Peters was No. 6 out of 20 in the "Rex Streak" series.
Peters spent his moment in the limelight discussing his own professional career with the Los Angeles Dodgers and Aggie baseball, where he has been head coach since 2002. Last year, UC Davis reached the NCAA Tournament in its first season of Division I eligibility.
"That's a huge step," Peters told Rome. "We have a lot more room for growth and hopefully we can continue to make strides."
Ten Aggies are now playing in the minor leagues.
New job for old hog barn
"Your office is a sty" takes on a whole new meaning for the occupants of the Hubert Heitman Jr. Staff Learning Center. Originally built in 1913 as the Hog Barn on what was then the University Farm, the Craftsman-inspired building underwent a move and a $1.5 million remodel to transform pigpens into offices, a library, and conference and training rooms for Staff Development and Professional Services.
Walking down the spotless hallway, you'd never guess that the squeals of piglets previously pierced the once odiferous air. But some visual signs of the former residents remain — the outline of pig doors along the building's exterior as well as a pass-through hog scale from the '30s that now resides in the lobby.
The barn closed in 2002 when the swine program moved to a new facility west of Highway 113. Two years later, the barn was moved from its previous location beside the Crocker lab to the Silo complex, where its shingle siding blends with the other buildings.
The center was officially dedicated in May in honor of Heitman (1917–93), an animal husbandry professor known for his innovative swine management programs.
— Trina Wood
Pedal power
Groundskeeper Mike Griffith '02 is among the one-quarter of Davis campus employees who bicycle to work. But once he arrives on campus, he just keeps pedaling. Not just any old bike, but a professional-grade three-wheeler with heavy suspension, 21 gears, hydraulically operated rear disk brakes — and a custom-made cargo bed to haul up to 600 pounds of work gear, or loads of dirt and mulch.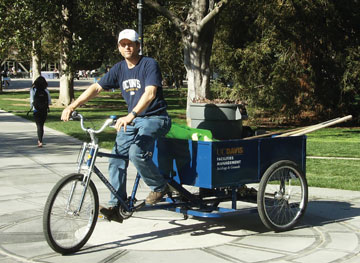 Groundskeeper Mike Griffith voluntarily gave up his gas-powered cart for a pedal-powered version. (Karin Higgs/UC Davis)
When Griffith started working with Buildings and Grounds 20 years ago, wheelbarrows and handcarts were the norm; gas-powered and electric carts came later. But giving up his cart isn't a step back.
"It's absolutely a step forward," said Griffith who earned a bachelor's degree in managerial economics from UC Davis. "It's not just about what it's doing for the environment, but what it's doing for my department's budget."
The campus sustainability committee awarded a $2,145 grant to help buy what Griffith calls a "human-powered utility vehicle." Buildings and Grounds, Transportation and Parking Services and Fleet Services also contributed to the purchase price. The total cost (not counting lock, brake lights and a bell, courtesy of the Bike Barn): $3,432, compared with $5,000 to $7,000 for a new power cart.
"It's a little more effort, but it keeps me in shape for basketball," Griffith said.