Volume 26 · Number 4 · Summer 2009
Sports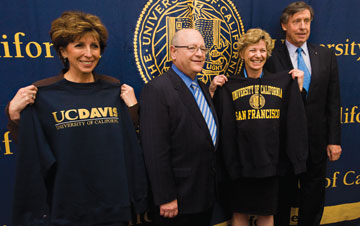 UC Davis Chancellor-designate Linda Katehi, left, holds up a UC Davis sweatshirt at a May news conference announcing her appointment. Also shown are UC President Mark Yudof, UC San Francisco Chancellor-designate Susan Desmond-Hellmann and Regent Richard Blum. (Karin Higgins/UC Davis)
Better brand marketing
New licensing agreements to help spread Aggie pride.
By Mike Robles
UC Davis merchandise may be hard to find in major retail outlets. But thanks to a new campus licensing agreement, you can expect to see more Aggie stuff in stores near you soon.
The university has contracted with The Collegiate Licensing Company (CLC), the largest collegiate licensing agency in the United States, to manage the licensing of its trademarks and expand both the variety and market reach of its branded products.
Scott Stevenson, trademark and licensing manager for UC Davis, said the partnership will help take the UC Davis brand — and the visibility of the university itself — to new levels.
"CLC will provide us with access to key resources and relationships for exposing
UC Davis to new students, fans and supporters," he said.
The Atlanta-based company represents nearly 200 colleges and universities, including UC Berkeley.
CLC provides licensed vendors with services such as digitized, authentic logos for embroidering products; collects royalties; and helps enforce the university's rights against those who have not paid to use
its brand.
One of Stevenson's main licensing tasks is approving any item that bears a UC Davis logo. T-shirts and caps might be the most visible products, but CLC and licensed companies bring new ideas to him every day. Dog collars, trailer hitches and truck bed-liners are just a few of the unusual ones that have come his way.
Stevenson checks a campus graphics standards site to make sure the logo is used correctly and appropriately before he gives his stamp of approval.
Alumni and other fans often develop emotional ties to a school's logos. UC Davis' mustang logos were redesigned in 1999 to symbolize the qualities that students, faculty, staff and alumni most associate with the campus. Those qualities include dignity, class, strength, pride, quality, honesty, tradition, teamwork and being on the cutting edge.
"Logos can be incredibly powerful symbols," said Tom Hinds, interim director of marketing communications. "The university has worked hard to create a standard set of logos that represent UC Davis spirit and radiate Aggie pride."
The UC Davis licensing program began in 1981 and had been managed by Licensing Resource Group since 1996.
Stevenson said UC Davis switched to CLC in January, in large part, because of the company's established marketing programs and relationships with manufacturers and retailers.
"They have the connections to help us promote our brand, which will turn around and give the alumni a chance to reconnect with the university brand (and) create an affinity for the university," he said. "We're going to try to get the brand out there in a different way."
And that brand is already showing up in new places. For example, Champs Sports has started carrying UC Davis apparel on a test basis.
The university and CLC will develop a three- to five-year marketing plan for licensing, which could tap into the university's identification with areas as diverse as viticulture and companion animals. Stevenson said the university would maintain control over what products are licensed.
Brian White, vice president of university services for CLC, said the ultimate goal is to build school loyalty.
"To students, alumni, fans and supporters, a
UC Davis product is a tangible expression of their association with the institution," he said. "The wearing of collegiate product is an emotional expression of solidarity, not to mention a visible opportunity for the institution to market itself via a vast network of supporters who act essentially as ambassadors of the institution."
CLC assists its colleges and universities in the marketing of their brand through a variety of ways, including encouraging fans to wear apparel from their favorite school on "College Colors Day" each September.
While UC Davis licensing will range far beyond the domain of athletics, Stevenson — who is also creative communications director for the athletics department — said the Aggie teams remain the university's "front porch."
When UC Davis played Stanford in football in 2005, Stevenson helped create "The Farm vs. Farm" slogan used to promote the historic match-up won by the Aggies. He's working with CLC on new promotions for this fall, when the Aggie football team takes on regional foe Fresno State before traveling to Boise State, coached by UC Davis alum Chris Petersen.
Big-name games, however, can sometimes bring big-game challenges — which is where CLC will also lend a hand. Company representatives often go "undercover" at such games, mingling among the crowd on the lookout for vendors offering cheap deals on products illegally featuring a school's logo. Unauthorized products are confiscated, sometimes by police.
A full team of legal experts at CLC is also at
UC Davis' disposal to help protect the logo's usage, extending beyond merchandise to unauthorized use on Facebook pages and other social media sites.
"They inform me when they see things that are going on wrong, and I inform them when I need to have things carefully looked at," Stevenson said. "It's a huge burden off the campus counsel and my area to
have the resource of the CLC legal team. It's really a matter of having more eyes out there making sure
that our campus is being treated correctly."
In addition to promoting and protecting the
UC Davis brand, the campus may also benefit from a third "P" — profit. CLC will pay royalties and licensing fees to the university based on a sliding scale — from 67.5 percent of the first $50,000 to 82.5 percent of all annual revenue in excess of $500,000.
Proceeds from trademark licensing go to Student Affairs, including athletics and the UC Davis Bookstore, Stevenson said. He said UC Davis' share of trademark royalties in recent years has exceeded $100,000 annually, with that total anticipated to rise under the new partnership.
However, Stevenson said the more immediate goal is increased visibility for the campus as a whole.
"The first thing you have to do when you're establishing a licensing program is to get your mark out there to a place where people see it and understand there's some value to it," he said. "Right now, I'm more concerned about getting out there and getting people to see
UC Davis for what it is — a world-renowned university."
---
Mike Robles is assistant athletic director for media relations.
Julia Ann Easley, a senior public information representative covering campus operations and student affairs, contributed to this report.