Volume 26 · Number 4 · Summer 2009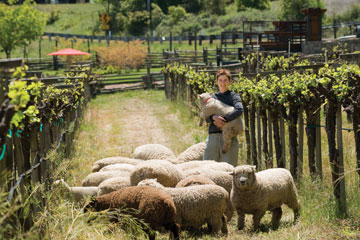 Winemaker Sarah Bennett and a few of her more unusual employees—babydoll sheep used as nonpoisonous, low-carbon "weed killers. (Terry McCarthy photo)
Women in Wine
Women winemakers trained at UC Davis helped shatter the glass ceiling in the industry, paving the way for a new crop of female-run wineries that are family friendly and green.
For thousands of years, the wine industry was dominated by men. The few women who worked in wine did so more by chance than by choice. In France, during the 18th and 19th centuries, Veuve Cliquot and later Madame Pommery, also known as the "champagne widows," both inherited wineries after their husbands' deaths. These women revolutionized the industry.
Cliquot is credited by some historians with developing an aging technique called riddling, which is still used today in champagne production to improve the clarity and quality of the wine.
Madame Pommery developed the driest and most popular forms of champagne — brut and extra brut — to appeal to English tastes and tap new overseas markets. In the process she transformed her small business into a world-renowned champagne house.
But as businesswomen and pioneers, they remained the exception to the rule — until now.
It's a much different story today. By virtue of their passion, drive and diverse approaches to the business of winemaking, women have emerged as a defining force in California wine. And for many women in the wine industry today, a UC Davis education has been the key to their success.
"No center of higher learning related to wine has been more important for women than the Department of Viticulture and Enology at the University of California at Davis," says Ann Matasar in her 2006 book Women of Wine, which looks at the contributions women have made to the industry throughout history.
The department was established in 1935, two years after the repeal of Prohibition. For 30 years, the grape growing and winemaking programs remained male domains.
In 1965, MaryAnn Graf became the first woman to graduate from the viticulture and enology department at UC Davis (majoring in fermentation science). When asked about this achievement now, she says, "It wasn't that big a deal. In those days I thought that a college education was the key to getting a good job."
The reality is that Graf, by blazing her own trail into the world of wine, left a path for other women to follow. By the early 1990s, nearly 50 percent of UC Davis's viticulture and enology graduates were women. In the same way, Matasar says, UC Davis made it respectable for similar institutions elsewhere to follow its example of fostering women as leaders in the field. The Geisenheim State Research Institute in Germany, for example, hired Monika Christmann as head of its enology department in 1993, three years after UC Davis' program named geneticist Linda Bisson as its first woman chair.
Today, there are many exceptional women in the business. The Wine Institute notes that about 15–20 percent of winemakers in California are women.
In the current market, their gender may give them an edge.
According to the Wine Institute, women purchase 57 percent of the wine consumed in the United States. For women, label design, bottle shape, and the winery philosophy rank just as high as wine quality, so wine industry marketing professionals have had to develop more savvy in their appeal to the female consumer.
Sonoma County winemaker Merry Edwards, M.S. '73, finds that "women tasters are less inhibited in talking about wine and relating it to food, where men tend to get hung up on saying the right thing, using the right language." And many female vintners are succeeding in creating and promoting wines that appeal widely to other women.
Of course, it hasn't always been that way. Even with the power of knowledge and the passion of artistry behind them, some of the early female pioneers in the California industry found it hard to get a foot in the cellar door.
Edwards said she encountered gender discrimination repeatedly while pursuing a winemaking career.
"After gaining valuable experience at my first job, I still came up against the same discrimination I had encountered before I gained all that experience," says Edwards. She found that the perception of women as the weaker sex worked against her, even when she had proved she could handle the physical aspects of the job. After making wines for a number of vintners, she now has her own label and pinot noir vineyards. In 2007, she opened Merry Edwards Winery in Sebastopol.

Winemakers MaryAnn Graf, Merry Edwards and Zelma Long.
Zelma Long, who co-owns Long Vineyards in Napa Valley and also produces wine in Germany and South Africa under the Zelphi label, says she was less affected by gender discrimination. "My first 10 years in the industry, things were moving so fast that there wasn't time to notice if there was any resistance to my being a woman." In fact, she believes that being a woman was an advantage early on because she stood out in a crowd. After attending the master's program in enology at UC Davis in 1970, Long began her career by interning with Robert Mondavi Winery. She loved the work so much that she has never looked back, going on to establish herself as a talented winemaker and mentor of other talented women in the industry. Among them was UC Davis alumna Diane Kenworthy '86, a Sonoma County vineyard manager who in 1997–98 served as the first woman president of the American Society of Enology and Viticulture.
Women continue to create names for themselves in the industry by striking the right combination of premium products and well-targeted marketing.
Bisson says that, with time, even more women may be attracted to careers in the wine industry for its variety of roles — from viticulture to winemaking to marketing — and with its flexible hours during most of the year for family life. "It is fair to say that the glass ceiling has been smashed."
Even Edwards notes that when she was working for Matanzas Creek Winery in Sonoma County, her bosses provided a nanny so that she could bring her son to work with her during the busiest parts of the year.
Today, at her own winery, she strives to maintain a family atmosphere even during harvest. "Every day we feed everybody a healthy lunch," she says. "It keeps everybody together and keeps the energy focused on the winemaking."
A new generation of female winemakers is also leading the movement to go green.
Edwards' winery, located at Coopersmith vineyard in the Russian River Valley, runs largely on solar power. "The benefits far outweigh the cost," she says. "There are a lot of good things happening with the green movement. I'm really happy to be involved."
Sarah Cahn Bennett's family winery, Navarro Vineyards in Mendocino County, is finding innovative ways to stay sustainable too — keeping a flock of miniature babydoll sheep to control vineyard weeds. The woolly vineyard workers, too short to damage the vines, reduce energy consumption.
Bennett, M.S. '06, said she likes the complexity of her work as an enologist. "Good winemakers combine cerebral and physical skills. The wine industry is fun as well as challenging. It requires you to be a jack of all trades. Just when you get bored with one job, there is another completely different project to get involved with."
In helping to run the winery, Bennett applies her business skills — a critical part of the job. The UC Davis Graduate School of Management now offers a week-long program for wine executives. Participation by women has risen from 20 percent to 31 percent of attendees over the last eight years.
Alison Crowe, an award-winning Napa winemaker and wine columnist who earned her bachelor's degree in fermentation science and Spanish at UC Davis in 1999, participated in the GSM program in 2007, and taught a segment of the program in 2008 and 2009. "A solid foundation in business and management is fundamental to the success of wineries," Crowe says. "The wine executives program provides perspective of the many facets of the wine business. Learning how each individual role adds value to the whole product helps foster a more supportive atmosphere in each winery."
Crowe is now pursuing a UC Davis Master of Business Administration while working full time as a winemaker for Plata Wine Partners in Napa.
There are still relatively few women in top corporate positions in the wine industry, but increasing numbers of women own and operate small wineries. Boutique labels like Merry Edwards Wines and La Sirena (Heidi Peterson Barrett '80) have become popular in recent years with consumers and wine critics. Smaller wineries, able to sell directly to consumers, are thriving, even as large wineries flood the market and mid-sized wineries get bought up by larger corporations.
"There are many more women in the business now than in the generation before," Bennett says. "There is nothing in the business that makes it inaccessible for a woman."
Zelphi Wine's Long agrees, saying that, "as growth in consumption and higher-quality products continue to emerge, the industry will become more competitive and more diverse."
And Bisson says UC Davis' female wine pioneers deserve credit for breaking down those barriers: "There were a lot of talented people who hung with it, who knew they were making a quality product. They emerged as forces in their own right with wines that were so good people had to pay attention to them."