Volume 26 · Number 4 · Summer 2009
News & Notes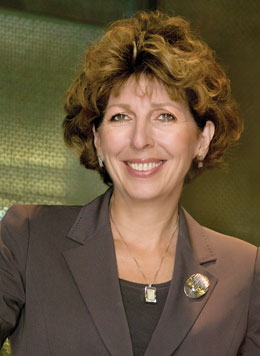 Linda Katehi has been tapped as UC Davis' sixth, and first woman, chancellor. More about Katehi, and two videos ...
(Larry Kanfer photo)
UC Davis' next chancellor
Linda Katehi sees a university that 'can change the world'
When Linda Katehi first began talking with a search committee about the possibility of becoming UC Davis' next chancellor, she did what any world-renowned scholar would do — her homework.
She devoured all the written material she could find, she surfed the Internet and she queried colleagues across the country about the campus's reputation. "The message I received was very consistent. UC Davis is a university with a great past and an even greater future, a university at the forefront of scholarly inquiry, scientific discovery and technological innovation," said Katehi, who has been provost and vice chancellor of the 41,000-student University of Illinois at Urbana-Champaign since 2006.
Members of the search committee and UC officials were impressed as well with Katehi, whose credentials include national awards, leadership roles, 16 patents and a career of nurturing students and their research.
Regents in May, based on the findings of the committee and recommendation of UC President Mark Yudof, selected her to become UC Davis' sixth — and first woman — chancellor.
Katehi (pronounced kah-TAY-hee) will assume the post Aug. 17, succeeding Larry Vanderhoef, who steps down after 15 years as chancellor and 10 years before that as provost and executive vice chancellor.
"I can't imagine a more perfect next chancellor for UC Davis," Vanderhoef said in introducing Katehi at a welcome reception on campus the day after her selection. "She is a superstar."
"Her personal success story is one that fits the tremendous success story of UC Davis itself," added Yudof.
Russ Gould, incoming chair of the UC regents, said Katehi's standing as an academic leader is so high that she "probably could have gone anywhere."
Her decision to come to UC Davis marks a homecoming of sorts for Katehi. She earned a master's degree and doctorate in electrical engineering from UCLA. Her husband, Spyros Tseregounis (pronounced SEHR-eh-goon-his), also attended graduate school there. Two of Katehi's former professors — Nick Alexopoulos and N.C. Luhmann Jr. — were in the audience at the Mondavi Center applauding as she was introduced to UC Davis faculty, staff, students and supporters.
She is a recipient of the Institute of Electrical and Electronics Engineers' distinguished educator award in the field of microwave theory and techniques.
Her academic work focuses on electronic circuit design; she holds 16 U.S. patents.
She was named in 2006 to the National Academy of Engineering, where she has chaired the Committee on K-12 Engineering Education, and she is a fellow of the American Association for the Advancement of Science.
In 2007, President George W. Bush appointed her as chair of the President's Committee on the National Medal of Science.
"I feel humbled and yet privileged to have been named the next chancellor of the UC Davis campus," she told the Mondavi Center crowd.
"Spyros and I have had a great experience in the Midwest and we will miss our great colleagues and friends at Illinois. But most importantly, we are joining a university which we truly believe can change the world through its scholarship, innovation and education and by taking chances, discovering the unknown, and looking toward the future."
Download some campus history
Centennial project lets you go back in time with campus pioneers.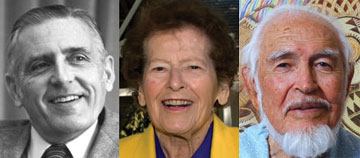 Jim Meyer, Marya Welch and David Risling
Now you can go online to learn about UC Davis' past from some of the professors, administrators and coaches who helped make the campus what it is today. A series of video interviews, compiled by the UC Davis Emeriti Association, is now available on iTunes U and YouTube.
In celebration of the UC Davis Centennial, 24 excerpts have been posted at itunes.ucdavis.edu and youtube.com/ucdavis. Look for an album or playlist titled "UC Davis Emeriti Profiles."
Among the video subjects is Marya Welch, who in 1947–48 became the first women's athletics coach. She started the equestrian, rifle and archery clubs, all sports she enjoyed herself.
"I wrangled an invitation to Horse Show, a competition between Stanford, Mills and Berkeley," Welch remembers. "We wanted to ride our own horses, but they didn't want any part of that. So we had to draw [to use their horses]. We won first place. The second year the same thing happened. The third year — we weren't invited."
In memoriam
Other video interviews feature coach Jim Sochor, who led the UC Davis Aggie football team to 18 consecutive conference championships, still an NCAA record for any division, and the late David Risling, a faculty member who co-founded the Native American Studies Program.
The emeriti association also interviewed the late Clark Kerr, the UC president who appointed food scientist Emil Mrak as UC Davis' second chancellor when it gained general campus status in 1959. Kerr, who sent his own children to be educated at UC Davis, once said this was his favorite campus.
The late Jim Meyer, UC Davis' third chancellor, is captured on tape as he talks about his role in building the campus during the 1970s and '80s.
"Any success I had was in developing policy and helping to appoint the right people to the right job," Meyer says.
Fostering college success
UC Davis program aims to improve graduation odds for ex-foster kids.
Professor Diane Wolf and student Brandy Jenkins (Karin Higgins/UC Davis)
Foster care was a rough experience for Marita Grant, and at one time her future looked bleak. She saw her peers from foster care living on the streets and doing drugs. Everyone dismissed her dream of a college education.
But today, the junior is thriving at UC Davis with the help of a program that offers support to former foster youths. The Guardian Scholars Program, now in its second year at UC Davis, is providing about 45 students with practical help, a social network and individual mentoring.
"It's definitely the rock I've been standing on since I got here," said Grant, who is studying political science with a minor in psychology.
UC Davis is among 30 campuses across the country to offer the Guardian Scholars Program in what is a growing effort to make higher education more attainable for former foster youths.
Only about 2 percent of young people from foster care obtain bachelor's degrees, compared with 24 percent of adults in the general population, according to research by the Seattle-based Casey Family Programs foundation.
At UC Davis, major funding for the program includes a $12,500 planning grant from the Walter S. Johnson Foundation and a $55,000 matching grant in each of three years from the Stuart Foundation.
Born in Sierra Leone, Grant came to the United States at age 12, entered foster care at 14 and bounced among several foster and group homes in California. She used a California Chafee Grant to study for two years at CSU-Los Angeles and transferred to UC Davis in September.
Brandy Jenkins of Fairfield, a second-generation foster child, is also a Guardian Scholar. She entered the foster system at age 11 and dropped out of high school by ninth grade.
Jenkins completed high school and, as a mother of four, worked full time while earning an Associate of Arts at Napa Valley Community College. The 28-year-old transferred to UC Davis last fall.
For Jenkins, the program's mentoring relationship is "an extremely powerful experience."
The sociology major and Diane Wolf, a professor of sociology and director of the Jewish Studies Program, meet weekly and communicate frequently by telephone and e-mail.
"Coming from being a former foster youth, I gave up on myself because no one expected anything of me," Jenkins said. "Diane expects me to do my best, and — with her expectation — my best keeps getting better."
Wolf is one of 32 faculty and staff volunteers who serve as mentors. The program, which has a staff and a peer adviser, also helps scholars navigate the campus and connect with other resources.
Both Grant and Jenkins plan to attend law school on their way to helping and motivating other foster youth.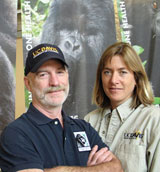 (Sylvia Wright/UC Davis)
Namesakes: Gorilla Doctors
UC Davis is now home base for a "One Health" program that works to protect the world's remaining 740 mountain gorillas by caring for not only the great apes but also their human and other animal neighbors in central Africa. With $750,000 in funding from the David and Lucile Packard Foundation, UC Davis this spring launched the Mountain Gorilla One Health Program in the School of Veterinary Medicine's Wildlife Health Center.
Kirsten Gilardi, a UC Davis wildlife veterinarian who will lead the program, is pictured (right) with Mike Cranfield, director of the Mountain Gorilla Veterinary Project — a partner in the Mountain Gorilla One Health Program. UC Davis will investigate disease threats facing mountain gorillas, help expand medical care for the humans working in and around the gorilla parks, and improve the health and well being of livestock to benefit the families who depend on them for nutrition and income.
Namesakes: Wickson hall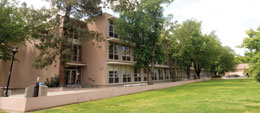 (Karin Higgins/UC Davis)
California had yet to become the nation's fruit basket when Edward Wickson arrived from New York. "Back in 1875, nobody knew what California was good for besides wheat, barley, cattle and mission wine," Martinez pear grower Frank Swett would later recall.
But farmers were beginning to experiment with planting different varieties of fruits, as well as vegetables and nuts — and they had lots of questions. Wickson, in his dual role as editor of the Pacific Rural Press weekly farm newspaper and a UC agriculture faculty member, was in a unique position to provide them with answers.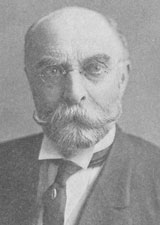 Edward Wickson
The son of a butcher-turned-Presbyterian minister, Wickson became an evangelist for scientific agriculture — spreading the work of UC and other researchers through articles, pamphlets and now-classic books, distributing new varieties of seed and organizing a "demonstration train" that in 1908–12 brought university experts to farmers throughout the state.
Wickson also played a pivotal role in the establishment of UC Davis. As acting dean of agriculture, he was appointed in 1905 to review dozens of proposed sites for the University Farm. As the UC dean of agriculture in 1907–13, he oversaw early development of the Davis campus.
For 50 years he served as editor of the widely read Pacific Rural Press, a predecessor to California Farmer magazine. By the time Wickson died in 1923, his "fertile brain and facile pen [had] touched every branch of agriculture," said his UC colleague Thomas Hunt. "When Wickson came, California was a mining camp. It is now a fruit and flower farm."
Two California-bred fruits also bear Wickson's name; Humboldt County pomologist Albert Etter named an apple after his friend and mentor, and Santa Rosa plant breeder Luther Burbank, a plum.
UC Davis online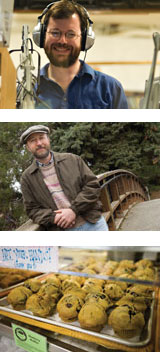 The multifaceted work of Andy Jones—poet, KDVS radio show host and popular lecturer—is highlighted in this Web feature and video.
If you like your science all neat and tidy, Alex Mogilner may not be the man for you. But if you're intrigued by the idea of combining sloppy math with biology and physics to study things like the shape of crawling keratocytes or the assembly of mitotic spindles, then read this article.
This article and video take you behind the scenes of the Coffee House, where students have been cooking the food for 40 years. You'll also find three perennial favorite recipes.