Volume 26 · Number 2 · Winter 2009
Letters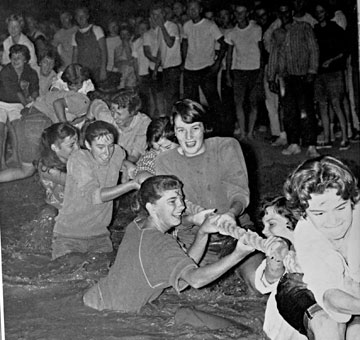 Brawl Memories
I started at UC Davis in the fall of '57 and participated in many of the events you describe in the [fall '08 issue's] "Lost Traditions" article. My class had won the Frosh-Soph Brawl the two previous years. The reward for freshmen was they no longer had to wear dinks on campus; otherwise, dinks were in style to the end of the semester.
As juniors, our job was to set up and conduct the Brawl. With two others, I was assigned the task of preparing the tug-of-war pit shown on page six.
Earlier, the pit wasn't really a "pit," only a slippery mud hole 3–4 inches deep. We decided the Brawl deserved something more serious and spent a week picking and shoveling the hard Aggie ground to produce what you see. The '59–'60 tug-of-war losing teams were definitely surprised when they splashed in, but fortunately no one had to be rescued.
Enjoyed your article.
Bill Wood '62
San Diego
Kudos, Comments
A great compliment to you all for an excellent report on the 100-year history of the Davis campus. Reading through the many in-depth articles brought back a lot of memories and reinforced the early history of the campus. Seeing the names of some of the outstanding professors that I was fortunate to study under was wonderful. "The Land of Plenty" by John Stumbos brought some realization to my application of water and soil management practices to our 34-year-old walnut orchard. Cover crop and sprinkler irrigation doubled the production of the aging orchard. Some of the "old timers" thought we were crazy trying what we did.
Just a minor comment:
Page 9 under boxing. You comment that Crip Toomey was boxing coach in 1932–1960. I thought that Myron Schall was boxing coach during my years there on campus.
John A. Erb '49
Editor's note: You're right about Crip Toomey, John. He was actually here 1928–61 but wasn't boxing coach his entire career. He also coached football, basketball and baseball and, during the later part of his career, was UC Davis' first athletic director.
Missed impact
I always enjoy getting my copy of UC Davis Magazine, and I was particularly impressed with the fall issue with its list of 100 programs and traditions that define the Aggies and the campus.
While I know that you cannot mention each and every program that exists, you didn't put on your list the "UCDC" program in Washington, D.C., where currently 40 Aggie students are working on internships. They include my daughter (said the proud father), and I know that they all are having a exciting, life-changing time — being there right in the middle of the political campaign and through a historic election.
Doug Perez, M.A. '74
Another Omission
I was truly enjoying the Centennial edition of the magazine until I got to the section on "100 Years of Aggie Athletics." There was a glaring omission in the achievements of the Women's Water Polo:
1) They weren't even mentioned! (except when they began their first varsity season in 1997).
2) They moved to Division I and placed fifth at NCAAs in 2006 (UC Davis even hosted the Division I Championships that year). And they placed fourth at NCAAs in 2008, finishing behind UCLA, USC, and Stanford (which, unlike UC Davis water polo, are well financed and supported). . . .
How disappointing for those who support the program and all the athletes who did not get the recognition and acknowledgement they deserved.
Carol MacPhail