Volume 24 · Number 4 · Summer 2007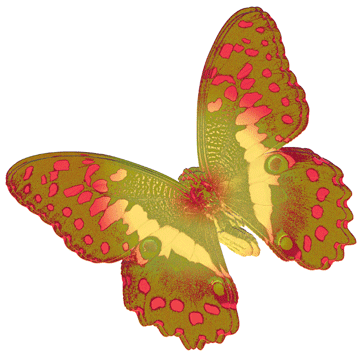 The Campus Comes of Age
More than the students were touched by the social revolution at UC Davis in the late 1960s and '70s. The campus itself went through an identity change — growing bigger, broader and more urban.
Newspapers and magazines began taking note of the campus's rapid growth and transformation. "Cow College Conversion" was the title of a 1963 Time article, followed by a series of articles in other publications including "Cow College Goes Urban" in the Oakland Tribune in February 1966, "The University Farm Comes Of Age" in the Sacramento Union in April 1967 and "From Pigs To Cyclotrons" in the combined Sunday San Francisco Examiner and Chronicle, July 1967.
The Summer of Love Lives On
Forty years after San Francisco's summer of love, the legacy of the era still keeps on truckin' at UC Davis.
Gone are the Quad teach-ins, the love-ins, the be-ins, draft resisters and the draft. The sounds of Jefferson Airplane, Simon and Garfunkel, The Animals and the Grateful Dead faded an eon ago from Freeborn Hall. But the 1960s, in many ways, still rock UC Davis.
You can still catch a whiff of the era in the smell of freshly mulched gardens at Baggins End, taste it in the double-chocolate brownies at the Coffee House, hear it on the FM waves of KDVS or the clicking of bicycle freewheels at the Bike Barn, feel it in a massage class at the Experimental College or the bouncy ride of a double-decker Unitrans bus and see it in the sea of tie-dye that inundates the campus each year during Whole Earth Festival.
To be sure, UC Davis was hardly considered the center of counterculture or student unrest. While flower children flocked to San Francisco and student protesters battled riot police at urban universities nationwide, UC Davis students marched peacefully, wrote long letters to the California Aggie and frustrated the more militant organizers with what was either Aggies' apathy or their reasonableness.
Yet, long after the clouds of patchouli smoke cleared from Haight-Ashbury, the mud dried at Woodstock and Ken Kesey's magic bus went to its final rusting place in an Oregon meadow, the imprint of UC Davis' quiet student revolution is still evident in the very fabric of campus.
"I think it was an era when people took a lot of risks and there was less formal bureaucracy," said Mark Champagne, who as Associated Students director oversees many of the services born of the era, including the Coffee House, Unitrans, the Bike Barn, the Experimental College and Whole Earth Festival.
Champagne said such services continue to succeed because they fill niches in the community and have evolved to keep pace with the times. "The reason that all of these still exist is because they're still relevant."
Those programs and services were born in a time of rapid campus growth—student enrollment had more than doubled in four years to exceed 10,000 in fall 1967. But at the same time, community connections were still strong, said Dennis Shimek, an administrator who retired this summer after 40 years on campus. "The difference between faculty, staff, administrators and even the students was a very narrow separation. It was not about us and them. It was what can we do at the campus to make this place better."
Robert Black '73, J.D. '76, who as 1966–67 ASUCD president helped found Unitrans and the Experimental College, said there was a sense of pragmatism on campus at that time—among both students and the administration of Chancellor Emil Mrak. "There was an attitude among students that we were going out to accomplish things, that we were going to alter the world. There was also this generation of men and women who came through World War II and were building this post-war world. They were big, big thinkers."
Davis activists managed to avoid the ideological conflicts that divided other campuses, Black said. "There wasn't a lot of time wasted on theoretical debate. There was more of an attitude of let's go out and get this done."
In honor of the 40th anniversary of Summer of Love, we take a look at the unique legacy of student endeavors of the late '60s and early '70s and how those achievements have been carried forward by students ever since.
The CoHo: Lots of lovin' spoonfuls
The location has changed twice and the menu is always evolving, but students still cook the food from scratch at the Coffee House—just like they've done since the Associated Students established the eatery and hangout in January 1968. That CoHome-made food makes the place a rarity in the world of college and university food service, said Director Sharon Coulson. Most other campuses serve either pre-prepared foods or "speed scratch" dishes made using mixes.
Some offerings go back to the Coffee House's earliest days. Among them, Coulson said, are double-chocolate brownies, lemon bars, bran muffins and bagels with spreads like chicken-turkey "Fowl Salad."
"We've worked really hard at telling our story to our student employees," Coulson said. "We hope to instill a sense of pride: You're not just cutting potatoes. You're cutting potatoes for clam chowder we've made for so many years. This is part of our history."
First opened in the since-demolished East Hall, the Coffee House moved in 1973 to the east wing of the Memorial Union and in 1991 into its current 20,000 square feet in the MU's west wing. A planned $8 million renovation, paid for by a student-approved fee increase, will modernize the kitchen and add seating for more customers when it's finished in a few years.
In the 1980s, when fast-food sales took off nationwide, ASUCD managers worried that the Coffee House might not survive.
But in recent years, growing consumer demand for fresh, locally produced and fair-trade food, whole grains and vegetarian options has put the CoHo back in front of the curve. "Every once in a while you catch the wave," said ASUCD Director Champagne.
Today the CoHo serves more than 7,000 customers a day. About 240 students work there now, preparing and selling about $3.5 million worth of food and beverages each year, up from about $75,000 in sales in 1973.
It's clearly a student favorite. A California Aggie reader poll named the CoHo "best meal on a budget" this year and, for the second consecutive year, "best place to work on campus."

The London double-decker buses, shortly after their arrival in Davis and today.
Unitrans: Ticket to ride
Those vintage London double-decker buses that are icons for Unitrans—indeed, for the very campus—first arrived in 1968. And they put students in the driver's seat in more ways than one.
In an era when students were demanding to be treated as adults and taking charge of their lives and their educations, the Associated Students shifted its focus from promoting school spirit to providing needed services, said Black.
In running for 1966-67 ASUCD president, Black promised to create the bus service, as well as the Experimental College. "It's a nice experience to see the double-deckers and think of all the millions and millions of miles that people have traveled on the Unitrans system," said Black, who went on to serve on the Davis City Council and now is an attorney in Crescent City.
He still marvels at the students who figured out, long before the days of the Internet, how to buy two surplus buses in London for about $2,000 each and have them shipped to California. Those first buses each had 400,000 to 500,000 miles on them, he said.
The idea of the London buses came from student railroad buffs, said Frank Heppner, Ph.D. '67, now professor and chair of biological sciences at University of Rhode Island. After protesting Southern Pacific Railroad's decision to abandon passenger train service, some of the most active members of the former Davis Railroad Club turned their attention to public transportation in town, Heppner said.
Heppner said the rail club members named the bus routes after San Francisco streetcar lines, beginning with K Ingleside. "After a few years, nobody knew why they were K, L, M and N instead of A, B, C and D."
In 1972, Unitrans expanded to serve all of Davis, with partial funding from the city. Unitrans now receives state and federal transit funds as well and runs more than 40 buses—most of them modern ones that run on compressed natural gas—on 15 routes, carrying over 3 million passengers a year with all the drivers and their supervisors still students.
However, on its way to becoming a $3.5 million-a-year operation, Unitrans did face some major bumps in the road. "We used to call it a house of cards," said Champagne, who became ASUCD director in 1979.
The double-deckers had broken down, and there were no maintenance manuals. "We were talking about getting rid of the double-deckers," Champagne said.
Luckily, Unitrans hired an English mechanic, Wally Mellor, who developed contacts with junkyards in Britain and began rebuilding parts. "The reason the double-deckers are here today is because of him," Champagne said.
By the time Miller retired a year ago, his shop had rebuilt the engines on Unitrans' six double-deckers, converting two to run on compressed natural gas. With London retiring its Routemasters, General Manager Geoff Straw '88 said, UC Davis may be the last bus service anywhere to regularly operate the classic model with the open rear deck.
The Bike Barn: Big wheels keep on turnin'
Started as a bike tool exchange in 1971, the Bike Barn now repairs about 10,000 bicycles a year. While other shops may make more money than the $450,000-a-year Bike Barn, supervisor Robert St. Cyr said, "We're probably the biggest bike repair shop in the United States."
UC Davis also ranks among the oldest student-run bike shops, he said. While St. Cyr is a career staff employee, all the other Bike Barn workers are students.
"We started in a little hole in the wall," said Mark Van de Water, who as an animal science major opened the Bike Barn with co-manager Dennis Hearst '73. But sales of bike parts grew within a few years to $60,000 to $80,000, said Van de Water.
The shop soon hired student mechanics and expanded its space within the 1910 dairy barn near the Silo Union where it's still located. Van de Water, now a mechanical engineer for the campus's Crocker Nuclear Laboratory, said he will never forget the scolding he received from Ed Spafford, assistant vice chancellor for facilities, after he cut through a barn wall to create a new entry. "He just said, 'You got away with it this time. Don't do it again.'"
David Takemoto-Weerts worked as a mechanic in 1972–74 while he was an anthropology graduate student. "All the mechanics worked on consignment, so you got pretty efficient at turning out repairs quickly," said Takemoto-Weerts, who now directs the campus bicycle program.
"I got to where I could take an old wheel hub, 36 spokes and a rim, and throw them together and get them laced and trued and back on the bike in 20 minutes," he said. "I couldn't do that today. It would take me an hour."
St. Cyr said the Bike Barn continues to thrive because Davis is such a bike-friendly community—Bicycling Magazine last year named it the best small town in the U.S. for cycling.
The Bike Barn also has a stable of 200 rental bikes, and about eight years ago began selling used bikes. Offbeat signs, written by student employees, recently earned the Bike Barn coverage in the Chronicle of Higher Education.
"Do not smoke this bike. It will not get you high. Stick to paint thinner," read one recent sign. Another bore a cutout photo of Sacha Baron Cohen's comic character Ali G, "This bike. It's nice."
"I have a couple of employees who have a wonderful sense of humor," St. Cyr said. "Believe it or not, we have sold some bikes because of the signs."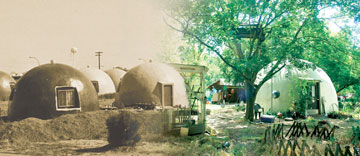 The Domes in the early '70s and today.
Baggins End: Domeward bound
The 14 fiberglass domes on the western edge of campus, put up by students in 1972, initially had campus go-ahead to remain about five years. Despite residents' perennial worries about the future of the domes, they're still here—with enough stories that community development master's student Danielle Fodor conducted oral history interviews with 50 former residents, university housing officials, designers and other people affiliated with Baggins End Innovative Housing. She planned to post an audio documentary on KDVS.org and KDRT.org.
The domes now offer wireless Internet networks, but "domies" also hold communal meals and biweekly community meetings and maintain a lush garden, complete with chickens, a greenhouse and a composting program. "The domes are a realm of infinite possibility," said Catherine "Cat" Calloway, a second-year crop science major from San Francisco who lives there. "The domes give us the gift of land and community, both of which are in scarce supply here in modern society."
Experimental College: It's your thing (do what you want to do)
Walking into the Experimental College offices in South Silo is like entering a time capsule: Many of the posters and album covers on the walls, course catalogs in the file cabinets and books on the shelves are older than the students and an alumna who now run the place. Some volumes in the office library include Carlos Castaneda's tales of a Yaqui shaman and an old paperback edition of Alvin Toffler's Future Shock.
Indeed, Office Manager Amanda Turnage '06 and Course Coordinator Allison Marshall, a third-year human development major—who were born in 1984 and 1986—said they are reluctant to throw papers out, or even delete computer files, because they document the history of an organization passed student-to-student for more than four decades.
When it was founded in 1966–67, the Experimental College was part of a national movement to offer alternative education on college campuses. Today, UC Davis' "EC" is one of the few still surviving.
Co-founder Black said it was envisioned as more than enrichment courses: Faculty members could propose courses that might not be included in the regular curriculum and students could earn credit for taking them.
Today, up to 1,000 people take courses taught each quarter by community members—some of the instructors are UC Davis students—on a wide array of subjects such as Korean cooking, West Coast swing, juggling, pet behavior, fencing, modern Arabic, "Fire Dancing: Introduction to Poi Spinning," roller derby skating, past-life journeys and alchemy.
Yoga and dance courses, such as hip-hop and social dance, are regular favorites. But Marshall said: "It's kind of anything goes. We're a tool for people in the community to come and share their knowledge with other people."
Why has UC Davis' Experimental College lasted so long where others have not? Turnage said a key to its continuing success was the willingness of past coordinators, unlike their counterparts on other campuses, to work with the student government and to charge fees.
A few courses, including worm composting and a recent offering on Wiccan religion and witchcraft, are offered free. But Turnage said a $10-per-quarter registration fee and course fees, which in spring quarter ranged from $10 to $260, pay the wages for the office staff and keep the $200,000-a-year operation in the black.
Moreover, she said, the EC meets a community need. "Some of the classes we offer you can't really find anywhere else."
Other Campus Hits of the '60s and '70s
This period also saw the start of KDVS, Outdoor Adventures and The House.
Whole Earth Festival: Good vibrations
While the 1960s are long gone, the "grooviness " of the era comes back to life in vivid color every Mother's Day weekend at the Whole Earth Festival, complete with face paint, flower wreaths, tie-dye, social and environmental activism, and the ever-present Karma Patrol.
Started as an "art happening" in 1969, the Whole Earth Festival now attracts about 30,000 people who come to dance, listen to music, hear an eclectic array of speakers, get henna tattoos, visit the massage tents, eat vegetarian food and buy handmade crafts.
While some old-timers complain that the festival has become too commercial, Mike Erickson '85 said the celebrative spirit remains much the same as the first year, when he skipped his eighth-grade classes to attend. He liked it so much he has been involved just about every year since. He takes time off his job as delivery driver for the campus bookstore to help run the festival. With a continual changeover of student organizers, someone needs to remember where the equipment is stored, he said.
Over the years, Erickson said, the emphasis has shifted some from the spiritual, with chanting led by Be Here Now author Ram Dass, to the environmental, with the goal of the festival producing zero trash.
And student organizers are clearly of a different generation—they readily accept computers as tools and see value in filing hundreds of vendor applications in alphabetical order, he said. Moreover, he said, "The new students are not coming to Davis thinking that if everyone just got together that world peace would be achieved."
But their devotion to the festival remains the same. "The one thing that's constant is they care about each other and they care about attendees as people," Erickson said. "The festival only happens because people care about it."
---
Kathleen Holder is associate editor of UC Davis Magazine.