Volume 24 · Number 4 · Summer 2007
Connections
Seat of Excellence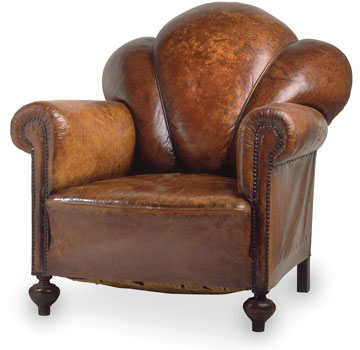 Endowed chairs give faculty the extra funds they need to really make a difference.
When the distress call came from a California winery about a Chardonnay with a moldy rag smell, Linda Bisson, professor of viticulture and enology at UC Davis, quickly pinpointed the source of the problem. Since the winery was employing appropriate measures to prevent the development of mold, thought to be responsible for this off-putting smell, Bisson suspected another cause.
As the holder of the Maynard A. Amerine Endowed Chair in Viticulture and Enology, Bisson was able to use discretionary funds from the chair's endowment to quickly conduct research and identify the culprit as a bacterial organism, not mold.
Spoilage is a big problem in the wine industry and, depending on its source, the losses may or may not be covered by insurance. When the issue is mold, a winery's insurance often does not cover those losses. The Department of Viticulture and Enology is the foremost authority for wineries worldwide, Bisson said, so it's no wonder the winery came to her for help.
Within a few months, Bisson compiled and disseminated a report that identified the bacterial organism responsible for the smelly wine and outlined steps that would prevent the problem from happening again—not only for this winery, but also for other wineries that might experience this problem.
The Amerine chair was established in 1978 by the late winemaking visionary Ernest Gallo in honor of his friend Maynard Amerine, who was chair of the Department of Viticulture and Enology from 1957 to 1962. The endowment provides $50,000 to $60,000 annually in discretionary funds and, Bisson said, over the nine years she has held the position, the funds have enabled her to carry out research that she otherwise would not have been able to afford, as in the case of the smelly wine.
"Gallo saw a need for money to be able to put out brushfires like this," Bisson said. "Having the financial resources on hand lets us act quickly to provide definitive answers."
Bisson has also used the funds to purchase expensive equipment needed to further analyze wine yeast and grape genes, hire talented postdoctoral fellows and fund undergraduate students as technicians.
"I've been able to bring in technology to the classroom such as glucose meters and automated tank temperature monitoring systems that students would otherwise see only in wineries and wouldn't have access to at school," Bisson said. "Certainly, the funds enhance the educational opportunities for students."
What is an endowed fund and how is it used?
An endowed fund is established when a donor gives a gift to UC Davis in order to provide permanent funding for the university overall, or for a specific college, school or program of interest to the donor. Endowments may be named for the donor or in honor of loved ones, respected UC Davis faculty or other significant individuals.
A Critical Partnership
Endowed chairs and professorships have a rich history in academia, creating a legacy that lasts for centuries. For example, famed physicist Stephen Hawking now holds the same Lucasian Chair in Mathematics that was held by Sir Isaac Newton—a chair that was established in 1663.
Over the past 30 years, 95 endowed chairs and professorships have been established at UC Davis thanks to the generosity and foresight of individuals and organizations who aim to help the university advance its role as a world-class research and teaching institution.
Those faculty members and Cooperative Extension specialists awarded with the prestigious honor of an endowed chair obtain recognition for their academic and research pursuits, in addition to funding to support their teaching, research and service endeavors.
"Endowments, particularly for faculty chairs, represent a partnership between the university and those who care a lot about what we do at the university," said Neal Van Alfen, dean of the College of Agricultural and Environmental Sciences.
Since the inaugural Sesnon chair in animal science was established nearly 30 years ago within his college, Van Alfen said the awards play an increasingly important role in raising the visibility of UC Davis as a center of excellence.
"They are an expression of confidence in us and, often, an expression of gratitude for what we have done," Van Alfen said. "This close, formal connection to those we serve helps us remain focused on the service aspects of our responsibilities as university professors."
Attracting the Best and Brightest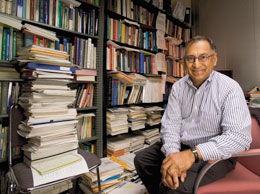 Biologist Hari Reddi has started a new line of research into osteoarthritis with funding from his endowed chair.
In some cases, an endowed chair helps attract renowned researchers to the campus. Hari Reddi, an internationally recognized molecular and cellular biologist, was lured to the UC Davis Health System a decade ago as the inaugural holder of the Lawrence J. Ellison Chair in Musculoskeletal Molecular Biology. Although he already held an endowed chair at Johns Hopkins University, Reddi said he was excited about the prospect of starting a new line of research into the regenerative ability of cartilage.
"Osteoarthritis is a huge unmet clinical challenge," Reddi said. "I needed funding to start a new area of research, and the Ellison chair provided just that kick start."
After spending nearly 30 years as a pioneer in the field of bone regeneration, Reddi was asked to head the Center for Tissue Regeneration and Repair, which uses an interdisciplinary approach to identify, understand and treat diseases in collaboration with physicians from the UC Davis Medical Center and UC Davis bioengineers, biochemists and cell biologists.
"The research at the medical school not only impacts how well we care for people, but has immense implications for the School of Veterinary Medicine, especially for racehorses and farm animals," Reddi said.
Endowed chairs can be critical in funding preliminary research needed to pursue additional grants, Reddi said. Beginning with funds from the Ellison Chair endowment, Reddi started a "biological chain reaction" of grants that included funding from Shriners Hospitals, the Department of Defense, the National Institutes of Health and, most recently, from the California Institute for Regenerative Medicine. Ultimately, Reddi hopes that the research funded by these grants will reveal how to use human embryonic stem cells for cartilage regeneration.
Capstone Experiences for Students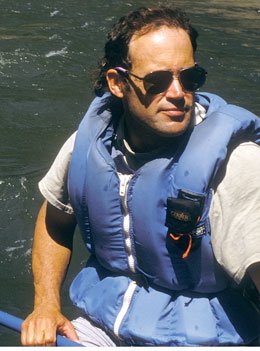 Endowed chair funding allows geology professor Jeff Mount to take a class of students whitewater rafting each year to teach them about river ecology.
Endowed chairs can also provide support that has a profound effect on the lives of students. Every summer, geology professor Jeff Mount guides a select group of 12–14 students on a rigorous two-week field trip, rafting down some of the country's most scenic rivers to study changes in the river ecosystems. The trips are made possible in part through the Roy J. Shlemon Chair in Applied Geosciences, a position Mount has held since its inception in 1998.
Roy Shlemon, a senior fellow of mathematical and physical sciences and now a member of the dean's advisory council, taught quaternary geology and geomorphology at UC Davis from 1965 to 1972. Shlemon, currently a geological and environmental consultant, created the chair to help bridge what he saw as a widening divide between applied science and academia.
Mount uses approximately $10,000 from the chair endowment to help defray expenses for students in the field-study portion of an undergraduate interdisciplinary course in ecogeomorphology—a course on river and stream management that Mount co-teaches with Peter Moyle, professor of wildlife and fisheries biology.
After a 10-week intensive course in watershed management this summer, Mount—also a white water rafting guide—will take students on a 130-mile adventure down the Grande Ronde, a tributary of the Snake River in northeast Oregon, dropping from higher to lower altitudes, studying changes in the ecosystem as they go. Past trips have included a 230-mile journey down the Copper River in Alaska.
"These are capstone experiences in the education of these students," Mount said. "Students have a chance to work with others from different disciplines and conduct hands-on research."
A big proponent of applied and interdisciplinary research, Shlemon said his goal in setting up the chair was not only to enhance teaching opportunities, but also to foster better communication between university scientists and policymakers, and to encourage others to give to the university.
"The gift of an endowed chair has far exceeded my expectations," Shlemon said. "I could not have foreseen how well it would turn out."
---
Trina Wood is a Davis freelance writer.