Volume 24 · Number 4 · Summer 2007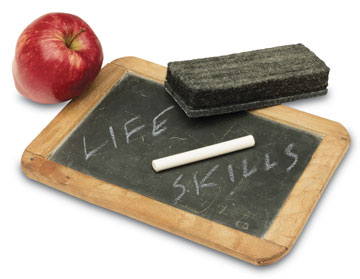 Parents
Life Skills 101
What do kids need to know before they head off to college?
If you would like your children to be happy, healthy college students some day, studying, making friends and learning to live on their own, what should you teach them now?
Do the skills they need for college come naturally from 12 years of education and 18 years of life, or are there areas where parents should put in extra effort?
We asked a variety of instructors and administrators at UC Davis for their advice: Just what did they wish students knew before arriving on campus? What should parents of younger students teach their children?
Their answers remind us that parenting is not for slouchers. Instead of agreeing on one or two recommendations, they offered suggestions that were all over the map. We list some here, starting with the one that was mentioned the most often:
Put in the effort
Interviewees agreed that a strong work ethic guarantees success in college, no matter what the student's intellectual potential. Martin Privalsky, professor of microbiology, and Fred Wood, associate vice provost for undergraduate studies, who is also a scientist, point out that good study practices—like reviewing previous material, instead of tossing out old worksheets—make a big difference. Ellen Abrams, writing specialist at the Learning Skills Center, heartily agrees.
Like other desirable qualities, this one is hard to teach.
"Sometimes your child will appear not to listen," says Sue Williams, director of physical education. Nevertheless, make the effort. "Show them how to make long-term calendars. How to break projects down. How to plan ahead," she recommends.
Learn the system
"Bureaucracy" may be an unfamiliar concept to students, but they need to know how to navigate one, according to Lora Jo Bossio, director of financial aid, who offers an example from her department.
"Some students arrive not knowing how to set up a bank account," she says. If they receive a check from financial aid they ask, "What do I do with this?"
Although it would be great if freshmen had banking experience, the more important ability is knowing how to get their questions answered. At a large institution, like a bank or a university, someone will be able to tell a student how to proceed.
But the student has to be brave enough to ask. And the student needs to know that if one person can't provide an answer, they should look for another. Today's young people often assume they can find answers on the Internet, but sometimes they need to use the phone or go in person.
If parents en-courage their children to handle high school bureaucracy, setting up their own appointments with counselors, for example, or managing their own changes in class schedules, they will arrive at college better prepared to face a much larger number of office doors.
Safety first
As students begin to navigate on their own, they encounter safety issues. UC Davis Police Chief Annette Spicuzza recommends that parents help their children develop "awareness."
This includes teaching them to be Internet-savvy, so they will be aware of the danger of revealing too much information on Facebook.com—or whatever social networking site may exist by the time they reach college.
But Spicuzza also thinks in terms of the physical environment. At UC Davis, the campus and community are pretty safe, but she still feels that "students shouldn't walk around at 3 a.m. alone." If possible, she says, "teach children to be aware of their surroundings. Things can happen anywhere.
"I don't want to make them untrusting young adults, but to be more questioning," she says.
Play well with others
In most cases, students don't need to bring a high degree of caution to relationships with fellow students, but other skills come into play.
For many, a big challenge is the first roommate. Freshmen begin with every intention of trusting and bonding with their roommate, but that person can offer surprises.
"You're going to have roommates who do things differently than you," says Lisa Papagni, assistant director for residential education and supervisor of the Segundo residential complex. "The natural inclination is to point the finger when something is different, rather than come to a real understanding that people have grown up in a different way, with different values and different beliefs."
Parents can teach respect for individual differences, but they should also be prepared to stay out of the way. Some college administrators see a trend toward excessive parental involvement in roommate conflicts, with parents of one roommate calling the parents of the other instead of encouraging the students to work things out with the help of residential advisers.
"If one roommate invades another's space, for example, students need to learn how to take responsibility for solving the problem," says Papagni.
Smell the roses
Interpersonal issues matter intensely to students, but academics do, too. This is good up to a point, but some campus observers feel that the joy can be sucked out of college by performance anxiety that students acquire in high school.
Associate Vice Provost Wood puts his worry this way, "Students and parents are so focused on getting into college that I'm not sure they're fully enjoying the high school years. I get the sense that they feel they have to be able to check every possible box: Rigorous curriculum, Volunteer work, Leadership, Sports.
"The student arrives here focused on what comes next, so the rush continues. They ask, 'Is this going to get me into medical school?' If we can break free of that and have the students look around and get the full breadth of the college experience, I think they'll benefit as adults."
In Wood's view, this means that parents should let the student become an ordinary member of one club instead of the president of another, if that's what he or she prefers. "Encourage children to follow their passions and interests," he says. "With all good intentions, we parents may be guilty of scripting too much into their lives."
Microbiology professor Privalsky, a recent survivor of the college application process with his own child, adds, "I would tell parents not to listen too much to other parents because that intense exchange of information makes people anxious about applying and being admitted to college. Try to relax. If you have a gut feeling your child will do fine, you're probably right."
Stand on your own two feet
Writing specialist Abrams works with students who need extra help.
"The students who ultimately succeed," she says, "are the ones who are able to face up to their own difficulties—in other words, students who are realistic and able to accept the fact that they have deficiencies they need to work on.
"I had a student who had a grammar error in every sentence. She asked me for extra assignments, and she spent many more hours on her papers than anyone else. She was willing to say, 'I've got this problem, and I need to solve it.' She's a straight-A student now."
Students' determination to do things for themselves is important in other areas as well. Pam Gill-Fisher, who served as senior associate athletic director for 28 years, has seen students become ineligible for a sport because they didn't pay attention to the requirements. She has even encountered students who let their parents handle their e-mail.
She suggests that parents let their children make mistakes when they're younger, so they learn to stay on top of things. "Give them small decisions at an earlier age," she says.
As Associate Vice Provost Wood puts it, "Suddenly they get to college and they're in class three hours a day, and that's the only time they're supposed to be somewhere." What will they do with the rest of their time? It's best if they've already learned to make good decisions.
The reality of the situation
Some youngsters follow parental advice conscientiously and then break every rule in college. Others rebel as teenagers but find their motivation to succeed when they leave home. Parents who model a strong work ethic can have one child who acquires this trait—or one who buys a nose ring and drops out of school. But take heart! Ten years later, things might change again.
---