Volume 24 · Number 4 · Summer 2007
Letters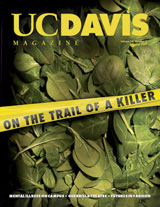 Cover concerns
We thank you for the timely article on E. coli in the last issue [spring 2007], but we are concerned that people who saw only the cover may have the impression that spinach or other fresh vegetables are potentially unhealthy.
As a campus embarking on a major Foods for Health initiative, we are working to address the often-poor eating habits of Americans that have lead to a rampant escalation in obesity and other diet-related health problems. Most people need to incorporate more wholesome fruits and vegetables into their diets.
One mission of our land-grant university is to ensure that our food supply is safe so that people continue to eat fruits and vegetables for good health. During the E. coli outbreaks in the last year, UC Davis researchers worked hand-in-hand with the agricultural community, food processors and regulatory agencies to develop best management practices that ensure a safe food supply.
UC Davis has been at the forefront of developing crucial information on foodborne illnesses in fresh produce. Our U.S. food supply remains among the safest in the world, but strong partnerships among university researchers, the food and agriculture industry, and policymakers are essential to reinforce the systems that keep food safe. The better our scientific foundation, the stronger are the resultant safety protocols.
We are continuing to strengthen our research and education programs on food safety in partnership with the Western Institute for Food Safety and Security and the new Center for Produce Safety, located at UC Davis.
We encourage all UC Davis alumni and friends to stay informed about food safety issues and to learn more about the campus Foods for Health initiative as it evolves. As a college, we remain committed to food safety, health and nutrition, all of which are pivotal issues in California and throughout the world.
Mental health
Thank you for your article on the mental health issue [spring '07, "Troubled Minds"]. I wanted to pass on the suggestion, as an additional option in helping those struggling with mental illness there at UC Davis, that they check out the ACA "Big Book" [Adult Children of Alcoholics World Service Organization's Fellowship Text] as well as, perhaps more importantly, attending ACA meetings, if there are any in the area. These two things can be accomplished at this Web site: adultchildren.org. While ACA stands for Adult Children of Alcoholics, the book is for adult children of all dysfunctional families [and discusses] the role of childhood trauma in the dysfunctional family system as the major factor in later addiction and mental illness.
Steve Shuman '69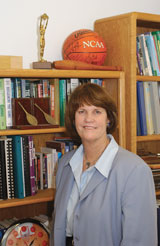 Pam Gill-Fisher
Gill-Fisher legacy
It's always a nice feeling as I flip through the magazine to come across familiar names and faces. It was therefore a welcome moment when I read your feature in the spring edition on the retirement of Pam Gill-Fisher from the athletic administration. I was lucky enough to have been on her women's tennis team for two years, including the year we won the national championship in 1990. My two years playing tennis at UC Davis were by far the highlight of my college years. I thank Pam not only for the effort she put into my own collegiate experience but for the years she spent in the athletic department giving others the opportunity to experience the joy, pride and sense of accomplishment that come along with competing for UC Davis. She has been a huge boost to women's athletics and represents to me the academic and moral integrity that is the hallmark of Aggie Pride. I'm sure her efforts will leave a mark for many years to come.
Fashion faux pas
I just read your spring edition of UC Davis Magazine and specifically the "Fashion Forward" article. I also went online to read further about UC Davis grads in the industry, and I have one question: How is it that you leave out one woman who was such an integral part of the textiles program, successfully worked for and developed products for Esprit, The North Face, Patagonia, Gap Inc., traveled the planet in search of cottons and fabrics, and currently works here in San Francisco for Pottery Barn for Kids.
I am speaking of one Mrs. Eileen Mockus-Krantz, who transferred from UCLA to UC Davis in 1985 and graduated in 1989–1990.
In my opinion, your article, designed without mention of Eileen, lacks the strongest fabric and the most vibrant color of UC Davis' textiles and design program.
Troubled minds
I think it is very important that this article was included [spring '07, "Troubed Minds"].
When I graduated in 1990, it was still a time when no one talked very much about mental illness despite how common anxiety/panic attack disorder is, much more common than I ever realized. Looking back, I wish our advisers had discussed with us the reasons why many of us drank alcohol. It wasn't what we thought, which was "just to have a good time." My classmates and I were taught a great deal about the dangers of drugs and alcohol, due to the situations you could get into as a result. No one ever helped me realize that for me and others the reasons were to mask the large amount of anxiety and stress we had. It is wonderful that there is so much more awareness for this generation of college students.
Correction

"Nabokov's Blues" on page 8 of our spring '07 issue, describing a study that identified an unnamed population of Sierra Nevada butterflies as a hybrid of two other species, contained an omission and an error. In addition to evolution and ecology professor Art Shapiro and three of his former graduate students—James Fordyce, Ph.D. '03, Matthew Forister, Ph.D. '04, and Chris Nice, Ph.D. '98—the team included one of Nice's graduate students at Texas State University, lead author Zachariah Gompert. The article also incorrectly implied that novelist and lepidopterist Vladimir Nabokov—who in the 1940s reclassified the wide-ranging blue butterfly genus Lycaeides, divided it into two species and theorized that populations high in the Tetons and Rocky Mountains were hybirds—knew about the unnamed Sierra Lycaeides population, which was discovered about three decades later. Shapiro and colleagues are also conducting a genetic analysis of the Rocky Mountain populations.