Volume 24 · Number 4 · Summer 2007
Sports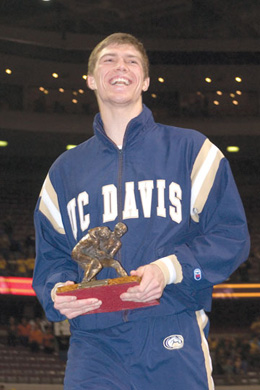 Wrestler Derek Moore, the first UC Davis athlete to earn an NCAA Division I national championship. (Photo: Wes Collins)
Division I: We're Nearly There!
(So what's that mean?)
A New Ball Game
The switch to Division I has meant many changes for the campus both on the field and off, for athletic teams and for others.
UC Davis is down to the final few steps in its transition to Division I, which is expected to be complete and officially certified by fall. The four-year process has been a long and complex one and has led to confusion and questions, so we offer here an FAQ—listing a few of the questions most often heard by the campus's athletics department along with some answers.
I see the Aggies playing Stanford and other Division I schools all the time. Isn't UC Davis already Division I?
UC Davis began its four-year reclassification process in 2003–04, gradually moving from Division II to Division I. So its schedule of competitors has been in transition, too.
For the past three years, UC Davis has had to play Division I, resulting in matchups with Stanford and other Division I schools. Nevertheless, when the NCAA puts away the campus file at the end of the year, it goes into the Division II cabinet until the institution is declared an active member of Division I, which is expected to be this fall.
UC Davis has a strong academic reputation. What is the school doing to maintain its high standards?
Academic integrity has been a cornerstone of UC Davis athletics for many years and will continue to be so in the future. So much so, in fact, that academics are specifically referenced in the eight core principles governing the reclassification to Division I. Admission standards will not be changed, and the goal will continue to be to graduate student-athletes at a rate that reflects or exceeds that of the general student body.
A recent National Collegiate Athletic Association study noted that UC Davis student-athletes matriculated at rates well above national averages for Division II student-athletes and also at a rate higher than overall student populations nationally and at UC Davis. The campus has put a strong emphasis on continuing that tradition.
It should also be noted that D-I academic standards are more stringent than those in D-II. In many cases, however, UC Davis' are already even tougher.
I just watched Aggie wrestler Derek Moore on ESPN winning a national title. Yet I thought UC Davis was ineligible for NCAA postseason play during the transition. How was this possible?
While it is true that most Aggie teams could not compete for NCAA championships during the past four years, there are four notable exceptions. Wrestling and women's gymnastics were already considered Division I programs, having made that jump during the early 1990s. So those two teams retained their eligibility for the postseason during the transition process.
Men's and women's water polo were also eligible for the NCAA tournament because the NCAA does not separate those particular sports into Division I, II and III classifications. In fact, the UC Davis women's water polo team finished fifth in last year's national tournament—held at the campus' Schaal Aquatics Center.
Starting in 2007–08, all Aggie teams and student-athletes will be eligible to compete in NCAA postseason play, including basketball's "March Madness" and baseball's College World Series.
So does this mean I will see UC Davis play in the Rose Bowl sometime soon?
Unfortunately not. At the Division I level, all teams play for the same championships except in football where they are classified into two divisions based on the number of grants-in-aid they offer.
Football Bowl Subdivision (FBS) schools (85 scholarships) compete to play in the traditional bowl games you're accustomed to seeing throughout the holiday season. Football Championships Subdivision (FCS) schools (63 scholarships) compete in a 16-team playoff to determine a national champion. UC Davis will be an FCS school. If the names look new, they are. FBS used to be called Division I-A, FCS was Division I-AA.
My understanding is that the Aggies are joining the Big West Conference. Yet when I visit the official athletics Web site, I see links to other affiliations, including the Pacific-10. What conference are we entering?
Needless to say, the mathematics of having 26 varsity programs competing in six different conference affiliations makes this one of the most oft-asked questions, even four years into the process.
The Big West Conference sponsors 17 sports—or nine fewer than the number offered by UC Davis—and the Aggies will compete in the Big West Conference in those: baseball, men's and women's basketball, men's and women's cross country, men's and women's golf, men's and women's soccer, softball, men's and women's swimming and diving, men's and women's tennis, men's and women's outdoor track and field, and women's volleyball.
So where have the others found homes?
The wrestling team has been an associate member of the Pacific-10 Conference since 1992–93. The Aggie football team was one of the charter members of the Great West Football Conference.
Women's lacrosse and women's gymnastics both compete as part of the Mountain Pacific Sports Federation. Women's rowing has participated in some form at the Pac-10 Championships for the past three seasons, but the Aggie crews' official affiliation is the Western Intercollegiate Rowing Association.
Finally, the men's and women's water polo teams are longtime members of the Western Water Polo Association. However, that may change if the Big West Conference adds women's water polo as its 18th sport.
I know of a local athlete who is an excellent student who I believe could be a good fit for UC Davis. As an Aggie alum and an avid booster, what can I do to help bring this athlete to my alma mater?
One of the joys of the move to Division I is that the program's increased national visibility has brought more alumni and boosters back into the UC Davis fold, and the athletics department certainly welcomes their involvement.
However, participation in Division I also means complying with a stricter set of rules and regulations. The NCAA Division I Manual consists of almost 500 pages of definitions, requirements, exceptions and limitations.
A booster, or "representative of athletics interests" as the NCAA defines it, is subject to many of the same constraints as our
coaches and department officials—particularly in the area of recruiting and student-athlete benefits. Even such seemingly innocuous activities as phone calls and car rides are restricted (if not outright prohibited).
Again, having boosters and alumni rekindle their interest in Aggie athletics has been one of the upsides of the D-I transition. However, caution is the watchword: Consult with a coach or athletics staff before engaging in any recruitment activities.
Click here for additional compliance information.
---
Mike Robles is assistant athletic director for media relations, and Mark Honbo is assistant director of athletics media relations.