Volume 24 · Number 4 · Summer 2007
News & Notes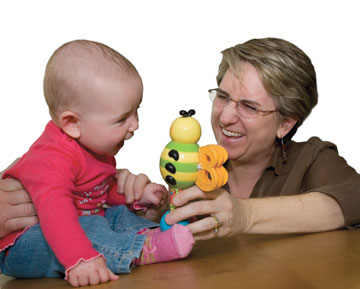 (Photo: Karin Higgins/UC Davis)
In memoriam
Baby brains
Psychology professor Lisa Oakes thinks babies are incredibly brainy — but through her research she knows that what and how they think is in a category all its own.
Oakes, a developmental scientist with the UC Davis Center for Mind and Brain, has spent her career figuring out how these young humans think before they have developed the words to describe what they are processing.
"Babies are really smart, but in a 'baby way' — they are not mini-adults," she said. "We have found babies can't remember as many things as we can and that they can't divide their attention as well as adults."
But, at the same time, her research has revealed that babies do learn a lot about the world around them.
Oakes and her husband, Steve Luck, a fellow cognitive neuroscientist with the UC Davis Department of Psychology and its major research unit, the Center for Mind and Brain, arrived last summer from the University of Iowa, attracted by the growing reputation of UC Davis for their type of research.
Oakes has made headway in her 15-year research career in proving her theories with the help of 4-to-10-month-old infants who are given tasks to interpret what they see. In a typical experiment, a baby will watch a video of a simple activity while Oakes' researchers document the infant's reactions.
In a recent series of experiments conducted at the University of Iowa, 10-month-old infants watched videos in which they saw an object on a screen and heard a sound produced when a hand squeezed the object.
Oakes and her graduate student, Sammy Perone, wanted to find out whether babies were learning about how objects function from the actions and sounds produced.
"This study of actions on objects with outcomes found babies make different kinds of inferences — that is, they are not asking how things react but what can you do with things," Oakes said.
She explained that these preverbal babies quickly understood the obvious action on the object — the hand squeezing it — but had more problems understanding that the action resulted in a particular outcome — the squeak.
For parents, this finding has implications for choosing baby toys. Oakes suggests that it is not necessary for parents to provide sophisticated toys with a variety of buttons that create different sounds or other effects when pushed. "The variety doesn't matter to babies," she said. "They like pushing the buttons — it's the action, not the outcome."
In her research, Oakes is also looking at how babies categorize what they experience from the time they are born — without words. "Categorization is what the mind does," she said. "To learn categories is the fundamental way that the mind deals with too much information. Once babies start to learn words, they have placeholders for those categories. This can help conserve that mental energy."
Oakes' research shows that one big difference for preverbal infants is that they have limited memory, attention and knowledge that narrow their focus.
"Infants can learn categories," she said, "but they use different strategies and might group objects differently — like paying attention to the action you can perform on objects rather than paying attention to what happens when you act on an object."
When infants begin to use language, they adopt nouns before they use verbs, since nouns represent the more obvious "what" that they have been exploring so intently; by contrast, verbs are often nonobvious actions. For example, babies learn "ball" and "cup" before they learn "throw" and "drink."
Given her findings about how babies are thinking before they have developed language, Oakes has her own opinions about "teaching" babies to read.
"It's really a good thing to have that one-on-one closeness and to teach your baby to learn to love books as objects — and you are exposing them to words," Oakes says. "But they won't see the same things in pictures that you do and — even with evidence that they understand the words — we can't know that the baby understands the words the same way as we do."
— Susanne Rockwell
Seeds of science
As the campus nears its 2008–09 centennial celebration, we take a look back at what was happening 100 years ago.
Even before the first buildings were finished — and more than a year before the first students would arrive — the University Farm began laying the groundwork for its first research projects.
UC scientists dug experimental irrigation ditches and planted varieties of wheat, oats, barley and tomatoes. Soon to follow would be test crops of sugar beets, legumes and an array of fruit and almond trees.
Just shovelsful of dirt and ordinary seeds (though some new wheat varieties came from Russia). Yet, even with those unceremonious beginnings, the University Farm turned its attention — and scientific methods — to addressing a pressing agricultural problem with profound economic, environmental and social implications for the state.
A wheat boom of the late 1800s — "California's second gold rush," as David Vaught, Ph.D. '97, an associate professor of history at Texas A&M University, calls it — had gone bust. California had been one of the nation's leading wheat producers in the 1870s and 1880s, and dryland wheat farming made some growers wealthy. But by the turn of the century, prices had dropped so low that farmers lost money and began replanting their wheat fields with fruits, vegetables, nuts and other crops.
"Wheat is a crop that rapidly destroys the fertility of the soil, and much of the land in the Central Valley had produced so many crops of wheat by the 1890s that the soil was exhausted," said Donald Pisani, Ph.D. '75, Merrick Chair of Western American History at the University of Oklahoma. "Virgin soil that produced as much as 50 bushels an acre in the 1870s produced 10 or 15 bushels after a decade or so."
Once a major wheat exporter, California had became a net importer, and in 1905, the state Legislature passed a bill giving UC $10,000 over two years for research to improve production of wheat and other cereal crops.
At the University Farm, UC researchers worked in collaboration with the U.S. Department of Agriculture in testing not only new varieties and best cultivation methods, but also ways to restore worn-out soil. A 1911 report that grew out of the cereal research, "How to Increase the Yield of Wheat in California" by UC agronomist G.W. Shaw, documented the benefits of rotating crops and the use of "green manure" or cover crops, such as peas, rye and vetch, to restore humus, fix nitrogen and improve the moisture content of the soil.
Other research, also done in cooperation with the USDA, evaluated different lining materials for irrigation ditches to reduce seepage and conserve water.
Cast in a new site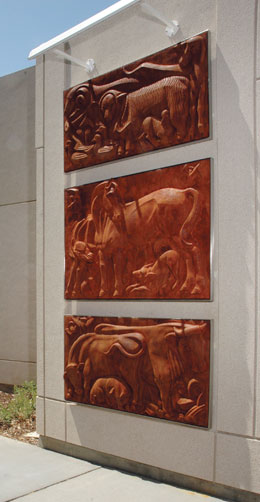 Gladys Valley Hall friezes (Photo: Don Preisler/UC Davis)
For close to six decades, bas-relief animals have greeted veterinary students at the east entrance of Haring Hall. Beginning this fall, veterinary students will no longer take classes or labs in Haring, which opened in 1950 as the School of Veterinary Medicine's first building. But the animal images are following the students — in replica at least. Casts of the friezes have been installed at the entrance to the new instructional Gladys Valley Hall. John Pascoe, executive associate dean of the School of Veterinary Medicine, said he looked into moving the original friezes but had reproductions made instead because of concerns that they could be damaged. The original works were created by sculptor Richard O'Hanlon, who in the 1930s assisted Mexican muralist Diego Rivera on a fresco at the San Francisco Art Institute and who taught art and architecture at UC Berkeley during 1947–74.
Helping more lawyers help the public
Low-income residents and senior citizens from five Northern California counties depend on Emily Fisher in Chico for free legal assistance with everything from eviction notices to creditor harassment.
The legal aid attorney is there to help them because a UC Davis School of Law program — newly expanded and expected to triple in size by 2009 — helps repay educational debts for Fisher and other graduates whose passion to serve the public leads them to low-paying jobs.
The Loan Repayment Assistance Program is essential for students who are caught in a "double vice" between low salaries at nonprofit organizations and hefty student debt, said Rex Perschbacher, dean of the law school. Currently, UC Davis law students pay more than $25,000 in annual fees and graduate with an average debt of $57,600. While jobs with large private law firms start at about $135,000 year, Perschbacher said entry-level public service jobs pay $30,000 to $40,000.
"Our law school has been in the lead in California in encouraging our students to pursue careers in public interest and public service," said the dean, adding that the school offers a certificate program in public service law and operates four legal clinics that assist low-income clients.
Fisher, a staff attorney in a Legal Services of Northern California regional office serving Butte, Colusa, Glenn, Plumas and Tehama counties, said the loan program was one of the reasons she chose to study at UC Davis. "I wanted to do something connected with activism and social justice issues," she said.
When the UC Davis program was established in 1990, it was the first of its type at a public law school in California, and it has provided more than $50,000 in assistance to about a dozen graduates annually.
The school recently revised the program, supported by donations and a percentage of fees returned to financial aid, to also include graduates who go into government jobs, and it raised the qualifying salary cap from $40,000 to $53,000.
Fisher, who had accumulated $70,000 in student debt, started at the legal aid clinic in 2004 at $30,000 a year and now earns $37,000. Her loan payments are $750 a month — but 80 percent of that is now covered by an interest-free loan from the law school. In the third year, the UC Davis program begins to forgive a percentage of its own loan, and after five years, the payments from UC Davis effectively become grants.
"It really reflects the values of the law school," Fisher said of the program.