Volume 24 · Number 4 · Summer 2007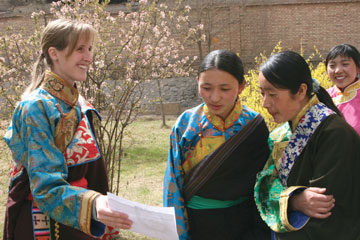 Michelle Kleisath '03 helps Tibetan women obtain grants.
Alumni
Acting—Globally
These Aggies have taken unprecedented steps to help some of the world's poorest places.
For as long as humans have organized themselves into societies, economic inequality has existed. But over the past century, the divide between the world's richest and poorest peoples has widened drastically.
And nowhere is that gap more apparent than between the West and the world's developing nations.
The issue of global inequality has certainly become trendy, with celebrities like Bill Gates, Angelina Jolie and Bono donating their time and money and snagging a few headlines in return. But, as never before, American's daily routines are touched by this issue.
Take, for example, a trip to the local coffee shop, where we're faced with the decision of whether or not to buy fair-trade beans. Most of us now know the degree to which even our smallest economic decisions affect less fortunate people living thousands of miles away. But do we do anything about it?
The answer, for many Aggie alumni, is yes. Some have devoted their lives to it. What follows are profiles of three Aggie alumni who have taken a do-it-yourself approach to their service efforts, creating new ways to give back and to do what they can to close that gap.
---
Michelle Kleisath '03 is the co-founder of the Shem Women's Group, a nonprofit organization based in Xining, China. As the name suggests, the Shem Women's Group assists only women, specifically those who want to actively improve the quality of life in their communities. Shem means charity and compassion.
Kleisath has been working in Xining, located on the Qinghai-Tibetan plateau, since August 2003, just two months after graduating from UC Davis with a double major in Spanish and women and gender studies.
Even before moving to China, Kleisath knew she wanted to develop an outreach program specifically for women. Women around the world face many of the same problems, Kleisath says, and she felt it was necessary to address them. To her, gender inequality is an important component of economic inequality.
Although Xining is a major Chinese city with over 1 million inhabitants, most of Tibet is rural and underdeveloped. Through Shem Women's Group, Kleisath promotes the growth of infrastructure and sustainable commerce. The organization has secured new animals and tools for Tibetan farmers and spurred the construction of a concrete bridge over a treacherous river crossing in the village of Me Re Ma, to name just two examples of their work.
But Kleisath wasn't the driving force behind these accomplishments. The Tibetan women, themselves, were. And that's the whole point of Shem Women's Group—to empower Tibetan women to spark change.
The members of Shem conceive their own development projects. Although Kleisath began the first women's proposal-writing workshop, the annual class is now taught by two local women. These women provide instruction and submit the proposals to Western donors.
"I did solar cooker project for Axi village, and I will do a project for Ducca village," wrote Drolma Tso, one of Shem's members, in a thank you letter to a donor this past April. "I completed the project during this winter holiday; during the implementation I have learned many experiences about how to manage things."
Kleisath mainly serves an educational role, as a tutor, mentor and, most importantly, a friend. She notes that many Tibetan women lack self-confidence rather than the skills to succeed. It's her job to promote confidence in women, who in turn find faith in their own natural abilities. It's a chain reaction that leads to vast improvements for these rural Tibetan communities.
---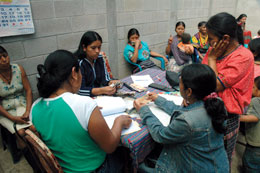 Women in Guatemala sign up for MicroCredit loans.
Jonathan Lewis '72 sold his successful international health consulting business five years ago and now volunteers as the CEO for MicroCredit Enterprises, a nonprofit organization that makes small business loans to people in developing countries.
The former Aggie doesn't work in a foreign country like Kleisath. He works from his home in Davis because MicroCredit Enterprises doesn't have a main office. The vast majority of the organization's "employees" are volunteers like Lewis, who interact over the phone or the Internet, working to raise money from private sources. They make loans through intermediary microfinance organizations, which are based in developing nations and manage the details of the loans.
MicroCredit Enterprises targets its loans to ensure they are used to improve the lives of some of the world's poorest people. The money goes to people who make $1 per day or less. Ninety-one percent of the loans go to women.
"Women are more likely to use the profits from their businesses to feed, clothe and educate their children," Lewis says.
Most of the loans are very small, often as low as $25. Usually, Lewis says, someone will take out a very small amount of money to start a business, repay the loan and then take out a second loan. Borrowing this way makes repayment more manageable.
Lewis notes that the repayment rate on the organization's loans is 97 percent.
"These loans lead to real improvements in people's lives," Lewis says. "We're not talking about someone who can all of sudden afford a house, a car and a dog named Spot; we're talking about someone who can now feed their child or send their child to school."
---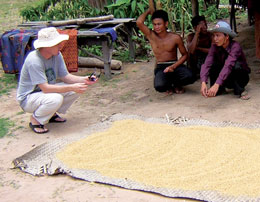 John Walsh ë03 works on a project with villagers in Cambodia.
For John Walsh '03, the opportunity to move to Cambodia was "a matter of fortuitous circumstances." After graduating from UC Davis with a degree in political science, Walsh got a call from a cousin who had opened a bed and breakfast in Cambodia and was trying to support a language school in his spare time. The cousin asked Walsh for help in creating a full-fledged nonprofit organization to support the school and expand their efforts.
"Having never been to Southeast Asia, I was a bit hesitant at first," Walsh says. "I must have asked my cousin a thousand questions about the people, differences in culture [and] safety."
Despite his reservations, Walsh took the plunge. He moved to Cambodia in June 2005 after spending a few months in San Francisco researching potential projects, IRS tax code and the steps necessary to create a nonprofit.
Walsh's organization, Journeys Within Our Community (JWOC), is now flourishing. He has learned the language and local customs, and has cultivated a donor base in America. JWOC's motto is "See a problem, solve a problem."
Since Walsh arrived in Cambodia, JWOC has built 80 water wells. They have taught language classes in Japanese, Korean and English to over 200 students. They've helped rebuild a village ravaged by fire and provided funds for a "Peace Village" in neighboring Vietnam, where children affected by the legacy of Agent Orange are educated, fed and clothed. On top of these projects, they provide small loans to Cambodians who want to start their own businesses.
JWOC also funds a scholarship program. Twenty-four students are currently attending Cambodian universities on scholarship, and as part of their agreements, these students work five to 10 hours per week on JWOC projects in their communities.
"The glue that makes everything work is the fabulous help from our scholarship students," Walsh says.
This summer, Walsh will be running a marathon in Thailand, hoping to raise $12,000 for JWOC.
Walsh notes that even when the things go wrong — as they often do — his greatest pleasure in running JWOC is seeing the good that comes from the process. "Both the donors and the villagers are absolutely thrilled, and I'm thrilled that I get to connect them."
---
These three Aggies, dedicated to sustainable development in many of the world's most underdeveloped areas, are perfect examples of the volunteerism espoused by UC Davis in its mission statement. The university, after all, was founded as a land-grant institution, and for nearly a century its graduates have been making the world a better place.
Kleisath, for one, says that her experiences and education at UC Davis undoubtedly spurred her drive to give back.
"My professors, and the people in my program [women and gender studies], were just amazing," Kleisath says. "Everyone around me was so passionate, so energetic, and in that environment it was very easy for me to be passionate as well."
---
Neil Freese '02 is CAAA's communications officer.